**Scroll down past the photos to see my list of resources and suppliers**
Links to My Embroidery Projects on This Blog:
Click on the photo to go to the post where the project appears on the blog for more info! Scroll down this page for resources and info.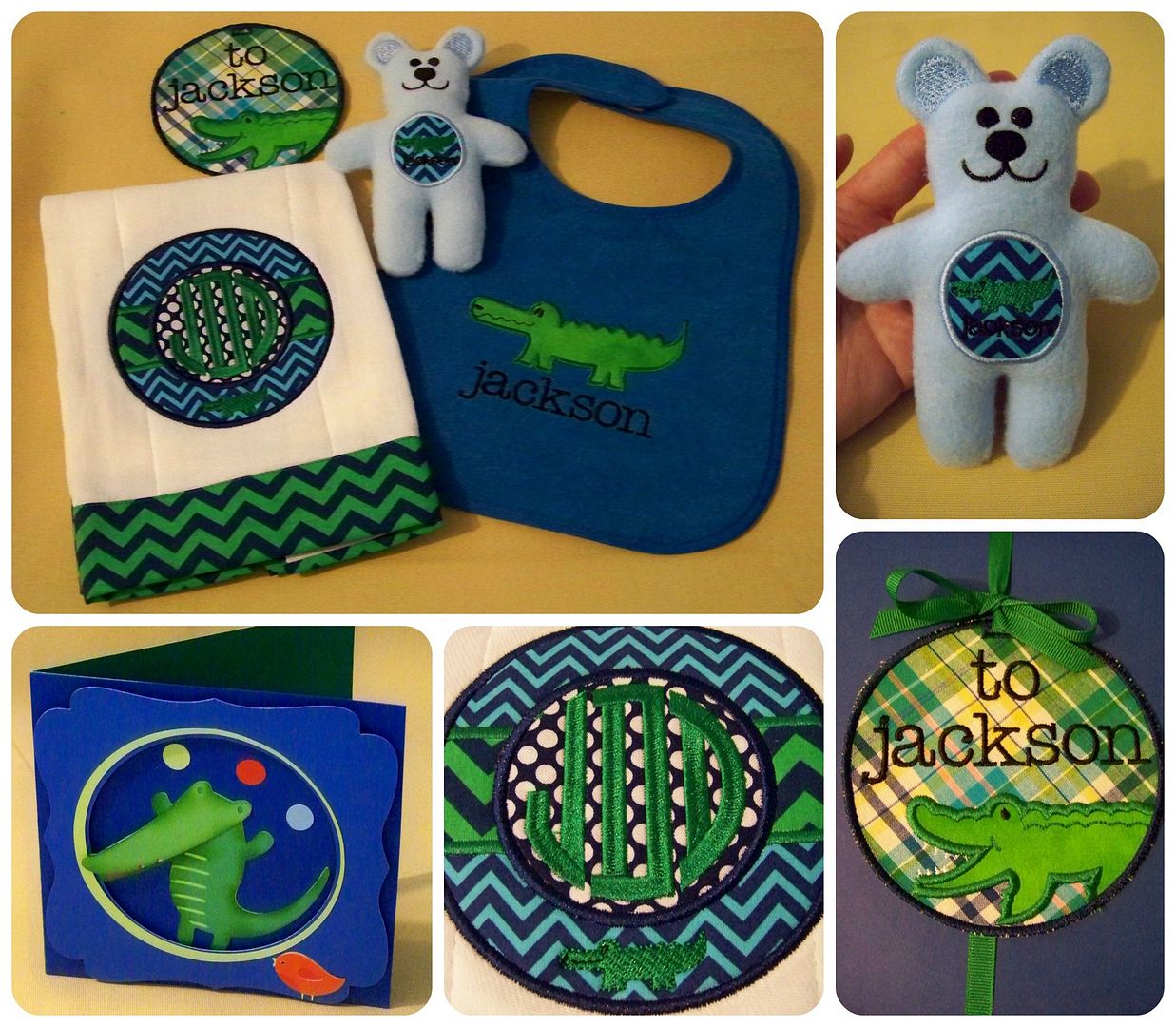 March 24, 2015 - Baby Gift Set. Includes links to all files and tutorials used. These were created a couple of weeks after getting my machine and software.
March 30, 2015 - Stitching Monograms with Embrilliance Essentials software (some tips and revelations!)
April 11, 2015 - How to use Alpha Tricks to map fonts.
April 13, 2015 - How to use a 5x12 jumbo hoop on a 5x7 machine with Embrilliance Essentials and How-to embroider pillowcases.
April 23, 2015 - My Derby towel with links to designs and my notes on how I made this for my kitchen.
April 25 - How to Embroider on a Ball Cap and How to Use Embroidery Foam
May 25, 2015 - Removing Thread from the Upper Tension Unit on Brother PE-770 (including notes from my friend who is a sewing machine repair technician!)
June 7, 2015 - Embroidered Thank You Cards
June 28, 2015 - Personalized Baby Project 1: Tutorial on making baby burp cloths that have the backside of the stitching hidden and finished ends.
July 10, 2015 - Making Free-standing Lace to create barefoot sandals using a file from Sonia Showalter.
July 27, 2015 - Digitizing a custom snap tab with Stitch Artist
September 13, 2015 - How to Organize Embroidery Files with Pinterest as a visual catalog.
October 21, 2015 - October projects with links to files/patterns used.
November 22, 2015 - Case for Bath and Body Works made completely in the hoop in an embroidery machine.
November 23, 2015 - Hooded towel with info on files and presentation.
December 27, 2015 - Tutorial for My Aunt - How to Use Software with Your New Machine
January 2, 2016 - Digitizing Pattern Pieces
January 15, 2016 - Digizing filled spaces in purchased fonts plus link to sewn pouch tutorial with easy zipper installation.
February 7, 2016 - Lessons I Learned Digitizing Appliques in Stitch Artist
February 9, 2016 - Personalized Baby Project 2: How to embroider onesies (step-by-step tutorial)
February 15, 2016 - Key Fob Tutorial by Request with Baby Steps for Newbies to Embrilliance Essentials
February 22, 2016 - Tutorial on Making Patches from Embroidery Files (with how to attach the patches) and how to combine parts of digitizing to use with other files.
February 26, 2016 - Drafting a t-shirt for a plushie, sewing it, and embroidering it.
March 8, 2016 - Quilting with My Embroidery Machine!
April 24, 2016 - Using Embrilliance Density Repair Kit with Anita Goodesign files.
April 25, 2016 - Welcome to Fabulous Louisville KY towel.
May 6, 2016 - Mother's Day Gifts
May 14, 2016 - Making a casserole carrier from two placemats and a fat quarter plus scraps.
June 14, 2016 - Double Wedding Ring Table Runner Made in the Embroidery Machine
August 28, 2016 - Busy summer sewing
January 2, 2017 - Stitching a Cover for my Christmas Journal
February 12, 2017 - Personalized Embroidered Bunnies (two methods)
March 13, 2017 - Bunny Birth Announcement and Baby Gift Set
March 23, 2017 - Mix and match files with Embrilliance using files from fruBlomgren
March 25, 2017 - Personalized wrist strap key fob tutorial
April 23, 2017 - Monogrammed Straw Hat
October 19, 2017 - Holiday Treat Bag with Free Standing Lace Skeleton Charms (includes sewing tutorial for a lined drawstring bag)
November 30, 2017 - Personalized Ballet Bears
December 4, 2017 - Notes on stitching on high pile fabrics
December 22, 2017 - Official Cookie Tester Gift Set
January 8, 2019 - My 2018 Christmas Journal Plus Some Embroidery Projects
May 29, 2019 - May Wall Hanging
June 2, 2019 - Dorm Towels
August 6, 2019 - Zippered Wristlets Made in the Embroidery Machine
September 24, 2019 - Lined Crossbody Bag Made on an Embroidery Machine
Resources (links to where I buy/bought my tools and supplies):
Machine
Brother PE-770 (I bought mine on Overstock, as it was the best price at the time. Best price can vary between Overstock, Amazon, eBay, and dealers). This was the right machine for me with its simple qualities and 5x7 capabilities.
Organ Brand Titanium Embroidery Needles. These have a longer eye than normal. Titanium coating allows for less friction on the needle, which prevents dulling of the tip and wear on the needle. I buy Organ Brand Titanium Embroidery Needles, sharps and ballpoint, by the box, size 75/11. I use ballpoint for knits and sharps for everything else.
To make it easy, these are the Organ numbers on the needles I buy: For the sharps (for wovens) 15x1STPD-11/75. Their box will have on it 15x1ST with 11PD below it. For the ballpoint (for knits) 15x1STBPPD-11/75. Their box will have on it 15x1ST with 11BPPD below it. (Decoding Organ needles: 15x1 denotes that it is flat shank for household machine, ST denotes for embroidery, PD denotes the titanium finish, 11 denotes the size, BP denotes ballpoint. For the complete guide to Organ needles: click here for PDF pamphlet.)
Places I have ordered these Organ needles---
Allstitch: click here
Metro: click here
MJ Sewing Supply: click here for sharps and click here for ballpoint.
Schmetz Embroidery Needles. These have a longer eye, stronger scarf, and slightly ballpoint. Click here. These are widely available at fabric stores like Joann's.
I used scraps the first few weeks of owning my embroidery machine to learn to use stabilizers and techniques like applique.
Mettler Web Bond temporary adhesive (Textile adhesive) I purchase in-store.
E6000 (Plastic adhesive for attaching patches) - I purchase in-store.
Seam Fix seam ripper to remove WSS without water (use the rubber end to rub it off): click here.
Rattlers to put inside ITH baby toys: click here.
Embroidery Foam: click here.
Kam snaps, key fob hardware, webbing, findings (Brees Basement): click here.
Kam snaps, key fob hardware and vinyl, including glitter varieties (Mikri World): click here.
Wooden block holder for Kam plier-- makes it work like a press: click here.
Frixion pens for marking -- I buy mine at a local quilt shop. There are caveats to using this product which are explained in this post: click here.
Smallest USB drive/thumb drive you can find. I use a 4 GB. I bought this in-store at Staples.
USB hub to prevent loosening the machine ports. I bought this in-store at Walmart.
Machine needle inserter: click here.
Clear rulers for quilting in the embroidery machine-- Omnigrid. I bought a three-pack of squares and a 24"x 6" rectangular. I found mine on Amazon and Ebay but they are sold at all Fabric stores and some big box stores.