The past few months have been so busy working with my husband that I have had to put my blog aside. I am so happy to be able to share a few projects of late, including a project my daughter did for school using her Cricut! I have also taken a bit of time to work on a couple of challenges on the Cricut Circle website and Blog. I love those challenges! I have been on the new Weight Watchers program, but have been doing a bit of sinful baking -- but all for good reasons -- that I thought I would share here too!
So, it is Valentine season! That was big stuff growing up, as my mom's birthday is Valentine's Day! To continue the tradition, I have special gifts for my little girl, my niece, my nephew, my siblings, my in-laws, and of course, for my Mom and husband!
These are a few things for my mom.
BROWNIES
1 14-oz can sweetened condensed milk
6 oz semi sweet chocolate
6 oz bittersweet chocolate
2 tablespoons real butter
1 cup Butter Crisco
1-1/2 cups brown sugar
3/4 cup granulated white sugar
3 eggs
1 teaspoon vanilla
3 cups flour
1 teaspoon salt
8 oz bag Heath toffee bits
1/2 cup caramel ice cream topping
Preheat 350°. Line 9x13 metal baking dish with foil. Spray with Pam for Baking.
In a microwave-safe bowl, combine milk, chocolates, and 2 tablespoons real butter.
Microwave in 30 second intervals, stirring after each interval. You want the chocolate melted and the mixture smooth.
In a separate bowl, beat sugars and Crisco until combined. Add eggs, one at a time, and combine each well. Add vanilla.
In yet another bowl, whisk flour and salt. Gradually add to sugar mixture. Beat to combine. Add chocolate mixture. Again, beat to combine. Add toffee bits. Mix to evenly incorporate.
Spoon batter into prepared pan. Pour caramel topping in stripes over the top. Bake 1 hour. Brownies will be giggly, but a toothpick inserted in an area without caramel will come out clean.
Cool completely before cutting. Dust with powdered sugar. Makes 12 generous brownies. Wrap individually in wax paper.
During the Christmas holiday from school, I gave my six-year-old daughter my old Cricut (Baby Bug) and a couple of duplicate carts I had, along with a few other supplies. After I posted this, Scrapalette (Paulette Trent) sent my daughter a brand new Paper Doll Dress Up cartridge. It goes without saying that Piper adores the cart and has even used it on this project -- her first school project! She was assigned to share some facts about South America.
She used the Paper Doll cart to illustrate clothing. She also used her Cricut to create the letters for her title. I was so impressed that they were given this project in the First Grade! Piper was able to learn to Google for images and how to use the on-line card catalog at our local library to find a couple of books in the juvenile department that she could read.
While on-line, we learned about a cookie popular in South America, called the Alfajor. We both learned how to make dulce de leche in the oven. I made alfajores for her to take the day of her presentation. These were amazing. How had I never heard of these? The dough is tender, more so than a sugar cookie dough, but the finished cookie is somewhat like shortbread. The dough is rolled out and cut with circle cutters to create a sandwich cookie. The filling is dulce de leche. I made a few adjustments after finding several recipes and sort of combined a few ideas. Many recipes rolled the edges in coconut. I chose not to do that since these were picky 1st graders!
ALFAJORES
1-1/4 cups flour
1/2 cup cornstarch
1/4 teaspoon baking powder
1/8 teaspoon salt
1/2 cup sugar
1/2 stick Butter Crisco plus 1 tablespoon water
1 large egg
1/2 teaspoon vanilla
Dulce de Leche (see recipe below)
powdered sugar (to dust over the top of finished cookies)
Make the Dulce de Leche (see recipe below).
Preheat oven to 350°.
Beat sugar and Butter Crisco until light and fluffy.
In a separate bowl, whisk flour, cornstarch, baking powder, and salt.
Add egg and vanilla to sugar and Crisco mixture. Mix well. Add dry ingredients a little at a time.
Flour a Silpat rolling sheet lightly. I like to use a lightly floured Rolpat rolling pin.
Roll out dough to 1/8" thickness. Use a cookie cutter to cut out dough. Place on a parchment-lined baking sheet. They do not expand much, so you can crowd the cookies on the sheet.
Bake 14 minutes. They will be very light with a bit of browning beginning on the edges. They will firm up as they cool. Allow to cool a few minutes on the baking sheet before transferring to a rack to cool completely.
Using completely cooled cookies, sandwich them together with Dulce de Leche. Dust with powdered sugar. Store in the refrigerator in an airtight container.
I used my grandma's 2-3/4" diameter biscuit cutter. This recipe made 26 rounds (or 13 completed cookies).
DULCE DE LECHE
1 14-oz can sweetened condensed milk
Preheat oven to 425° F. Pour milk into a disposable pie pan. Cover tightly with foil. I use two layers. Pour boiling water into a 9x13 glass baking dish. Pour just enough to go halfway up the pie pan. Place the pie pan in the water.
Bake 75 minutes. Peel back foil; stir. Recover with more foil to cover tightly again. Add more boiling water to replace what has evaporated away. Bake 30 more minutes.
You will know it is done when the color is a nice brown color and has thickened up so as to show the bottom of the pie pan when scraped with a spoon. Stir the Dulce de Leche to make smooth.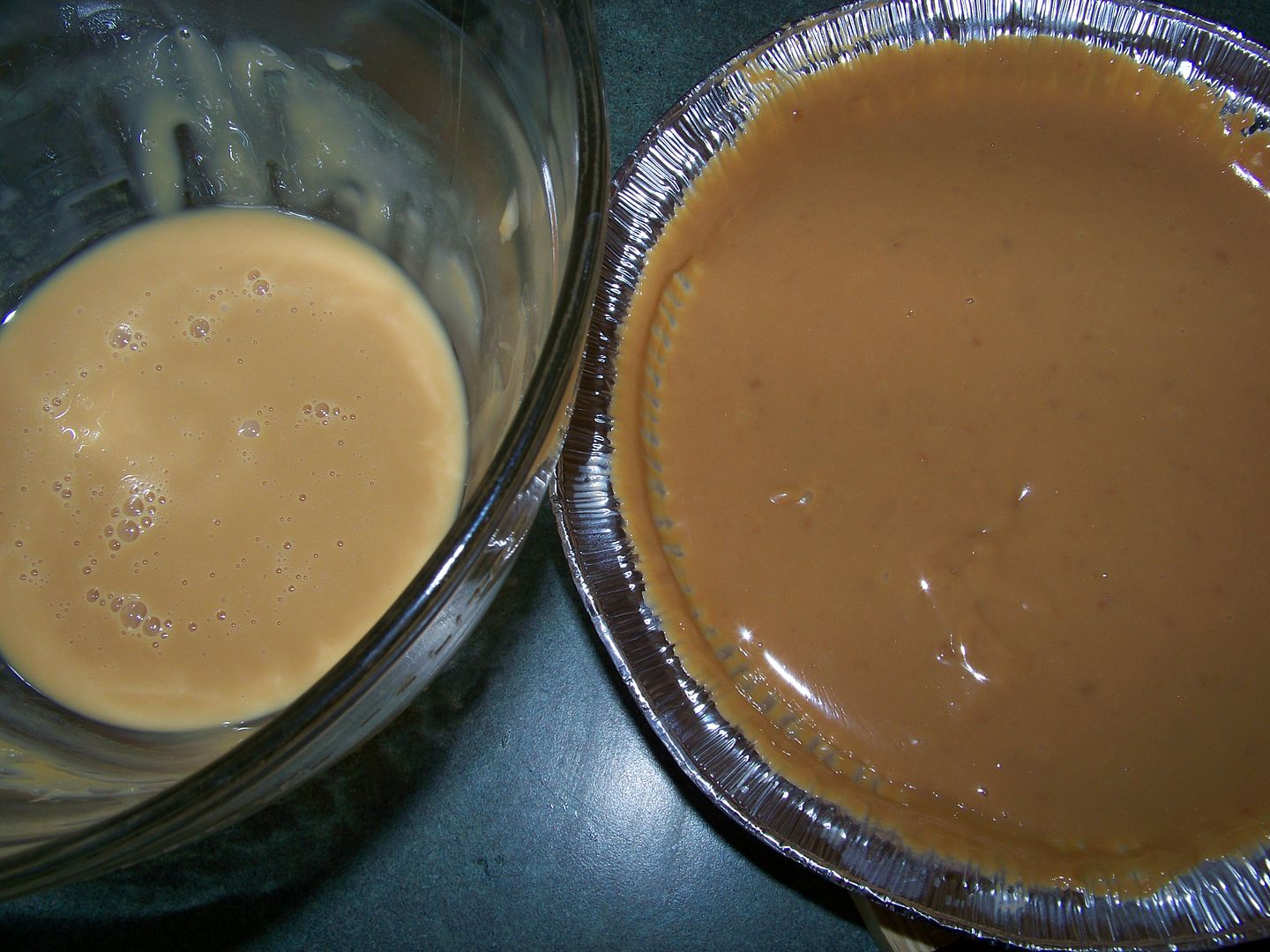 This is the difference between 1 hour of baking (on the left) and 2 hours of baking (on the right). The product produced from one hour of baking would be great for ice cream topping or crepes. For the cookies, however, you need something that is so thick it will not ooze out of the cookies.
I have had so much fun taking time to craft and bake. I happily look forward to Piper's 7th birthday in a couple of weeks. More opportunities to bake and craft with my Cricut! Thank you for checking out my blog!