I love having the ability to use any RGB number to get custom colors on my Imagine! It is a breeze now to have die cuts in any color without having to stock tons of paper!
For directions on uploading your own photo to get the RGB codes (this is especially helpful for licensed character colors), click
here
.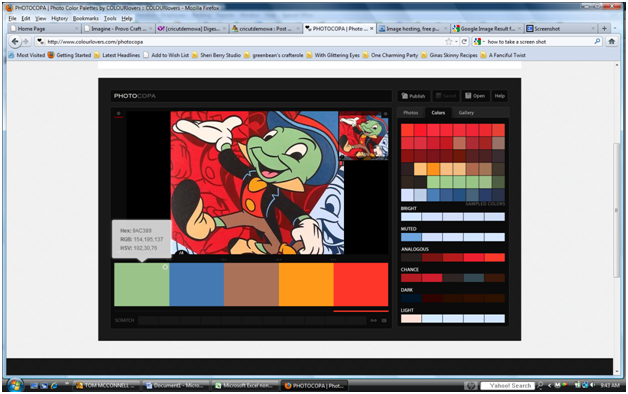 You can upload any picture to colourlovers.com to get the individual RGB numbers!
Below is my ever-growing list of sources for
RGB codes.
You can find this in a printer-friendly version here.

Sesame Street Characters (from info posted on the Cricut message board):
Big Bird: Feathers
255-221-0; Legs Orange part 241-130-40; lines of legs pink part 192-117-140
Oscar:
fur 142-200-64;eyebrows 188-101-30; trash can 195-206-226;tongue 207-58-64
Grover:
Fur 0-125-191; Nose 241-109-158; Lips 195-56-59
Elmo: Fur is 238-64-53; Nose is 244-152-41
Bambi (from info posted on the Cricut Circle message board):
Main brown: 221-150-0
Dark brown: 176-85-15
Spots: 255-228-161
Ears: 248-190-170
Incredibles (from info posted on the Cricut Circle message board):
Red: 234-60-53
Black: 30-43-49 or 0-0-0
Yellow: 250-209-7
Belt: 244-149-85 or 230-100-40 (bright orange)
Skin: 237-190-172
Dad's hair: 145-104-74
Vi's hair: 2-30-41
Dash's hair: 226-182-121
Finding Nemo's Bruce (shark):
Blue: 96-164-199
Gray: 156-16-167