You can take a screen shot of anything by using the Windows Snipping Tool! This tutorial will show you how to snip a picture, save it as a .png file, and upload it to Design Space so you can draw or cut it on the Cricut Explore. To do this, I picked a monogram image (and I share a cool site that allows you to make a monogram from 27 styles for free), but you can do it with anything. The easiest things are black and white images with no background designs.
NOTE: this tutorial was last updated on July 9, 2015 to reflect changes that were made to Design Space.
OK, let's get started! Go to
Mark and Graham (click here)
to get a monogram image.
Enter your initials. The program will re-arrange the letters so the last name initial is in the correct place. Select the style you like-- there are twenty-seven to choose from! You will see a preview.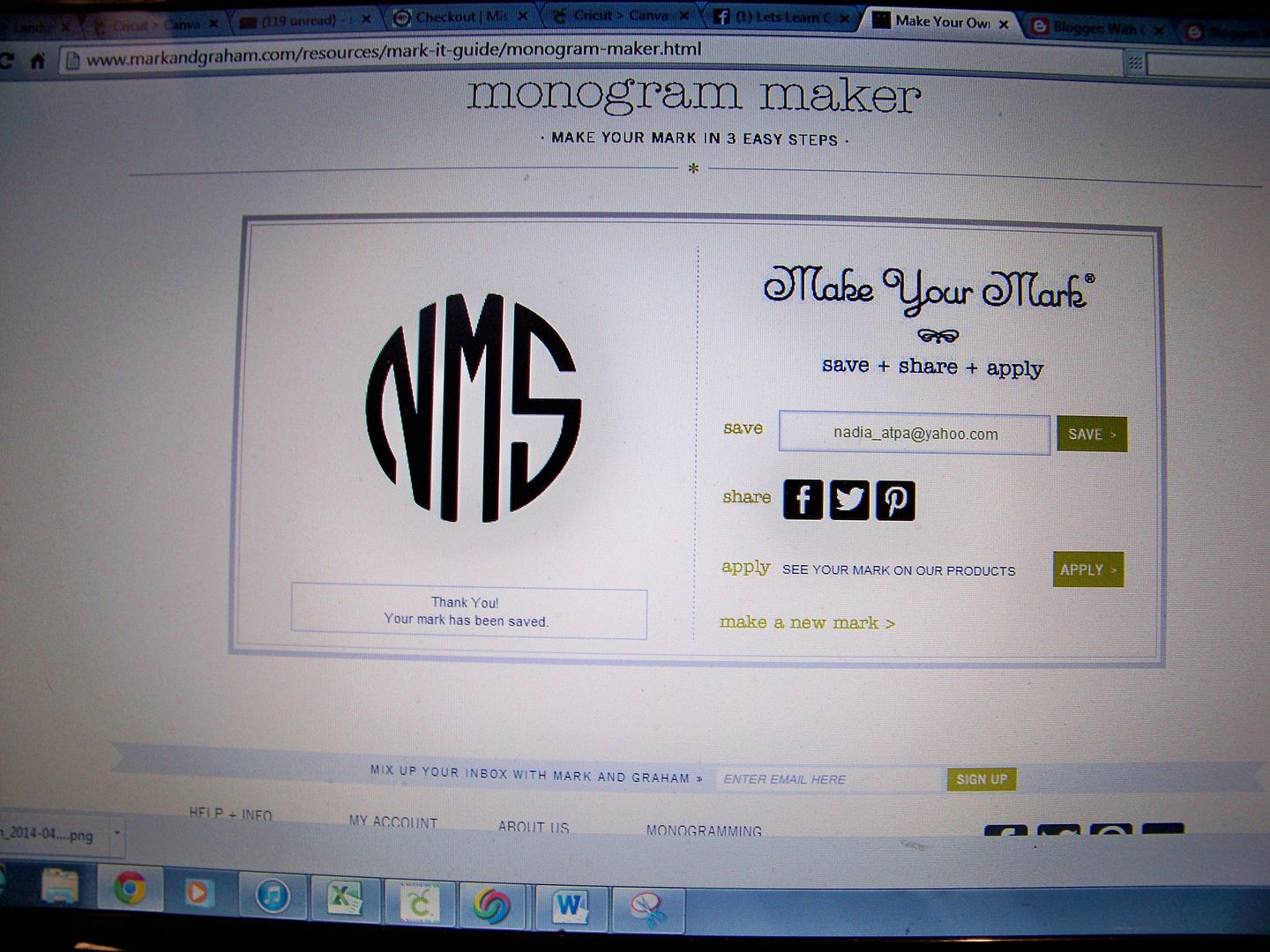 Now, at this point, the site tells you that you can click save+share and it will be emailed to you, but honestly, it takes a while to get the email and some of mine were never emailed so instead I do this:
Use the Windows snipping tool on your computer (click start and in the search box type 'snipping').

The snipping tool allows you to screen shot anything so you can make it a png file that you can use with your crafting! Simple black and white images are ideal for use with Design Space!

A little box will pop up and you can highlight the monogram.
A box will pop up with your monogram in it.

Click file, Save As. Choose the location you want it saved in on your computer, name it, and see that the saved file type is PNG (default).

Now you have your monogram ready to import into Design Space.
Go to Design Space and sign in. Select File then New.
Select Upload Images from the sidebar.
Select Basic Upload.
Select browse and find where you saved it previously.
Select the file and click Open.
The file shows up on the screen with a checkerboard around it. The goal is to have that checkerboard in ALL the spaces except your design! Select Simple Image. Then click Continue.
Click on the space around your image and the checkerboard appears around all of the letters. This is exactly the way you need it....
You can test it to be sure that the red outline shows only what you want to cut! Click on the preview button...
Like this.
Select continue and your image, outlined in red (the cutting line) will appear. Change the image name if you don't like what it is named as a default and any tags you might want. Click save.
It will look like this as it saves...
Your image now appears in your library of images.
You can use it as you would any image there by clicking on the image and clicking on Insert Images.
Then your image will be placed on the design mat in Design Space for you to use as you wish!
I hope this tutorial has been helpful to you.
Last updated 7-9-15.