The surprise for me at the Cricut Circle Kentucky Crop Friday was that I left with a lot of confidence with using my YUDU. Mine was a Christmas gift to me from my husband last year. (I have trained my daughter to work like a walking Mommy Wish List. She took him to the store that carried it and to the shelf where it was stocked.) In the category of 'be careful what you wish for', I got the YUDU! I opened the box, read the instructions and then put it under my bed, sure that it was too messy, complicated, and expensive to be something I would be doing any time soon...
When Shannon Lerner of Provocraft sent an email to all Circle members who had registered for the Kentucky Crop, she mentioned that instead of Make-and-Takes, she would be doing a YUDU demo. As a person who is not big on Make-and-Takes, I was thrilled. I decided that I would pump her for every tip and get answered all of my questions from the real, live YUDU expert!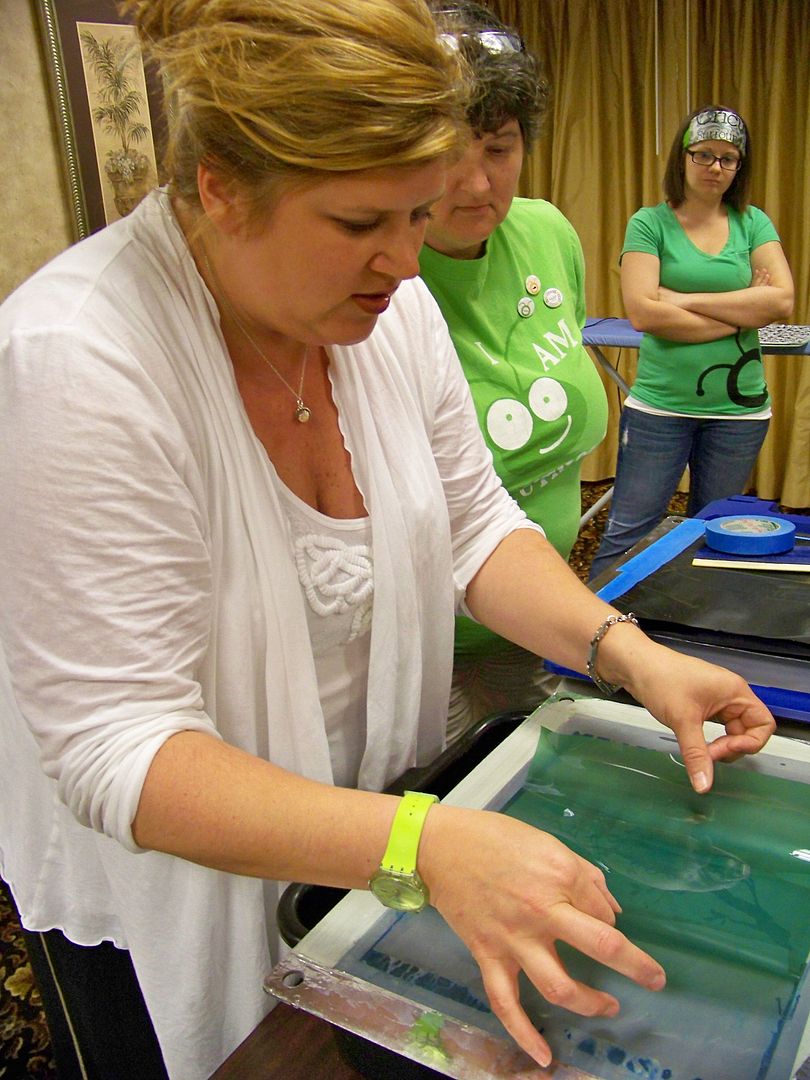 She was so patient, answering everything I threw at her and letting me snap pictures all along the way.
Armed with a notebook and camera, I took notes and asked tons of questions. You can see all of Shannon's tips and techniques that she shared with us on my YUDU page (click the tab at the top on the blog, or
click here
). You will notice a link to a printer-friendly version there. I highly recommend printing it to have handy for your first project!
I took my YUDU and since it was used to successfully screen lots of projects, I felt like my YUDU knew what to do. The next day, I traipsed all over Louisville, looking for Provocraft branded items.
Between three stores, I still didn't find the 70 mesh screen needed to do flocking or the foil or flocking materials. After looking on the YUDU forum, I discovered a source for liquid emulsion! $153 later, I had placed an order for chemicals, screens, and lots of options. I also found all the specialty YUDU products at cricut.com.
I decided that the only way to keep my YUDU confidence was to keep screen printing with what I had.
I asked my daughter to draw a picture on white cardstock with a Sharpie.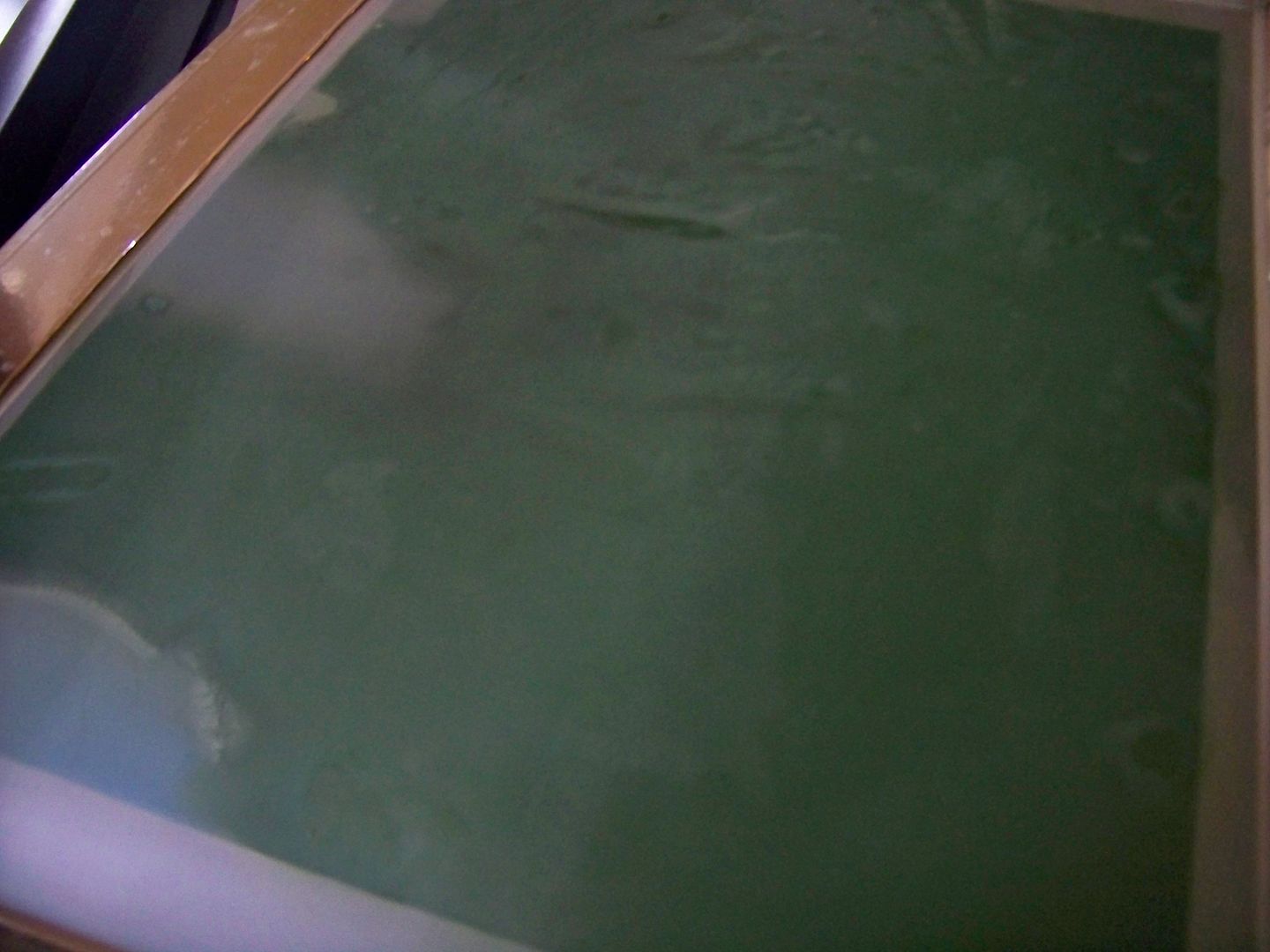 The blue areas were exposed in storage.
...I was able to successfully burn my daughter's image on the emulsion. Since her artwork was much smaller than the emulsion sheet, I was able to fit it on the good area. I used lots of painters tape to tape off the problem areas (and areas I was not using just in case) and it worked beautifully.
Back side of the mesh frame.
Top side of the mesh frame.
I had to place the shirt on the platen off-center since my design was not in the center of the screen. Shannon told us she never opened the shirt anymore to place the platen inside; she just lays the shirt on top of it - so much quicker to take off! She says the ink will not bleed through any t-shirt except for a tissue tee.
I heat-set it, using a piece of paper as a press cloth.
Applying the emulsion sheet was the hardest part. Making sure it adhered and then the waiting! Letting it dry, rinsing it, and letting it dry again takes hours!!! That is why I stopped everything when I watched Cricut Circle's
CraftySanSan's awesome YUDU videos
online. My jaw dropped when she demonstrated using her Cricut to cut Oracal 651 vinyl to use instead of emulsion on her mesh screen. Not only was it quick and as easy to apply as any vinyl project, but-- AND THIS IS BIG -- there is NO DRYING TIME!!!!! No waiting for the emulsion to dry (no emulsion), no rinsing, no waiting for the screen to dry. We are talking instant printing!!!!
Luckily, I had some 651 on hand. I used Twinkle Toes, flipping the image and using a kiss cut (blade 3, pressure 3, speed 3) to cut the vinyl. I weeded the lettering, leaving the negative space to use on the screen. I applied it with transfer tape.
I centered the shirt and pulled the ink through as usual. I was pleasantly surprised that it worked!!!!
Why did I have it plugged in????? I didn't need to expose anything or dry anything!
I let it dry and heat set it with an iron. Then I broke out the iRock stencil and gems and my Jolee's Hotfix Crystal tool, changing ends as needed for the different size stones.
I cannot wait to try the liquid emulsion! I have been promised that it is easier to apply than the capillary emulsion film (and it definitely is cheaper). I will still have drying times with this product, unlike the vinyl, however, I won't be limited to Cricut cuts for my design... although with over 200 cartridges, I am not all that limited! Even so, Shannon suggested going to the Library of Congress website for black and white images to YUDU and that cannot be done with the vinyl.
I am so excited that I saw Shannon's YUDU demo! It allowed me to have the confidence to start playing with this amazing machine! I can see that YUDU projects will be on the plan for the rest of the summer... now to find the best prices on t-shirts!
Thank you for visiting my blog!