I made this on Derby Day. If you are not familiar with the Kentucky Derby, that is one day and one place where all ladies wear decorated hats. That might have been the problem because I had those hats on my mind (and on my television) all day when I was working on this.
I cut a brim from posterboard. This was so trial-and-error. Let's just say I am glad I bought the 10-pack! I wanted something large and floppy.
I used rolls of crepe paper to add ruffles. This was so forgiving and easy. ATG tape was perfect to adhere the crepe paper to the posterboard.
I cut a 12x12 sheet of cardstock into 1/2" strips. I used hot glue to join them to the crown. I wanted to give height to the crown and give the idea of paper streamers. I also wanted this to stop looking like a bridesmaid hat from 1981.
I cut a banner from Enjoy the Seasons at 10.5 (rel size). I used my light box to allign sample text, taped the banner shape to the test paper and ran it back through the printer to get the text onto the banner. This font is Microsoft's Chopin at 36 point size.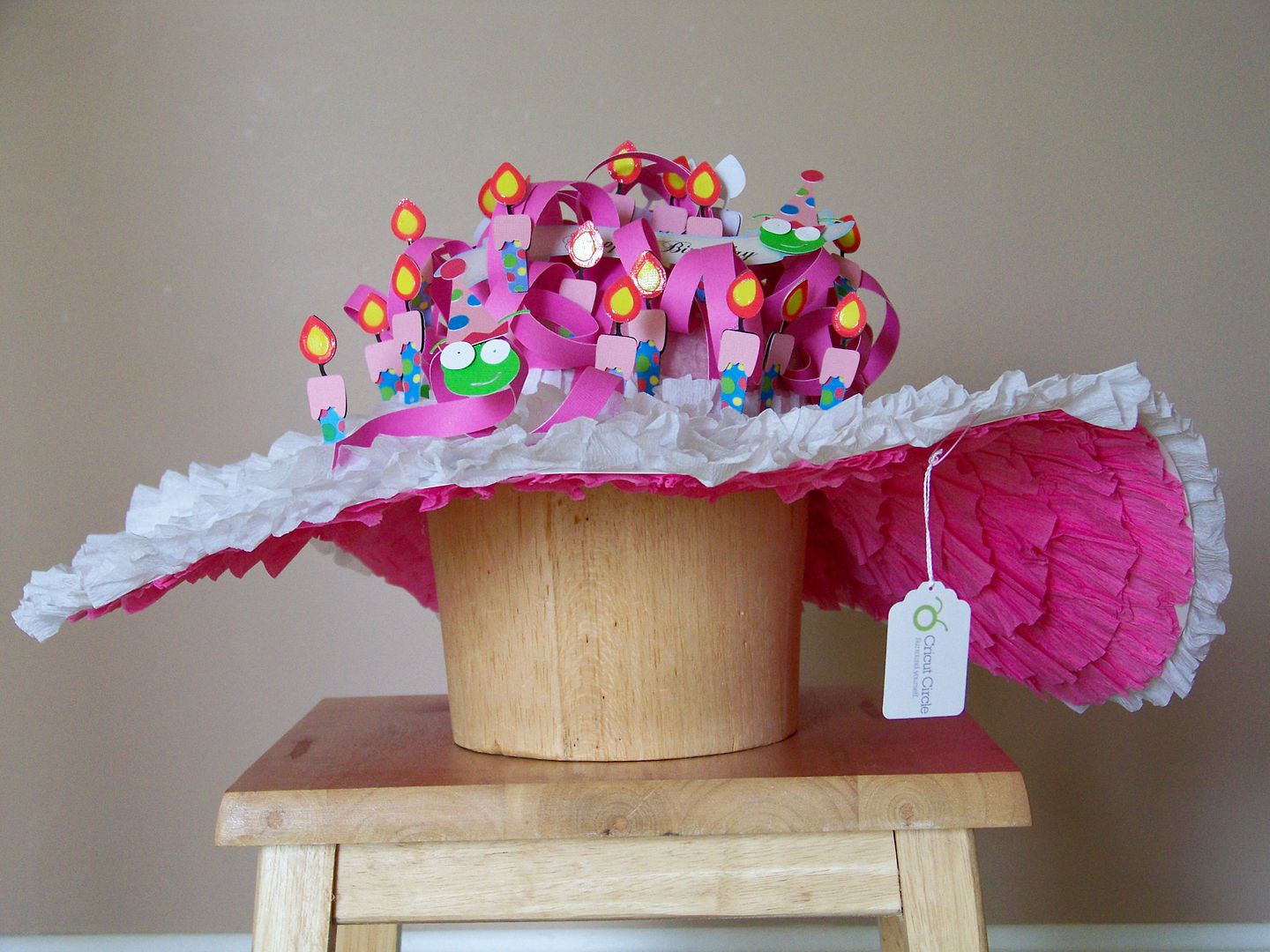 The hat was so silly... I felt a call from Minnie Pearl and added a little tag to it.
Next, I worked on cards for the Birthday Card Swap! I know I will keep any cards I receive in this swap because I could never give one away! I don't know that everyone will have that sentiment, but I made mine kinda circle-y so if someone did actually use it as a birthday card, they could send it to a Circle member.
I started with the cake. The cake was cut from Sweet Treats at 3" (blackout). Autofill cuts 12 of these on 12x12 paper. I used embossing powder to make the cakes sparkly pink and frosted the tops with Liquid Applique.
I manually cut off the bottom and added a hand-cut tray. The Circle logo was cut at 1" from Cricut Everyday. I glued the logo to a paper strip and then glued the strip to the back of the cake.
So then I had a cake.. but what to do with it? I found the lady on the Yummy Imagine cart and separated her layers to cut her without the cake she is holding. She was cut at 7". I hand-cut an apron and then used a Martha Stewart edge punch to create an eyelet border. I used the polka dot Cuttlebug embossing folder to give the apron a little texture, placing the apron so that the dots started just above the decorative edge. I glued the apron direcly under the apron tie that was part of the printed-on apron, and then used a pop dot at the bottom to make it flair out.
I embellished the lady with curls for her hair bun that I cut from a Martha Stewart punch and little rectangles for extra bangs. I added pearls for a neclace and earrings. I added a mini pom at the top of her party hat.
This is when I started asking myself 'how big is this card gonna be?' Do you see how my never-have-a-plan way of crafting doesn't always serve me well? (This is especially true when you just start making 12 of everything without a prototype!) Well, I decided I wanted to make a card that finished at 4" wide and 5-1/2" tall. This is a standard size, not too big or little, and would give me the opportunity to try something I have been wanting to do again -- crop a figure! I cut off the lady's legs just under her apron! It offered a 'close up' figure and I was really happy with it!
The cake was a bit too big, but juxtaposing it made it work. I think it was yet another happy accident! (Do you see a trend here?)
I needed something behind the lady. I had just bought a new Cuttlebug embossing folder with a fleur de lis design. Since this symbol is one that Louisville uses due to its French heritage, I thought that would be a fun background, though I doubt many who aren't from Louisville would catch that. After I embossed the green cardstock, I used a dry sponge brush to apply white paint to the raised areas. I loved how it worked out.
I cut the card base from white textured cardstock. I ran it through my office printer to print my name and blog address on the back. Then, I used my ATG tape to attach the green fleur de lis paper to the base.
I added the elements that I cut previously. The lady was adhered with 1/16" popdots on her upper body. Her skirt was glued flush to the paper. This helped to emphasize the apron that I popped up. I used 1/8" pop dots to adhere the cake.
So then, the problem... text. I finally decided to leave the inside blank and to add text to the front only. I found "Birthday Wishes" on the All Wrapped Up Imagine cart and cut it at .8". I manually trimmed the bottom edge a bit to allow it to fit under the puffed up Liquid Applique. I added a little glitter glue to the surface via finger painting to make it a bit darker and glittery like the cake.
I glued it onto the cakes with E600 since I had used used embossing powder on the surface and did not know how it would adhere.
I liked how they finished up.
I provided manufactured envelopes since these are a standard size card. I wanted to package them somehow to protect them and keep the envelopes together with the cards. I found the perfect size Cello Bags! Then I decided I needed to come up with a cute way to carry them since the Cello bags made them slide everywhere! I found a recipe box I bought on clearance and had stored with my gift wrap supplies. It was the perfect size.
I covered up the Christmas motif on the top using fun paper that I got from a link on the Circle MB and Circle logos cut from Cricut Everyday at 2-1/2":
Next, I wanted a create a few gifts for some folks who were going to be at the crop, starting with Shannon of Provocraft. I am just so pleased that the company was willing to come to town! I decorated some reusable cups like those I had seen Joy and Shantaie post on the Circle Message Board. I thought they would be fun souvenirs. Even if the recipients had similar cups, I was pretty sure they didn't have Kentucky ones!!
To make these, I used Oracal 651 for the text. I didn't have it in hot pink, so I used Oracal 631 for the logos. I hand-washed them after applying the vinyl to be sure it would hold up and shockingly, it did! I added a few drink mixes in the cups for fun. The vinyl was kiss cut (blade 3, pressure 3, speed 3) and applied with transfer tape.
The text was cut from Making the Grade at 3/4". The Circle logo was cut from Cricut Everyday at 1".
I made up some decorated candy bars to go with the cups.

I put the candy bars and cups together in specially decorated bags. You can see my tutorial on the Bravissimo-inspired ribbon decorations here:
http://withglitteringeyes.blogspot.com/2011/05/bravissimo-i-figured-out-how-to-make.html
I had specific folks in mind when I made the ribbons!
I added some special Kentucky items to Provocraft Shannon's bag! I decorated some extra candy bars for some MB ladies who have been keeping up the thread about the crop.
I have decided that I will be making flowers at the crop. I am using Juliana's tutorial from the Circle blog to make daisies and roses. I want to avoid taking my machine and carts! I finally have cut all of my petals and leaves!
The chocolate chip cookies have been baked and the Chex mix has been made and packaged. I think I have everything I need packed and ready to go. We found out that Shannon will be doing some Yudu demos so I will be taking mine too. Maybe this will help me to stop being afraid of it!!

I have my CricutFarmer pin, Cricut rewards sling back, and Gina Piazza wallet...all the necessities! If you are taking notes, the "Nadia" is cut with Hannah Montana's Daddy's Girl font at 1-1/2" on Oracal 631.
I think the meetups are one of the most fun parts of the Cricut Circle. Can't wait to see everyone! I am so pleased that Provocraft has decided to visit us and that Sandie Oxley has worked so hard to make it happen locally! I am off to polish my nails Cricut green...well, maybe just my toes.
Thank you for visiting my blog!