Some say the pen is mightier than the sword. I say the Cricut trumps 'em both. Never mess with a paper crafter! Today, revenge comes with a little paper and my Cricut. I call this 'Keith in a Pickle...Costume.'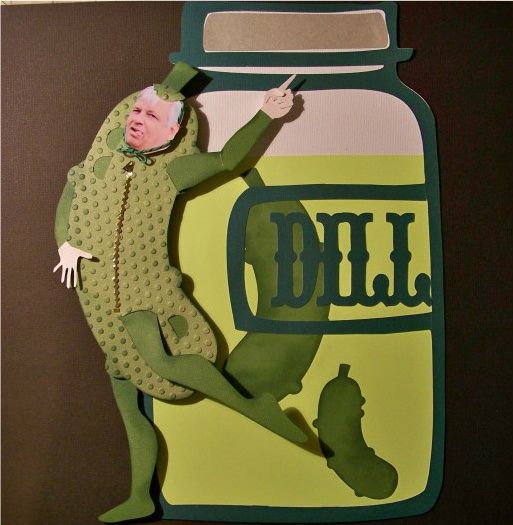 In case you don't know, my friend Donna's husband has called me out! (You may know Donna as Scrappymama on the Cricut message board). In his travel blog, Keith recently renamed The Three Gossips formation in Arches National Park in his post.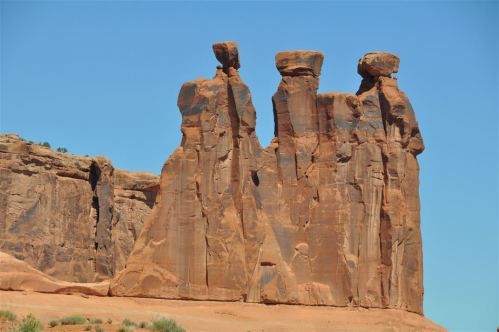 He said, "I nicknamed them Donna, Rebecca, and Nadia. Names are purely fictional. Any resemblance to real people is well deserved." You can see the post for yourself --
click here
.
That my friends, says he's ichin' for a fight! I knew that Keith would be my helpless victim on paper. Oh, the power!
Amazingly, there was a lot to learn in doing this! First, I had to figure out how to use the pun 'in a pickle' to see my revenge. That bit of genius was provided by the lovely Donna, my co-Gossip. I wanted him to be a pickle, but I wanted to make it clear that this was Keith, so I opted to put him in a pickle costume.
I had asked for pictures of Keith so I could make a paper portrait of him. I had learned to do that in a previous post. You can see that by clicking
here
. After I received a perfect photograph of him with his tongue sticking out, I knew that I was going to use the actual photo instead! (How could I top this?!)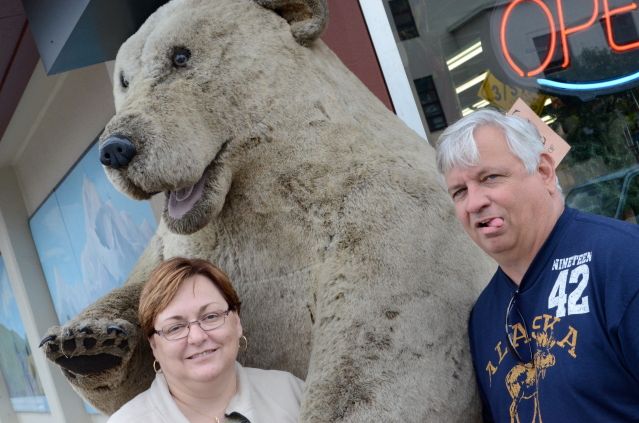 The cut I used for the pickle costume is from Just Because Cards cartridge, page 26, cut at 10-1/2" on my Expression. (The other pickles in the jar were my test cuts.) I needed the costume pickle to look a bit different from the 'real' pickles in the jar--the way real costumes look different from the objects they depict. I opted to ink the real ones and only use the base layer.
For the costume pickle, I used a top layer, pressed it through the Cuttlebug for fakey pickle bumps, and inked over them. I created a zipper using decorative edge scissors and metallic paper. I hand-cut a little zipper pull.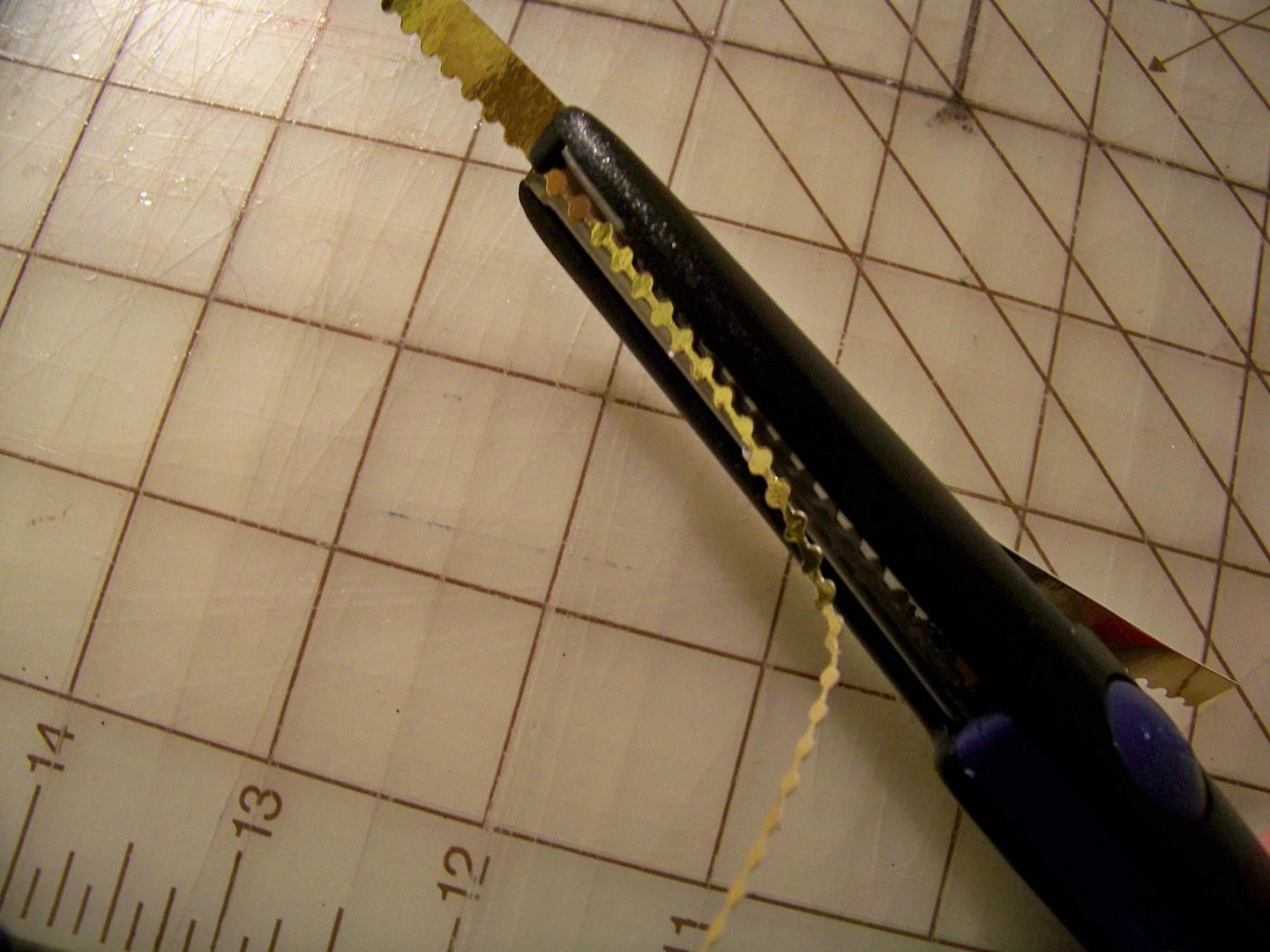 I cut out Keith's head from the photo. (It seemed like he was actually sticking his tongue out at me once I did that, which propelled this project, giving me the little boost I needed to continue... or maybe it was just late and I was getting weird.)
I popped his head up with pop dots and cut off the top of the pickle so I could make him a hat. Don't you just love the chin strap!! (Chin straps, beanies, and clown noses all have the same goofiness to me). I made little slits at the top and bottom of his ear so the twine would tuck behind the ear. The twine I used was some that I had dyed recently. You can see that post on how to dye twine by clicking
here
.
Next, his legs. I don't care what you say about the Shall We Dance cartridge; boy, was I glad to have it on this project!!! Where else would I have found men's legs in tights???? I loved this! (I never, ever thought I would use this particular cut, so thank you Keith!)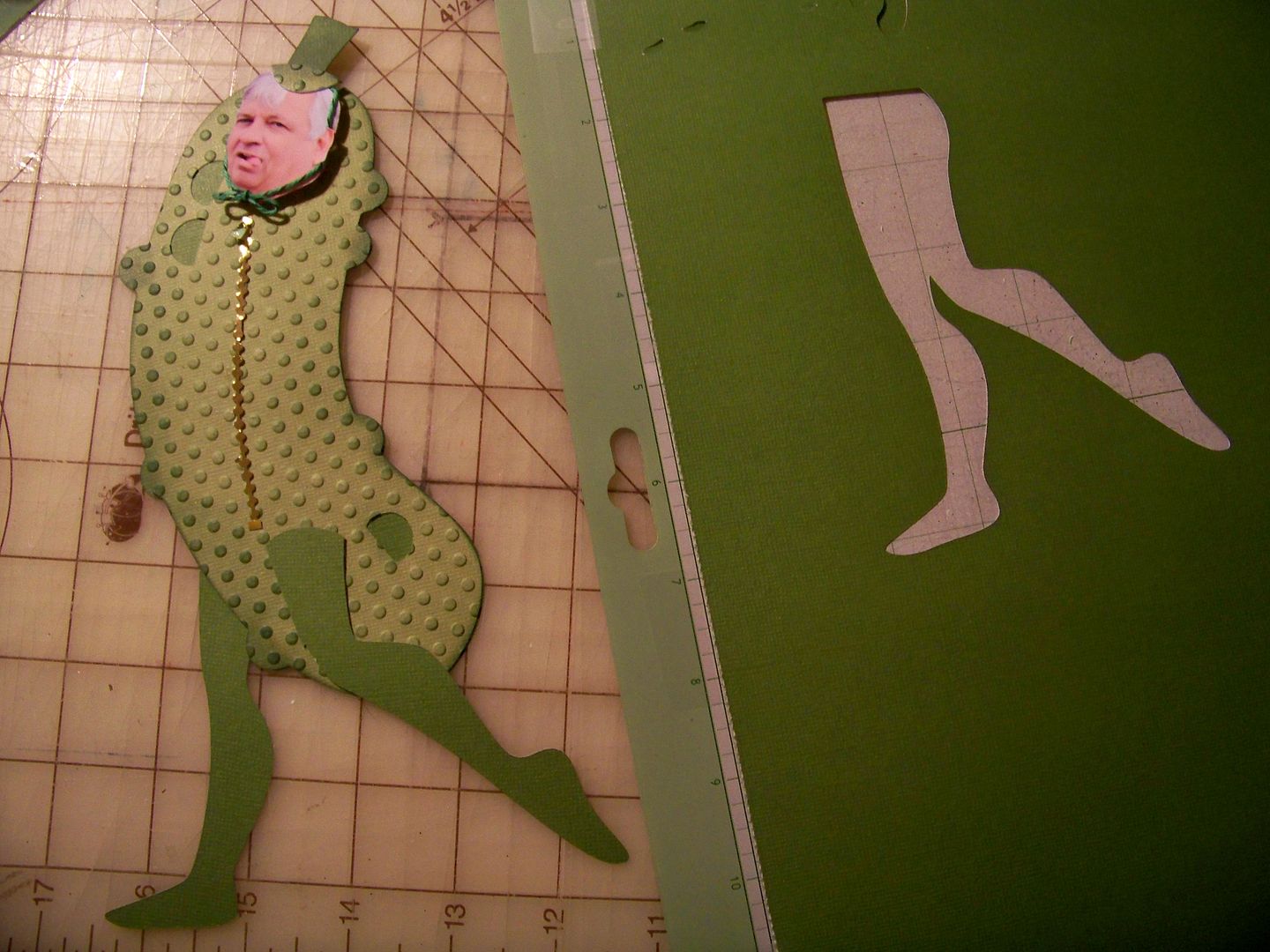 The legs were cut at 9", flipped using shift and the layer feature, from page 49, I cut them apart, creating a thigh for the top leg and inked the edges. Nice calves, huh! I used an X-acto knife to cut a slit just above where the top leg would be positioned. I wanted it to look like it was coming from a leg hole in the costume. I tucked it into the slit and glued it flush at the top, but used a pop dot at the knee to pull his leg into a little kick. The bottom leg is attched with a pop dot to build a little depth.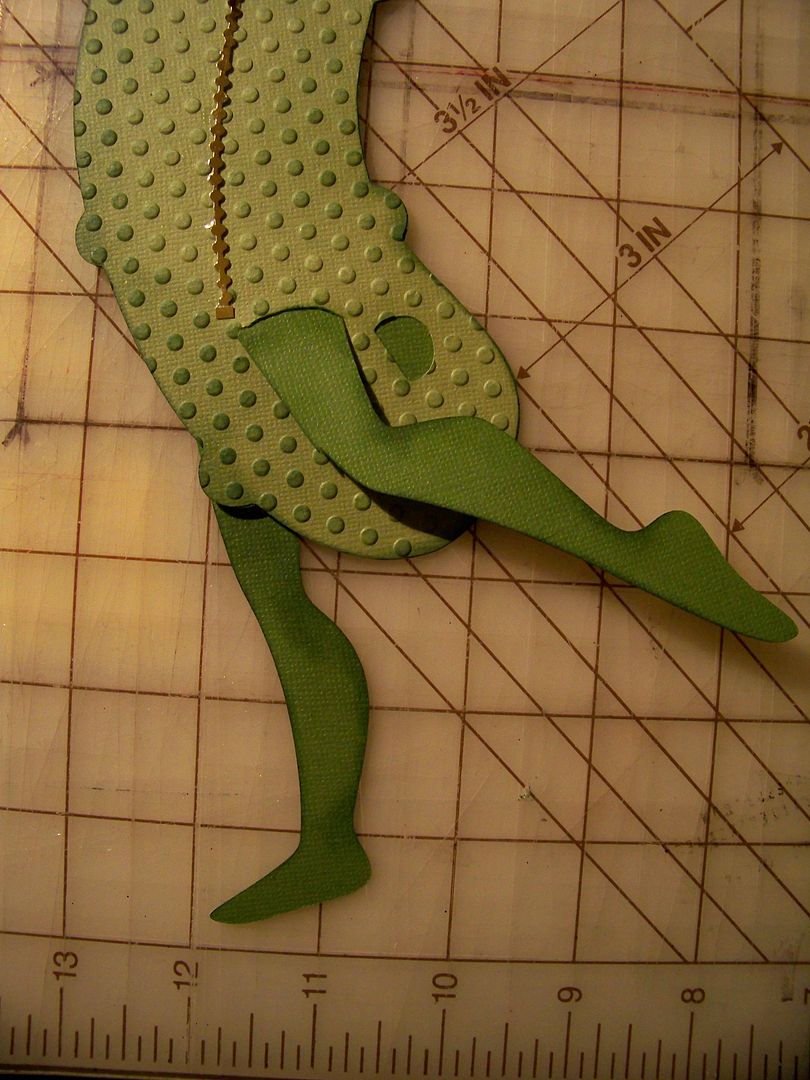 So, the legs made him look like he is dancing. Seeing that is when I knew he needed to be giving us disco hands. There's nothing like a pointed finger in the air to say 'look at me shake my pickle booty.' That was the next element! The Feeling Groovy cartridge would not cut the arms to the scale I needed on a 12x12 mat, so I decided to make custom hands and arms.
I used the search words 'hand sihouette' in Google Images to find these great hands. They were already the perfect scale! I simply used the hands I wanted as patterns and hand-cut around them and the flesh-colored paper at the same time. (I used paper that I had printed on the Imagine for the flesh, using RGB code 250, 229, 210).
That worked just fine for the open hand. For the pointing hand, I had to create fingers and a thumb. I took a picture of my daughter's hand in that position. Then I cut a second pointing hand, cutting away all but the folding down fingers, and a thumb shape that matched what I saw on Piper's hand.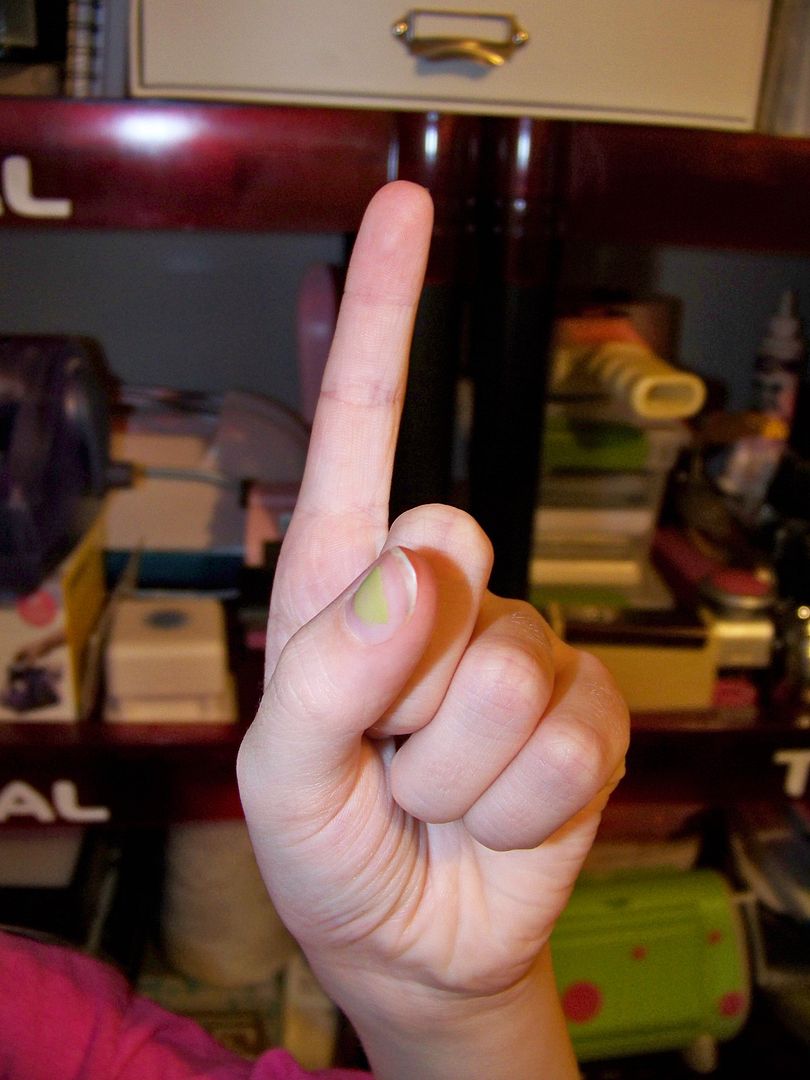 See how the thumb overlaps? That is the key!
I glued only the top edge of the fingers and side edge of the thumb, bending the ends slightly.
For his extended arm, I found one just like I found the hands, by searching 'arm silhouette'. For the arm close to the body, I just cut a simple shape and attached it behind the body. I adhered the hands to complete the figure after inking the arms heavily.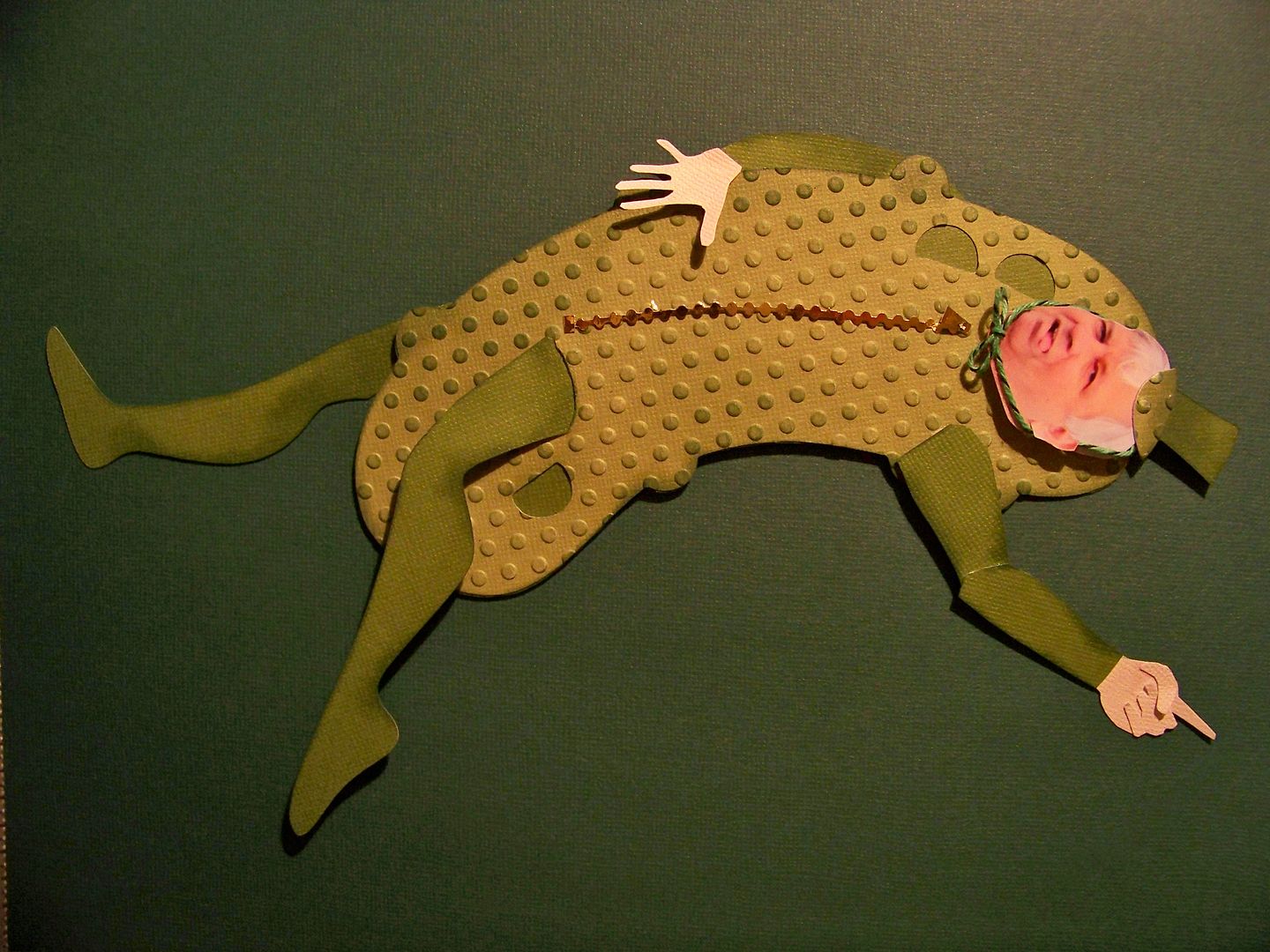 All along I had kind of thought he would be in a jar of pickles. I had envisioned that I would use acetate that I colored pale green to be the water. The error in this thinking is in forgetting how dimensional I made Keith. I would lose some of the dimension and have to pop up the acetate layer. At this size, I opted instead to keep the jar behind him for reference and have him doing his little dance in front.
For the jar, I used the Savory cartridge, cutting at 11-1/2". I altered the cut somewhat, cutting away the pickles on the original, since I had made my own pickles. I cut the base twice; cutting once in white for the jar and once in light green (cutting off the top to adjust the level of liquid) for the pickle juice.
I mounted the jar and the costumed Keith on a piece of 12x12 black cardstock.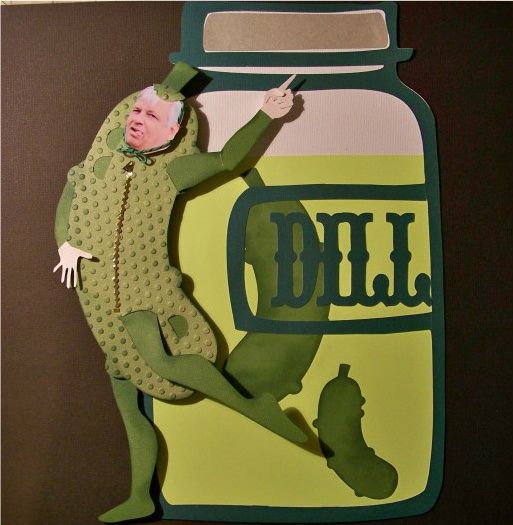 Thank you for looking at my blog today! I hope you enjoyed my paper revenge!
Edited 7-29-11 to add:
As the pickled gentleman that he is, Keith created a follow-up post on his blog where he showcases Donna's beautiful mini book.... and has an answer to my 'pickle post'. I also get the honorable title "Cricut Whisperer," which I vow to make into a Yudu project! You can see his follow up post by clicking
here
. Thank you, Keith, for being such a good sport!
If you are viewing this before July 30, 2011, it is not too late to have a chance to win a Cricut Collectible! You can do that by clicking
here
to go to that post! The collectible I am giving away is not yet for sale anywhere! (How exciting is it to win something that you can't even buy yet!!!) It is unopened so the secret of which color is inside is still in tact!!
Check it out
.