Happy Independence Day!
For a little surprise for my daughter, I have a Fourth of July present. We don't usually do gift-giving for this holiday, but she has been wanting something special so I thought it would be a fun time to give it to her. For the first time in years, my husband and I are not working out-of-town on July 4th-- so that's even more reason to celebrate together as a family!
This is my challenge project for the Cricut Circle Blog Weekly Challenge #61: Stars and Stripes. The challenge was an easy one so I jumped on it for my gift tag!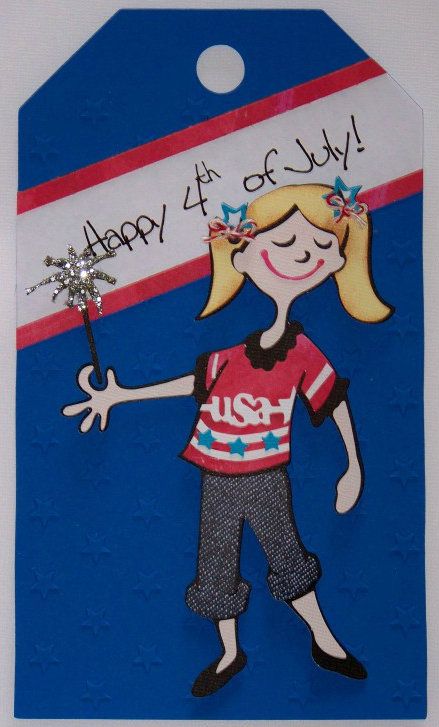 We were required to use at least three stars and stripes and at least two Cricut cuts on a project of any type. My tag cuts were done on the Expression using cuts and cartridges as described below:
Girl: Block Party cartridge, cut at 6". I discarded her flower so she could hold a sparkler. I added bows and stars (see below) to her hair. She is popped up with 1/8" pop dots on the finished tag.
Sparkler: Stand and Salute, 1-1/2". I used a mix of fine and chunky glitter for the surface.
I hand-cut the stripes on her shirt using a stencil as a guide made from the negative space around the same t-shirt cut.
USA design on t-shirt: Stand and Salute, 1/2" (border page 63), trimming off the stars to make it fit.
Stars in her hair and on her t-shirt: Stand and Salute 1/2" (border page 32). The stars on her shirt on the negative space of the cut; the stars in her hair are from the border, cut apart.
Tag base: Art Philosophy, 8" (page 60), embossed with a Cuttlebug folder from "Skyward Set."
Banner: Text printed with 'Tall Paul' font at 48 point. Banner and red stripes were cut via paper trimmer.
Stars for the package: Stand and Salute, cut at 2-1/2" and 1-1/2".
I used this tag on the gift package.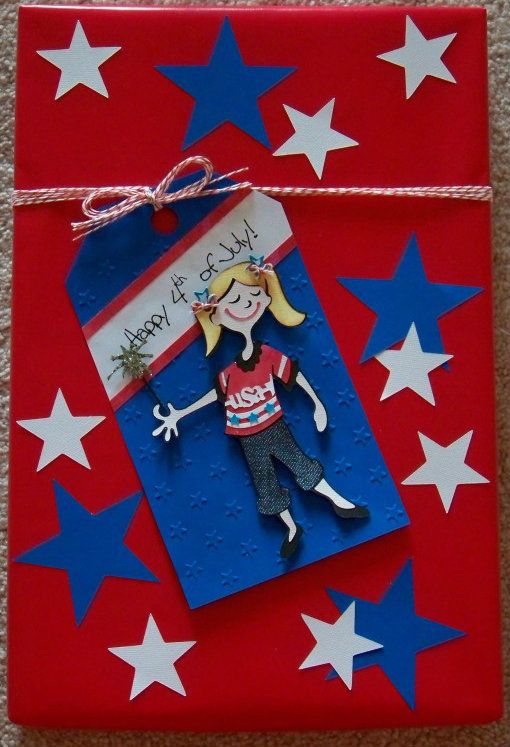 And I got it all done before she woke up!! Yippee!