I recently saw two challenges and thought they would be fun to combine into a card! I have been looking at all the window-style cards on Pinterest so the current
challenge on Bitten By the Bug 2
intrigued me! I have also had a set of Peachy Keen stamps in my collection for a bit, as well as chalks, and wanted to find a reason to use them so the current
Peachy Keen Stamps Blog challenge
was just perfect. I created this card...
The figure was cut from Cricut Country Life at 9" (page 32 - layer 2), altered somewhat with hand-cuts.
The hair was cut from Paper Doll Dress Up (page 47) at 2-1/2". I inked and chalked her. I hand-cut her facial features. I popped up her head 1/2" but adhered her lower body flush.
The t-shirt was hand-cut. I used PK-560 face stamp for the t-shirt graphic.
The window and window-box were cut from Spring Cottage at 5". I hand-cut the bottom bit of woodwork out so that the window would be 'open' so the figure could stick out of the open window. I placed recycled Cricut clamshell acetate in the upper window for panes of glass. I used a Cuttlebug folder and a roller to hand-press grooves into the woodwork. I used a combination of ink and chalk to give the woodwork depth. I popped up the top layer of the window box 1/4".
I wanted it to look like the back of a Roman shade, so I hand cut that and drew in details with rings, cords, and tapes. (I know, I know, this should be a white lining fabric! I really debated using the polka dots -- now you know the silly things I worry about!) I created a braided cord and pull via bakers twine and a bead. I placed vellum over the print used behind the window to mute the colors a bit.
I hand-cut 1/2" strips to create wood siding.
The watering can was cut from Garden Soup (page 52) at 1-1/2".
The flowers were cut from Pagoda (page 56 -1" and page 57 - 1/2").
The birds and branches were cut with a Martha Stewart punch. The birds were popped up 1/2".
The card finished at 5"x7". The inside sentiment was printed on the computer: Hello Sunshine!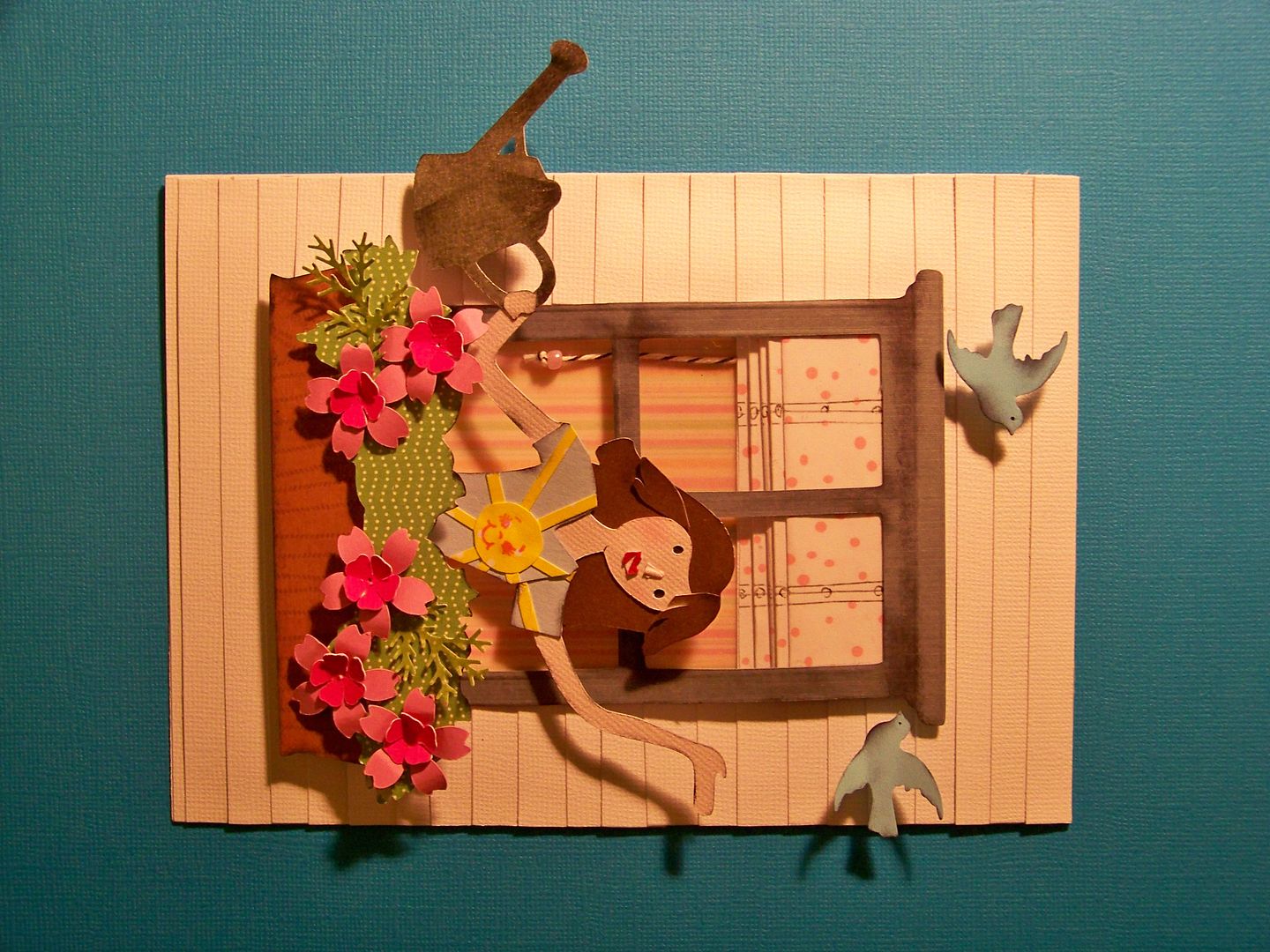 Thank you for checking my blog post! You can see many of my previous projects in
My Project Gallery
.