Don't you just love Valentine's Day? It's such a fun way to overcome the winter blahs! These are my silly, little Valentine projects.
Valentines for Ballet Class
This idea is all over Pinterest. I have pinned about five different Valentines with this idea; my favorite is on TheFrugalGirls.com. Click
here
to see! These are simply 4"x6" photos with text added. I used an Xacto knife to cut slits in the photo, on the top and bottom of the hand, for the sucker to fit into. I love how they really look 3-D.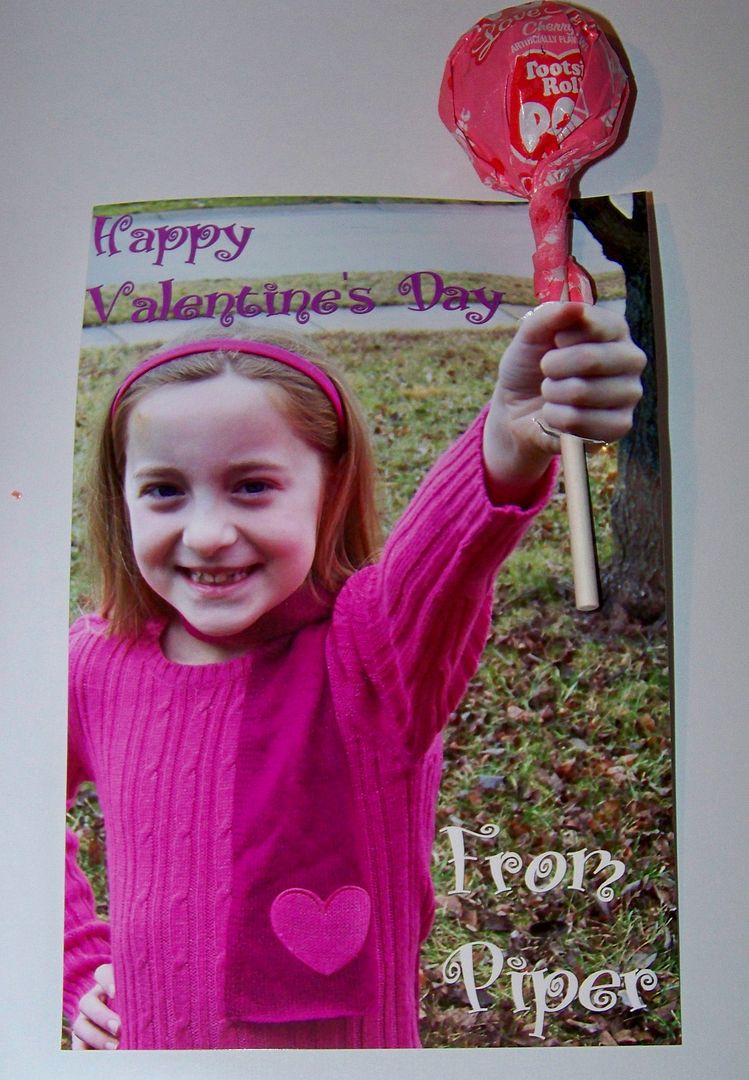 These heart-shaped chocolate-filled boxes are teacher gifts. The boxes are modest so we needed to dress them up.
The base was cut from Artiste, page 51, at 4-3/4".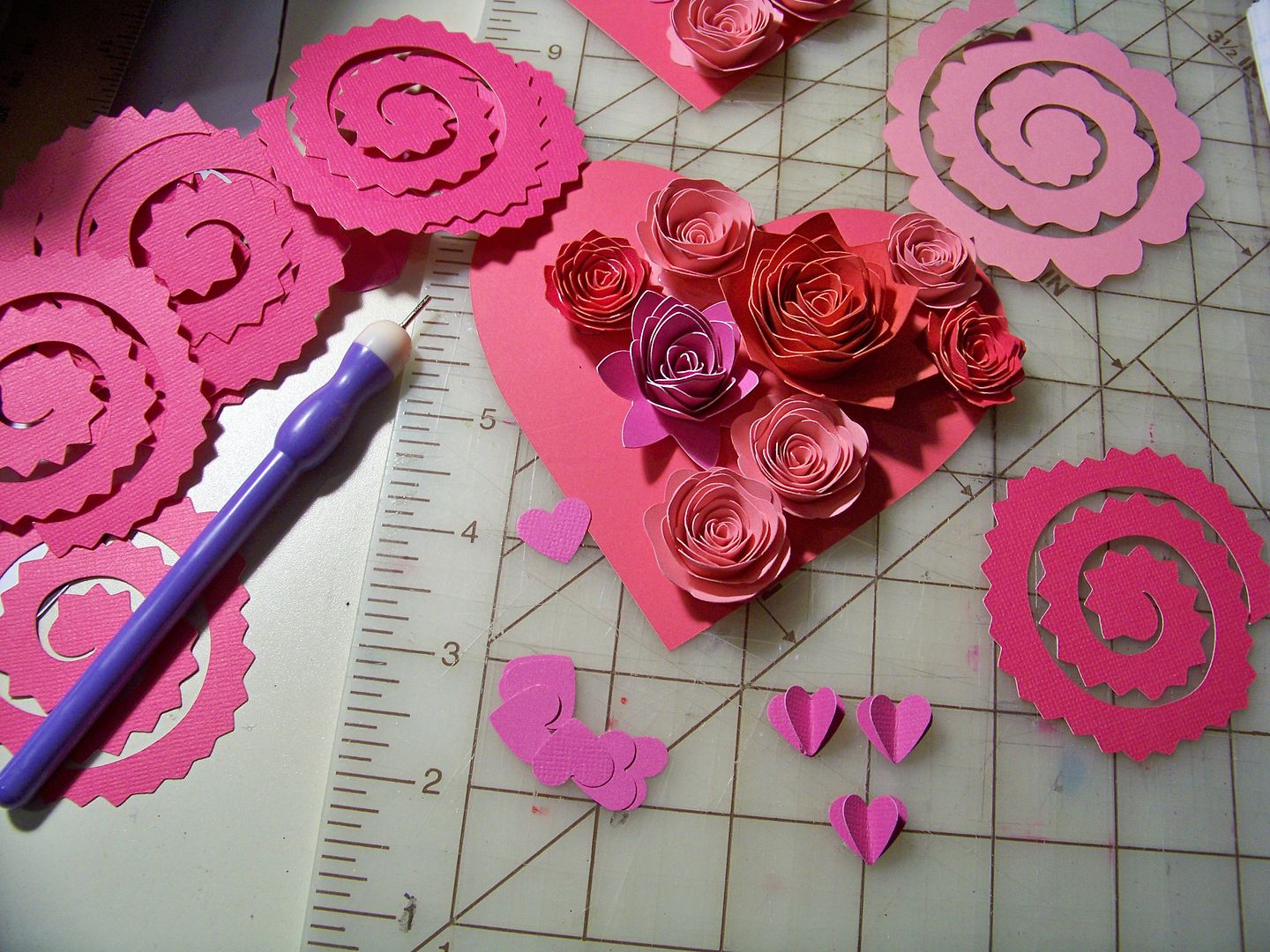 The flowers were cut from Artiste, page 54, at 2-3/4" (Accent1-shift), 3-1/4" (Accent2), 4" (Accent 2-shift), and 5-3/4" (Accent1-shift).
The hearts were cut with a punch. Some were combined to make dimensional by folding one in half and gluing to a flat one.
The banner was cut from Holiday Frames and Tags, page 48, at 1". I folded it at the perforation marks to fake furrowing.
All the flowers were hot glued to form and hot glued to the heart base. The base was attached with Terrifically Tacky double-sided tape.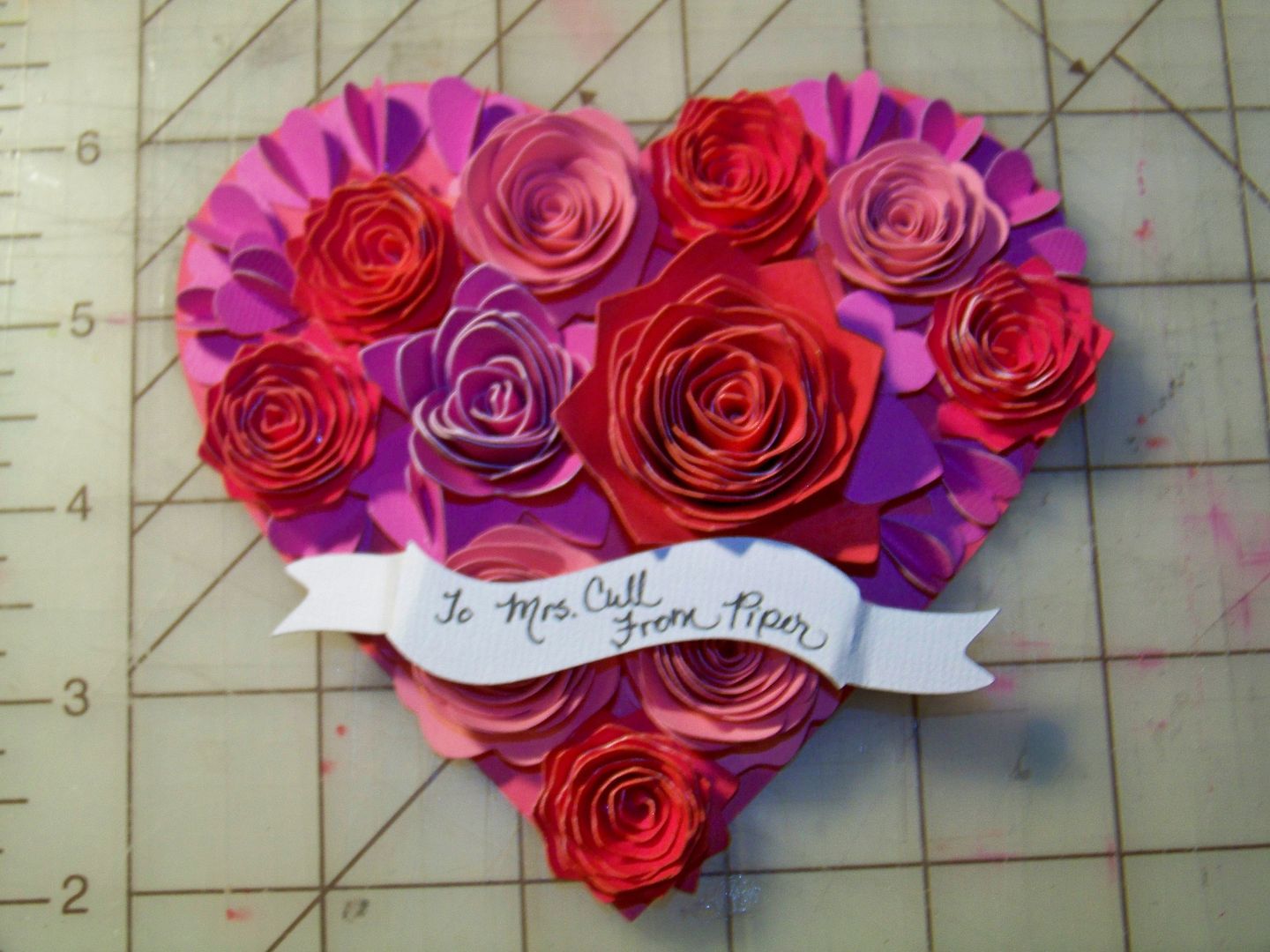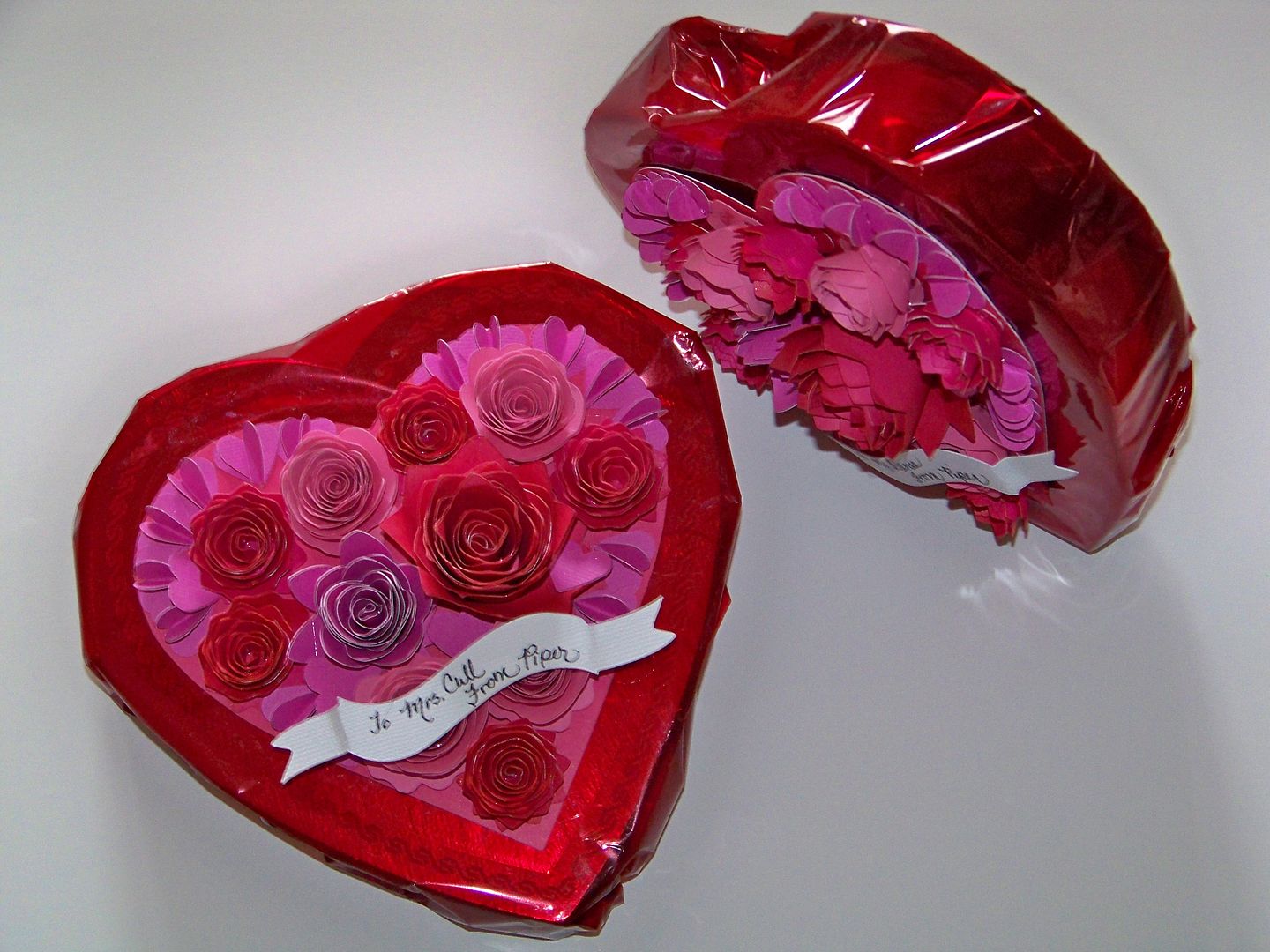 Religious Valentines for School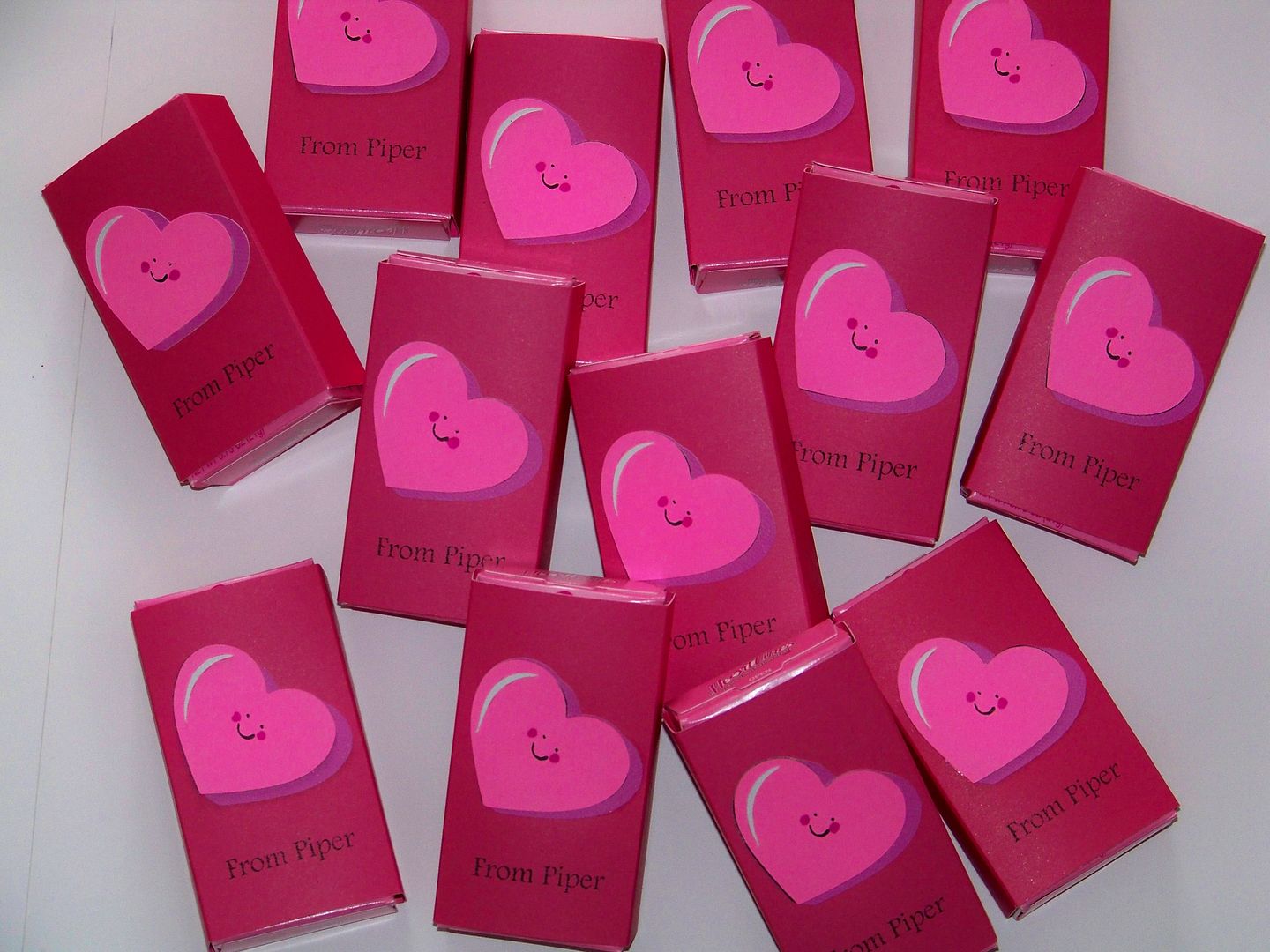 I created a sleeve to dress up inexpensive boxes of Conversation Hearts.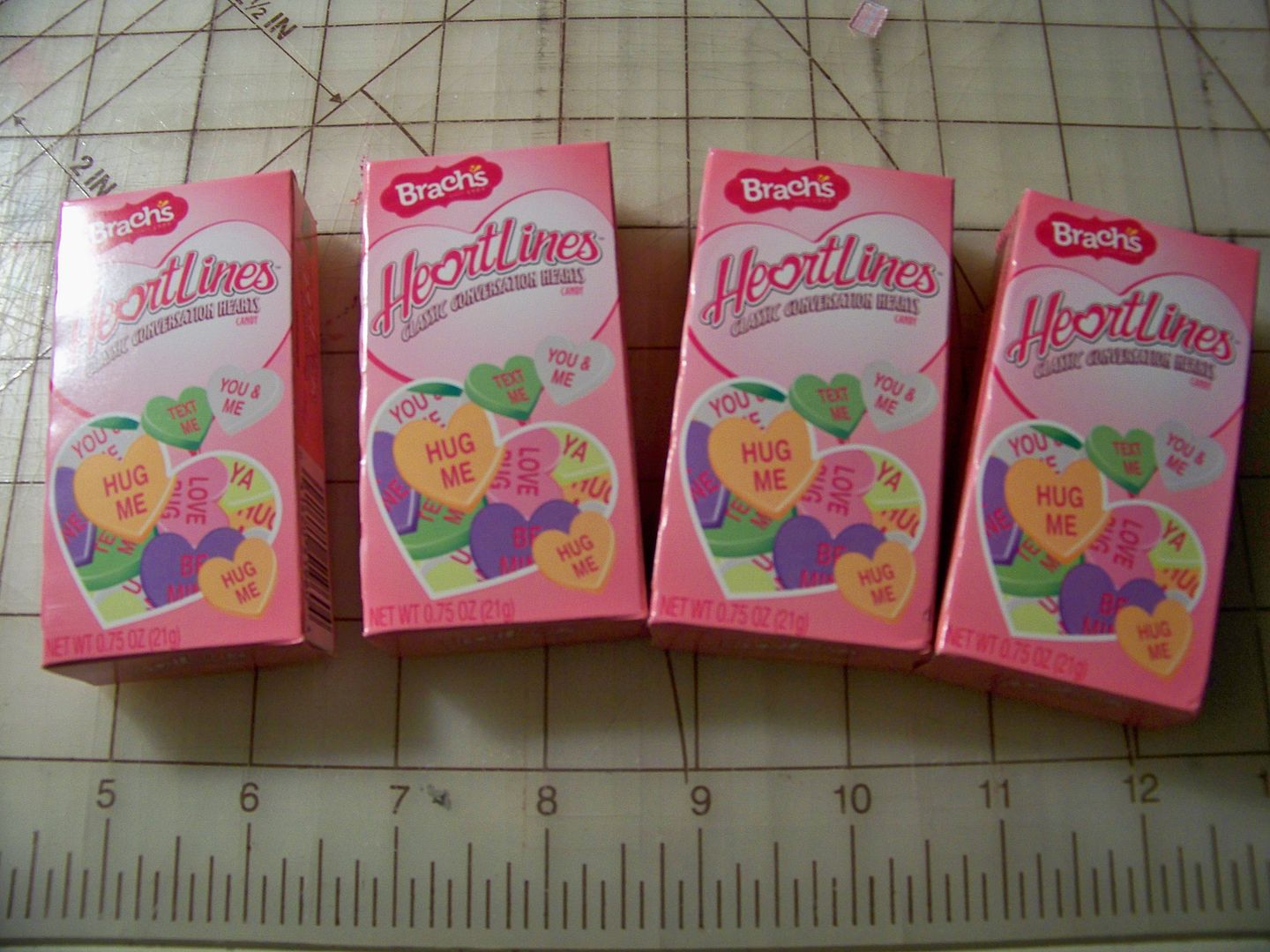 My kiddo goes to a Christian school so I added Bible verse references to the packaging.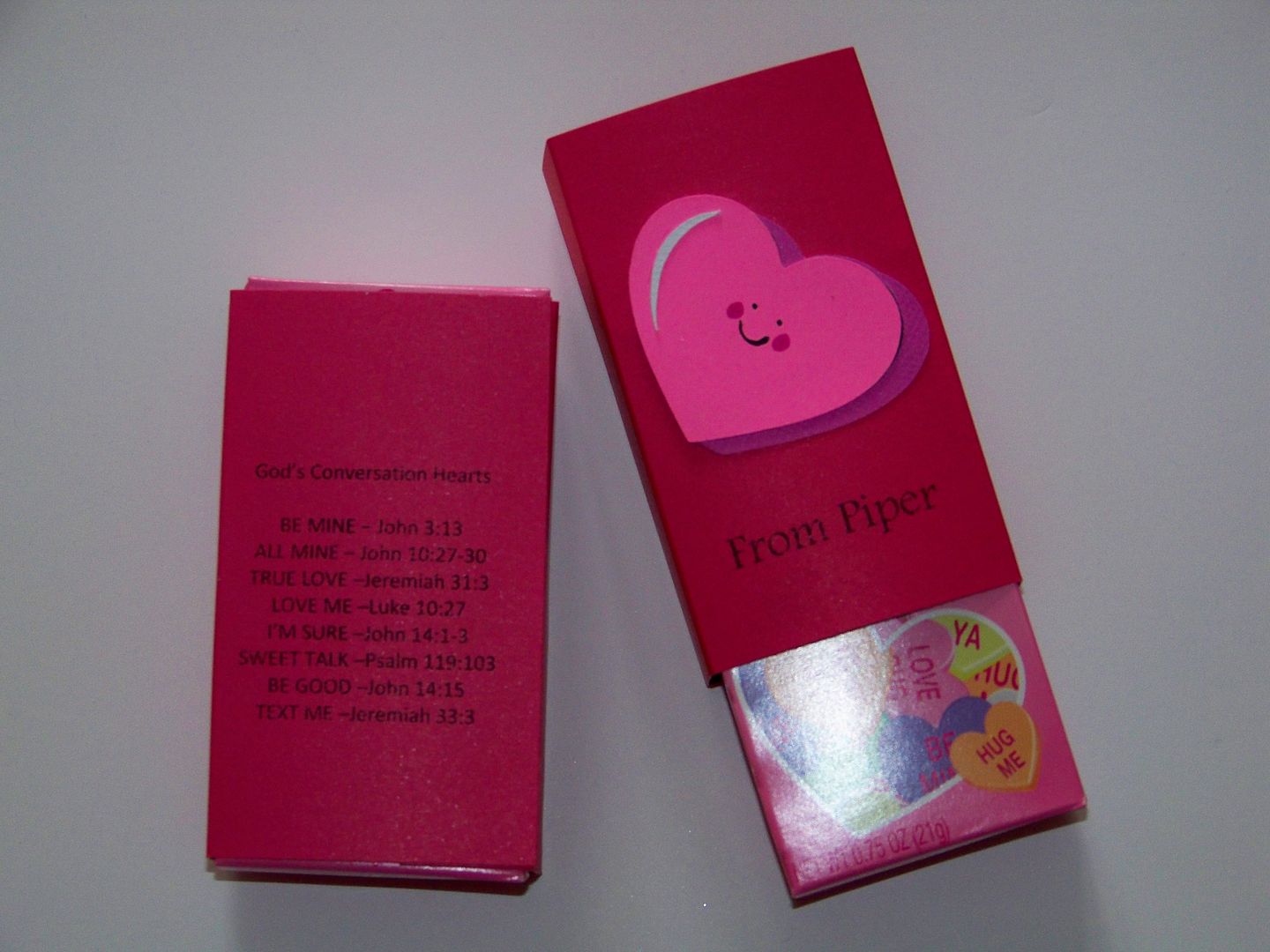 The base was trimmer-cut to 6" x 3-1/4".
I scored the base at 3/4", 1-1/2", 3-3/8", and 4-1/8".
The smiling heart was cut from Simply Charmed.
I printed the Bible references directly onto the base from my computer. I got the idea from a blog post by Julia Bettencourt that I saw on Pinterest . You can find her blog post by clicking here. I changed her "Fax Me" to "Text Me" but otherwise, I used her text. I thought this was so sweet and clever. In case you are interested in Juilia's take on how the phrases match up to verses:
TRUE LOVE - Jeremiah 31:3
SWEET TALK - Psalm 119:103
Dolly Gifts for My Daughter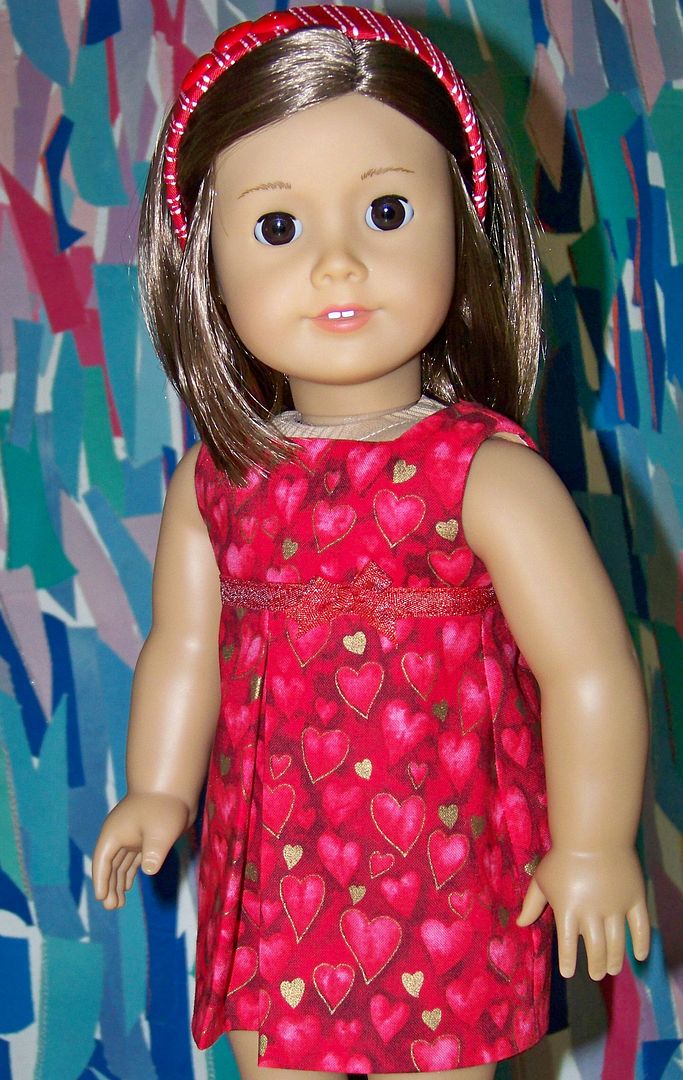 I made a little Valentine dress for my daughter's doll from a pattern purchased from Kotton Candy Doll Fashions. This is the pleated sundress. I have made this pattern lots of times. It has a perfect fit on American Girl dolls and I have gotten it to the point where I can complete it in an hour. Click
here
for the pattern on Etsy. To see more dresses I made previously with this pattern, click
here
.
For fun, I purchased some cute "easy peasy" Valentines from Lettering Delights. I love that I can change the size and print these off in "doll size" for my daughter. I imagine that she will have her dolls exchange Valentine cards with these.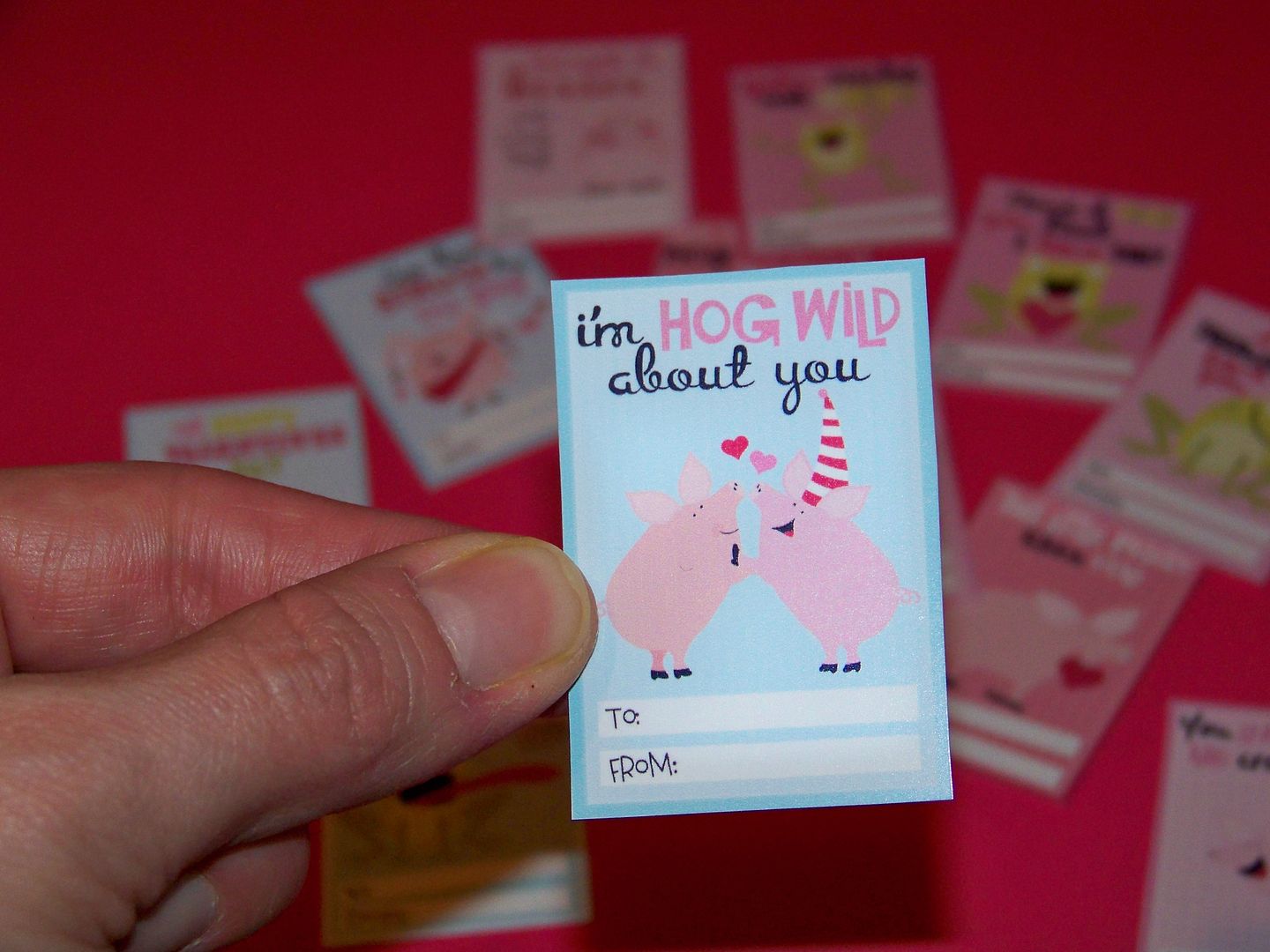 To get to this mini size, I used the jpeg file and printed each group to fit a 5x7 format. This allowed both styles to fit on one 8-1/2" x 11" glossy photo paper. These are the 'Hogs and Kisses' and 'Frogs and Kisses' Valentines. Click
here
to see all the styles available.
I have been so afraid to make doll shoes.. but a doll clothes sew-along Yahoo Group that I am a part of recently shared a flip flop doll pattern for this month's sew along and I forced myself to try it. Well, they created a monster because I have made tons of flip flops and gained enough courage to try espadrilles! I didn't follow the pattern, using what I learned from the flip flops, to make them so much easier!
Instead of covering a board in fabric, attaching that to a secondary layer, and adding cork to the bottoms, I simply used one piece of thin 'fun foam' to attach the fabric upper and heel. (I found glitter foam!) I hot glued that to 5mm 'fun foam'. I attached metallic middy braid to the edges instead of jute trim. These go together in minutes!!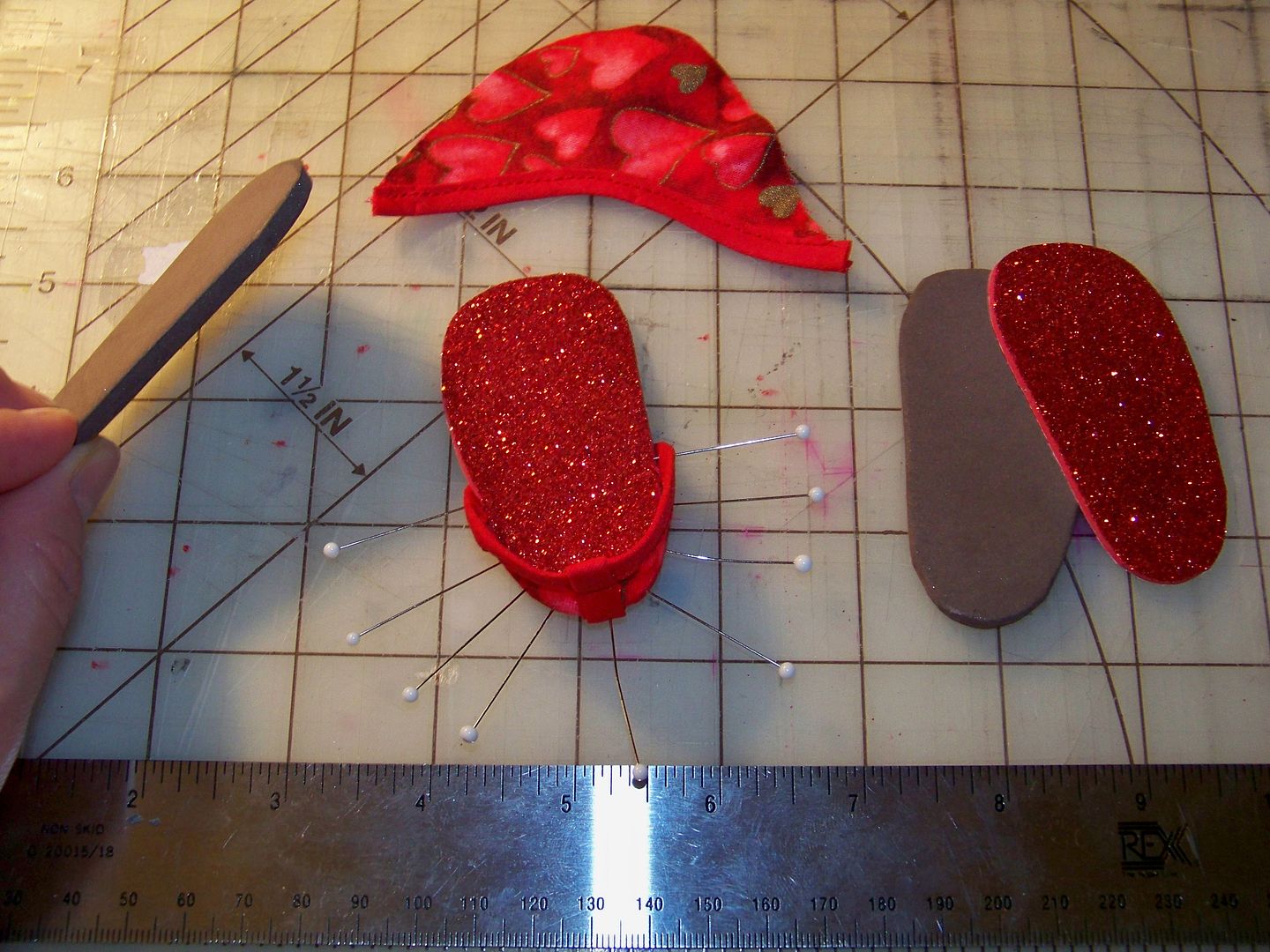 I used this pattern that you can find on the Liberty Jane site! Click
here
to see it.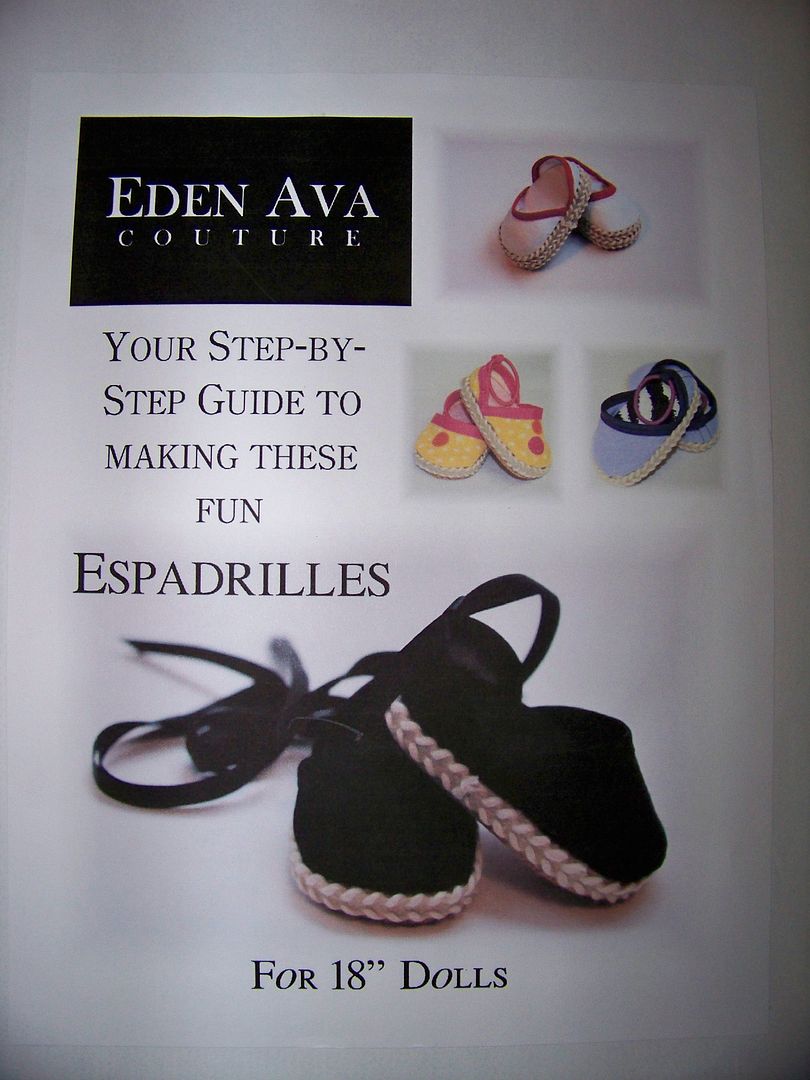 I covered a doll-sized headband blank with 5/32" ribbon, hot gluing to keep in place. I hot glued a few heart-shaped buttons to the top. To see the source for the headband blanks, click
here
.
Super simple, super fast gift wrap for this gift used Victorian Romance for the heart banner, cut at 4-3/4" and letters from Holiday Frames and Tags, Nordic Font, cut at 1-3/4" and 2-1/4".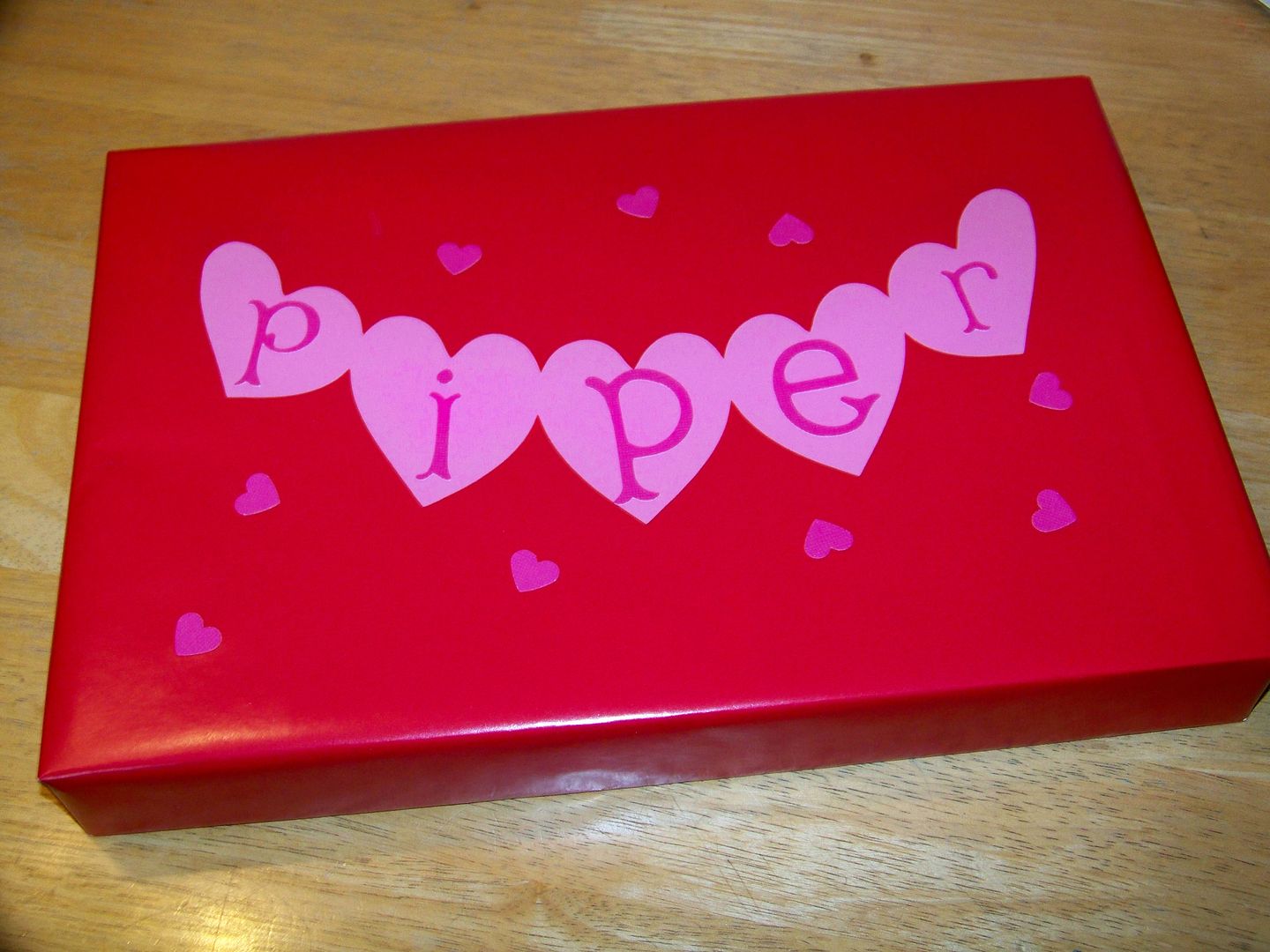 Valentine Birthday Gift Box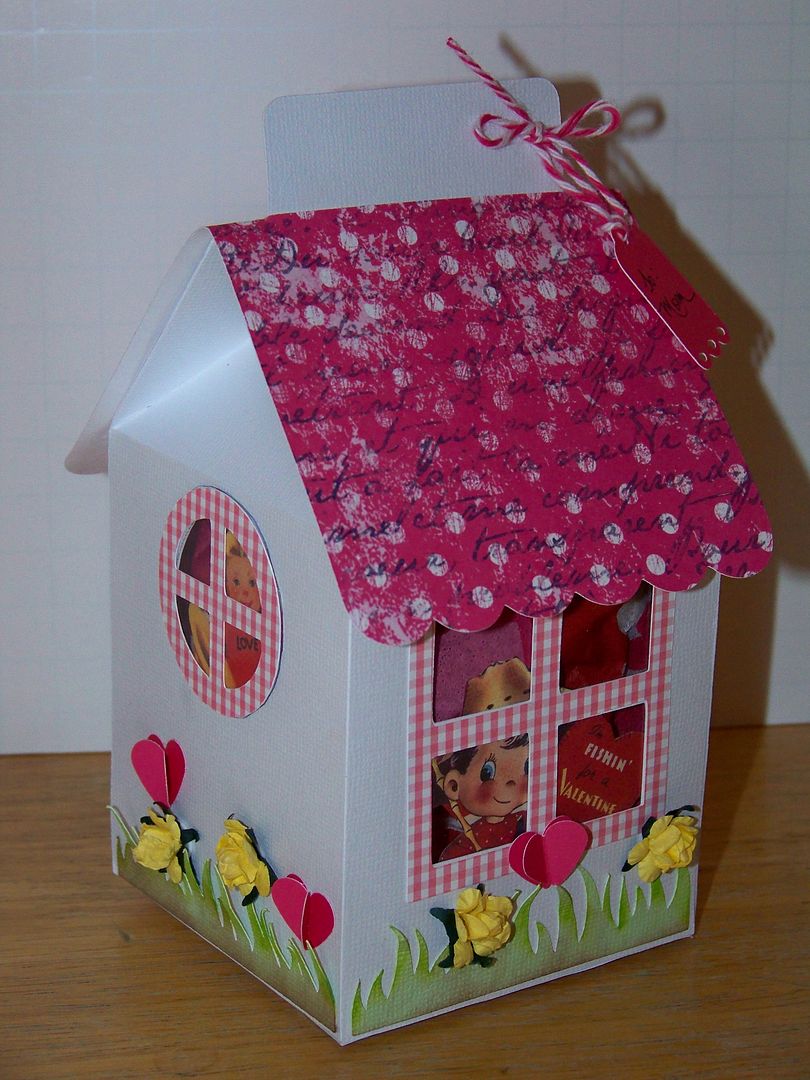 One reason that Valentine's Day is celebrated BIG here is that we have a family member with a Valentine Birthday! I made this box from Sweet Treat Boxes, page 26, cut at 9". The tiny tag is from Artiste, page 56, cut at 1-1/4". I used recycled cartridge clamshell packaging for the window glass. The flowers were straight out of the package and the hearts were cut from a punch. I used paper that was printed to look like old fashioned Valentine cards and cut characters out from them to peer out from the windows.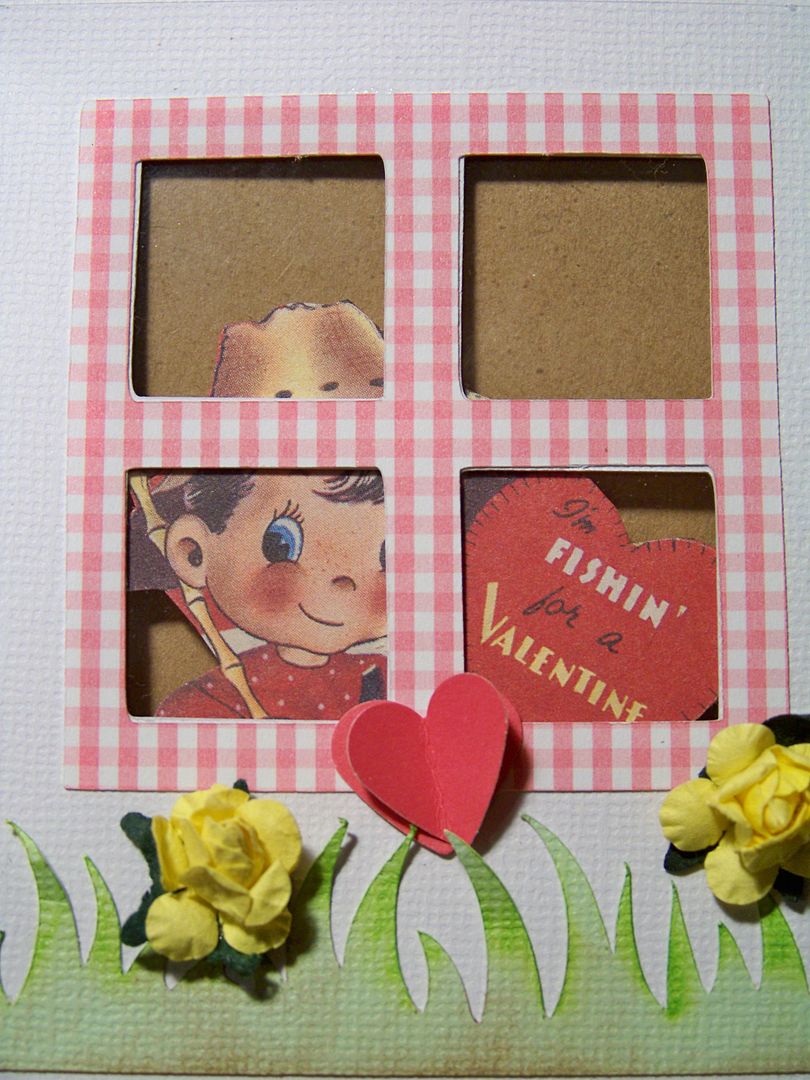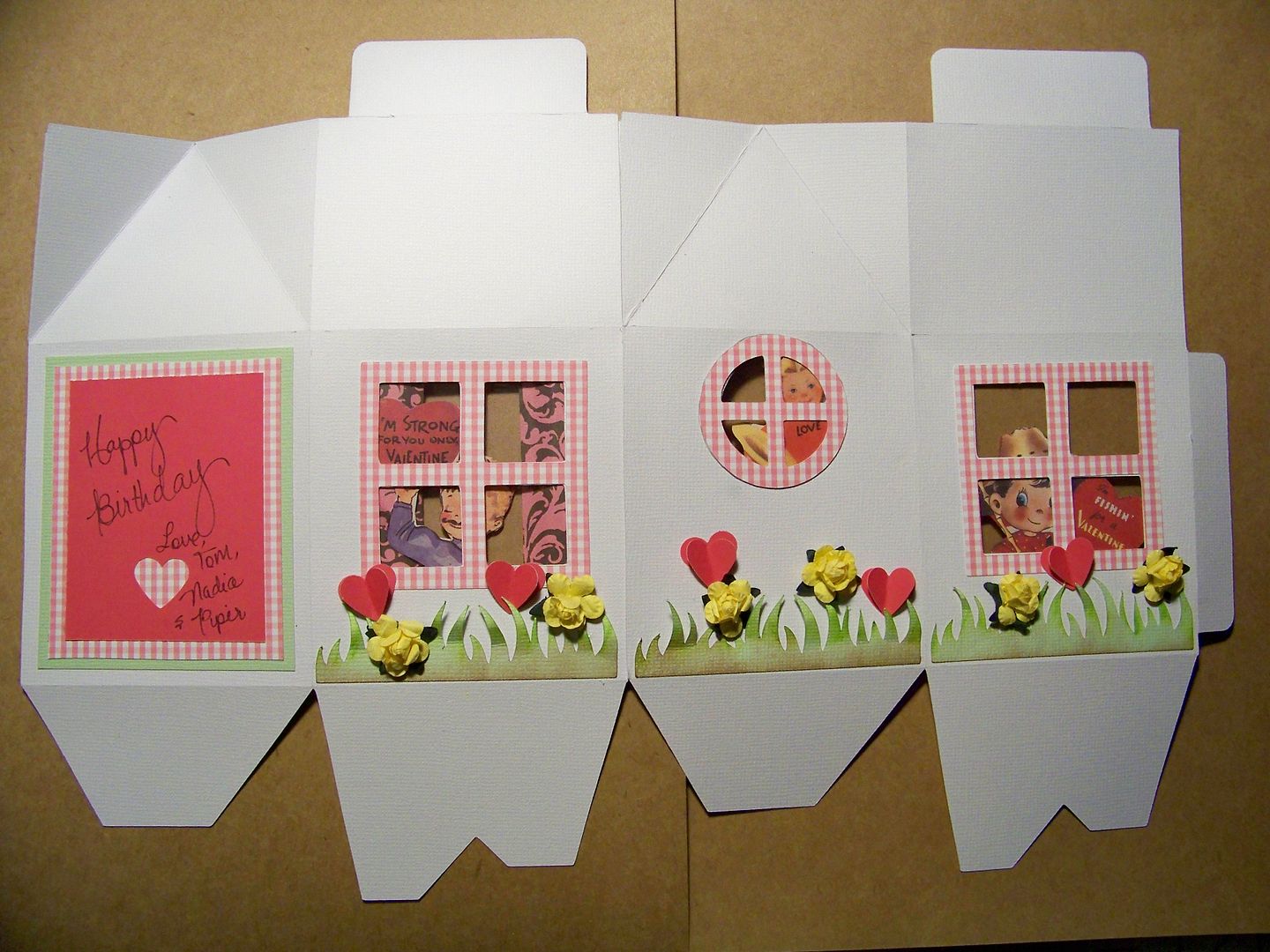 Thank you for checking my blog post today! I hope you are having a fun, happy Valentine's Day with the people you love the most!
To see many of my previous paper projects, click
here
to go to My Project Gallery.
To see many of my previous doll projects, click
here
to go to my Doll Clothing & Accessories page.