This time of year is ripe for quick, fun projects! I wanted to share a few recent projects.
Thank You Card
I just picked up All Wrapped Up and LOVE the colors on the cuts!
This is a thank you card using All Wrapped up and Paisley. I did add a flap to the envelope that I decorated with a Martha Stewart Punch. For correct size: I selected the card and envelope on the Imagine. Once the mat view was on the screen, I selected Fit To Page to get the largest compatible size possible on one sheet. The lady bug (Paisley cartridge) was cut with her features popped up for fun. I outlined the circles and flower shapes with a bright yellow Sharpie. Beneath the lady bug is the same green from the envelope that was cut with another MS punch. The rest of those great colors and patterns were straight off of the cartridge design! So fast!
Inspiration Challenge
I participated in a challenge that AllisonF hosted on the Circle MB. She provided an inspiration picture from A Mid Summer Night's Dream. This is one of the most challenging challenges that I have done in some time. I loved that! I uploaded her inspiration picture into the wonderful tool on the Colourlovers site to get the RGB codes for hair, skin, and her dress. (As you can imagine, there were dozens of codes for each; picking just one for each was a task!) I finally settled on these:
skin - 255-119-175
hair - 132,80,11
dress (light) - 196, 143, 139
dress (dark) - 146, 103, 110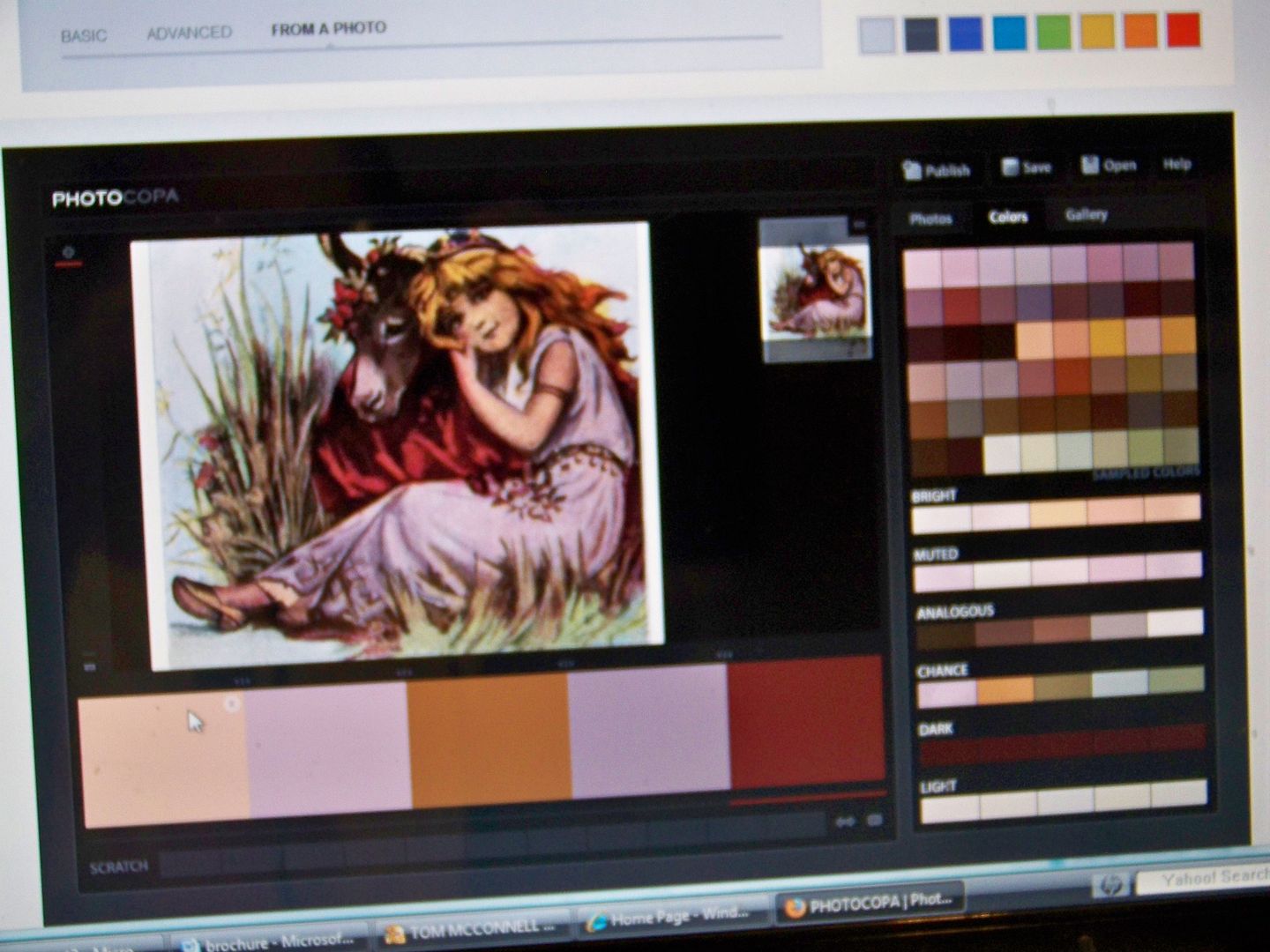 I had been looking at the wonderful hand-cut art of
Jackie Huang. Her little bear
has been on my mind and I wanted to find a way to use the Cricut to get the effect of the popped up frame that she used in that piece. I cut my frame from French Manor page 56
at 6". This is the negative space from the shape. The paper under the figure is made from a color copy of the first page of A Mid Summer Night's Dream, sprayed with Glimmer Mist to give it a little sparkle and to obscure the text a bit.

The figure is cut from Shall We Dance at 4.5". I cut two of the skirt so that I could hand-cut a bit for a little more interest in the folds of the fabric. Her wings are cut from a butterfly on Lori's Garden. I cut two at 2.4" and used only the right wings of each. I popped up the body, lifting her arms more so than the rest of the body.
Spongebob Gift Wrap
Next, in a whole different direction, I wanted to share a quick little gift wrap for another of my daughter's friends. Another children's birthday party... another personalized gift wrap opportunity!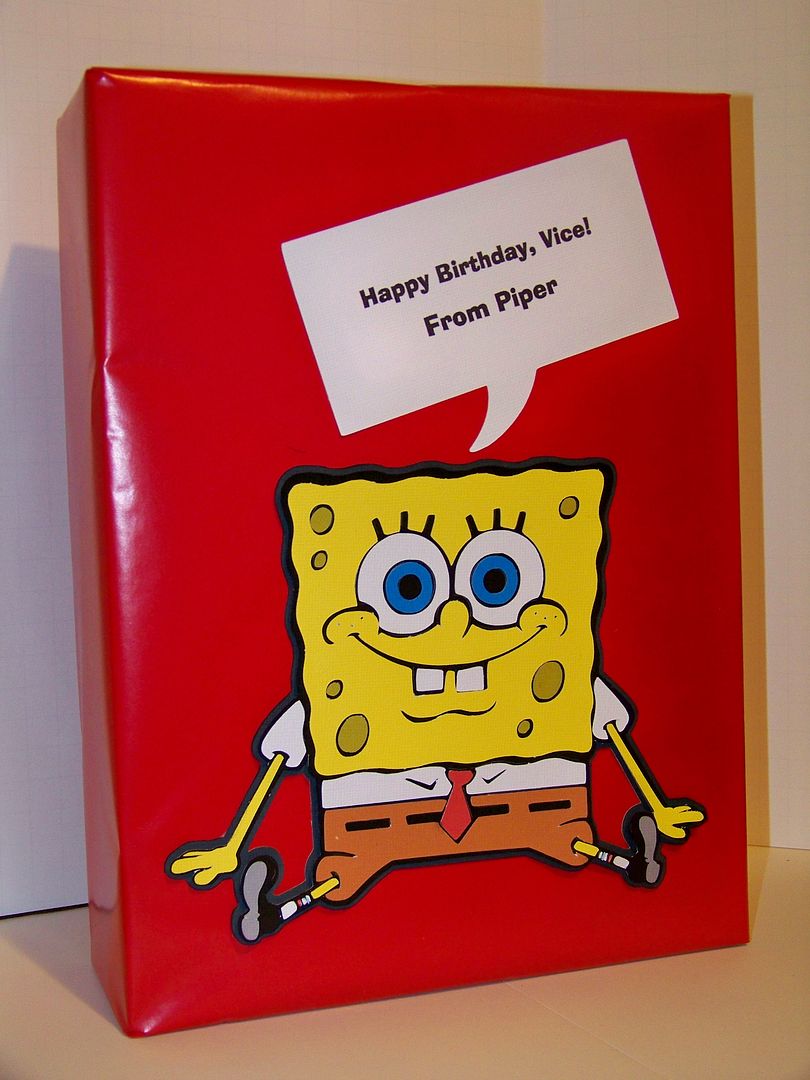 Gift wrap for birthdays is the reason I bought cartridges like Spongebob Squarepants! This one was cut at 6". I used the following RGB numbers with my Imagine to floodfill each shape to get the correct colors. These are the ones I used:
Body 252,248,19
Holes 162,164, 0
Tie 252,0,28
Pants 188,107,22
Blue Eyes 9,161,201
Bottom of shoes 149,145,140
The eyeballs, teeth, and shirt were cut without printing. The shadow was a dark gray I selected from the queue and the black base was the basic one built into the Imagine.
I cut the conversation bubble from Cuttin Up at 3.1" (short stack). I used my laptop and printer to add text to the bubble.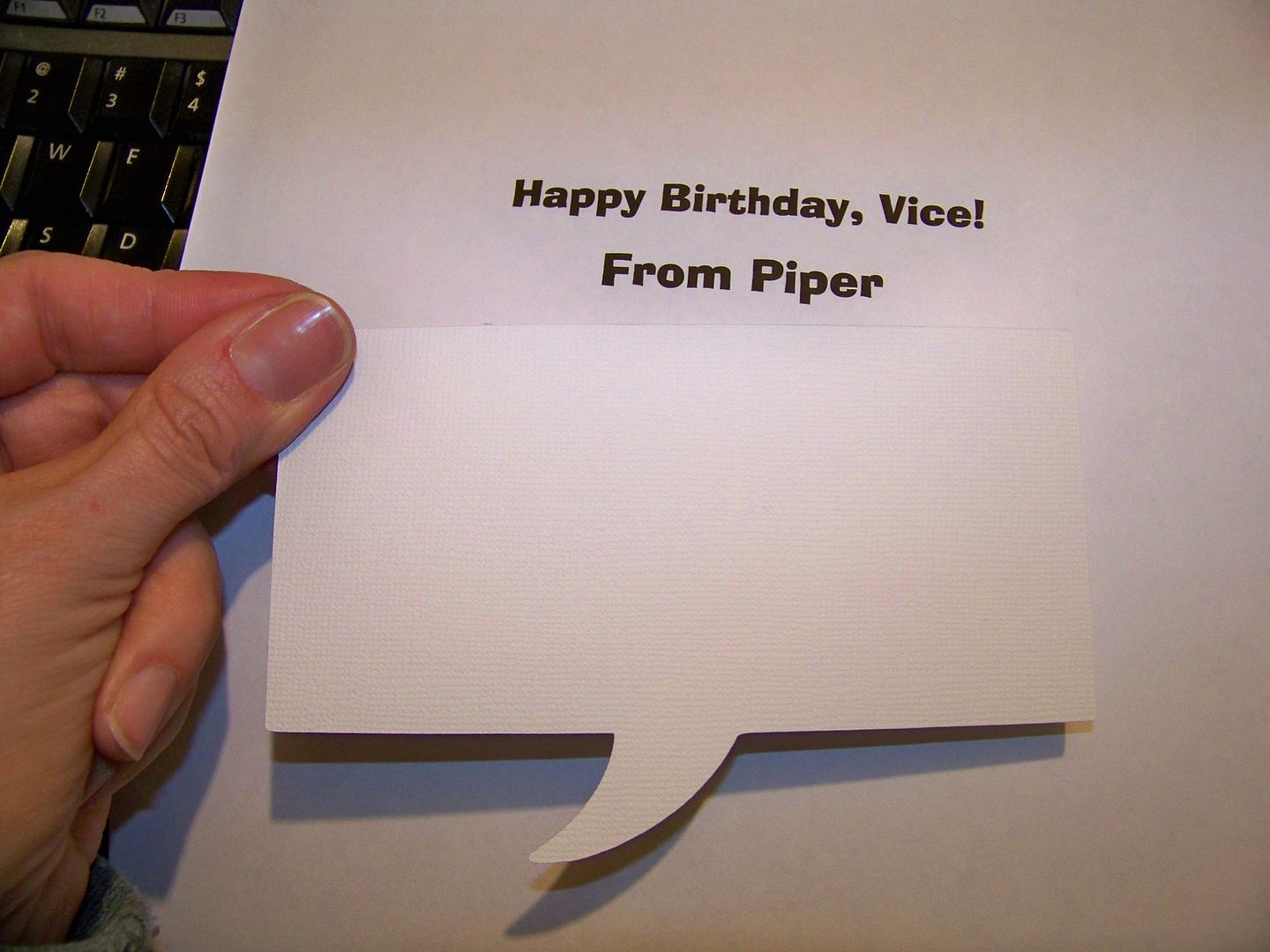 I decided on font called AdLib BT, bold, at 24 point size. I printed it first on a regular sheet of paper to see if it was the right size.
I placed the die cut over the text and held it up to the light to center the text. I lightly applied just a bit of tape to the top to hold it in place and then placed it in the paper tray of my printer.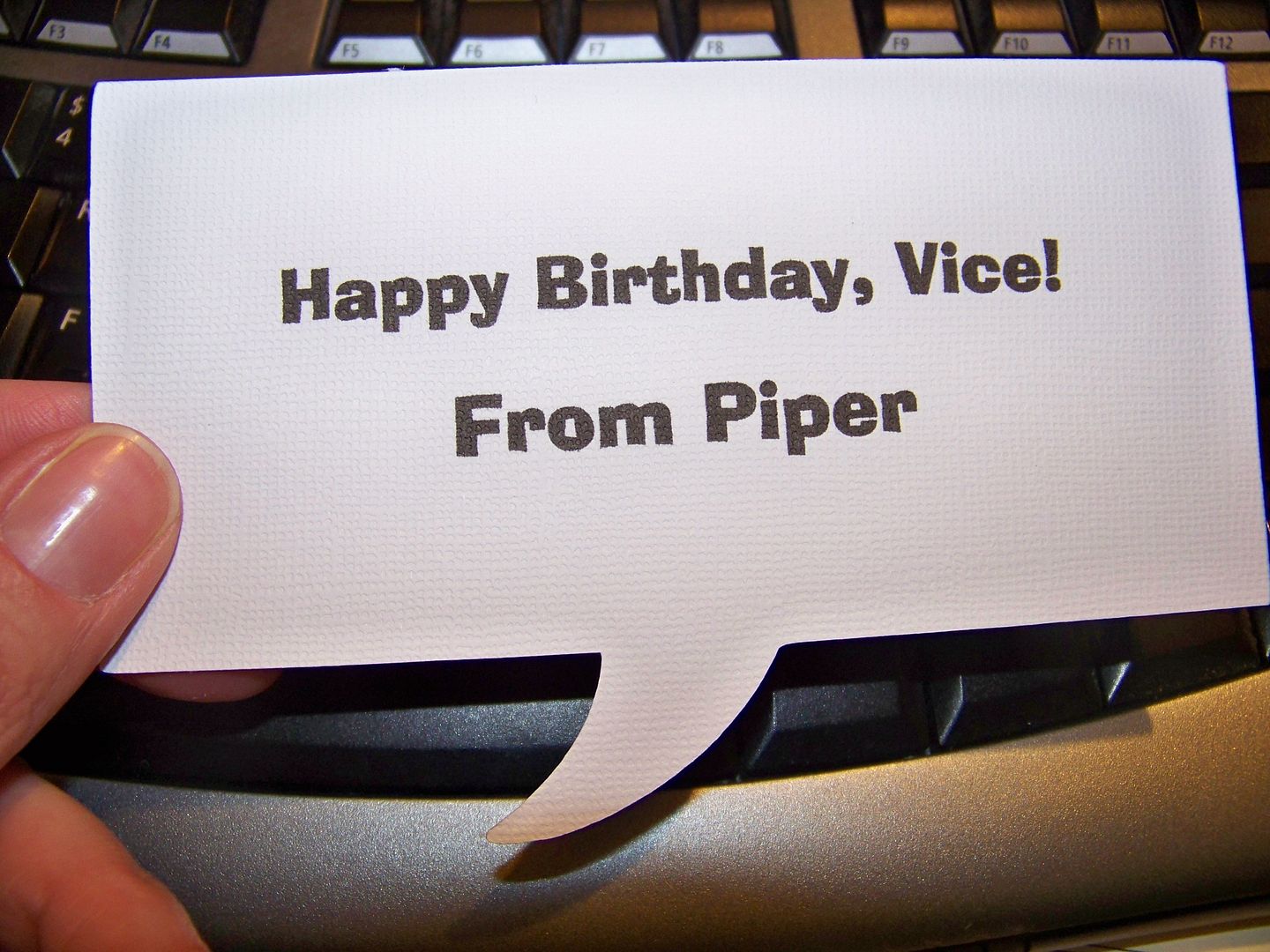 Birthday Card
Next, my daughter needed a birthday card for her penpal and I needed a project for Doxie's metal challenge a couple of weeks ago. This card and matching clip was what I came up with. My daughter and her penpal make drawings for each other when they write and this time was no exception; the clip was used to keep the drawings for this mailing together neatly.
Bake Sale Goodies
I was asked to help with a bake sale at church. Since strawberries are so sweet, inexpensive, and available everywhere right now, I decided on Strawberry Bread.
I wanted to share my bread recipe with you.
3 cups all- purpose flour
1 teaspoon baking soda
1 teaspoon salt
1 teaspoon ground cinnamon
1 teaspoon vanilla
2 cups sugar
4 eggs, beaten
1 cup cooking oil
2-1/2 cups strawberries, sliced (just under 1 pound container)
Preheat oven to 350 degrees. Spray mini loaf pan with cooking spray. (I used a dark pan that made 8 loaves per pan). Set aside.
Combine all ingredients except fruit. Mix by hand. Stir in strawberries. (This dough is stiff and sticky and unlike most quick bread batter that I have made.)
Place batter in prepared pan and bake 30 minutes.
Remove from pan and place on wax paper covered rack. Makes 16 loaves per recipe. I made two batches for this project.
I love quick projects!
Thank you for visiting my blog today! Happy Spring to you!