My daughter, Piper, LOVES her teacher. She is kind and patient and accessible to the parents, even answering emails on weekends, including Easter! She truely loves the kids... and they love her. She has worn her heart on her sleeve this year, as she shared with her 1st grade class and their families that she and her husband were expecting their second child. Then she shared her pain when she miscarried. Many of the families have felt very close to her.
She has been so understanding and kind to my daughter. She has been a positive and encouraging force in all subjects, nurturing Piper's love of learning. When I read that I had an opportunity to win an Expression for my daughter's school by showing my appreciation for her teacher, I jumped at the chance! This is my entry in the Circle Magazine Challenge.
I started this project at Walmart looking for the base items for a teacher set. I have loved the sets I have been seeing on the Circle blog. I knew that I wanted some sort of collection or set of gifts. I had in my mind using black for a blackboard and some 'ready made' Imagine images so I could avoid piecing layers. I decided on the Best Friends cartridge. There is a character with blonde hair and a tutu. My daughter and I agreed that she looked like that character. She picked out others that looked like her friends and I printed out and cut LOTS of these in various sizes.
I started with a pencil holder. I found a solid black one to use. I cut three images at 4" and glued them on with E6000 plastic adhesive. Using a white pen, I wrote between the characters to mimick chalkboard writing.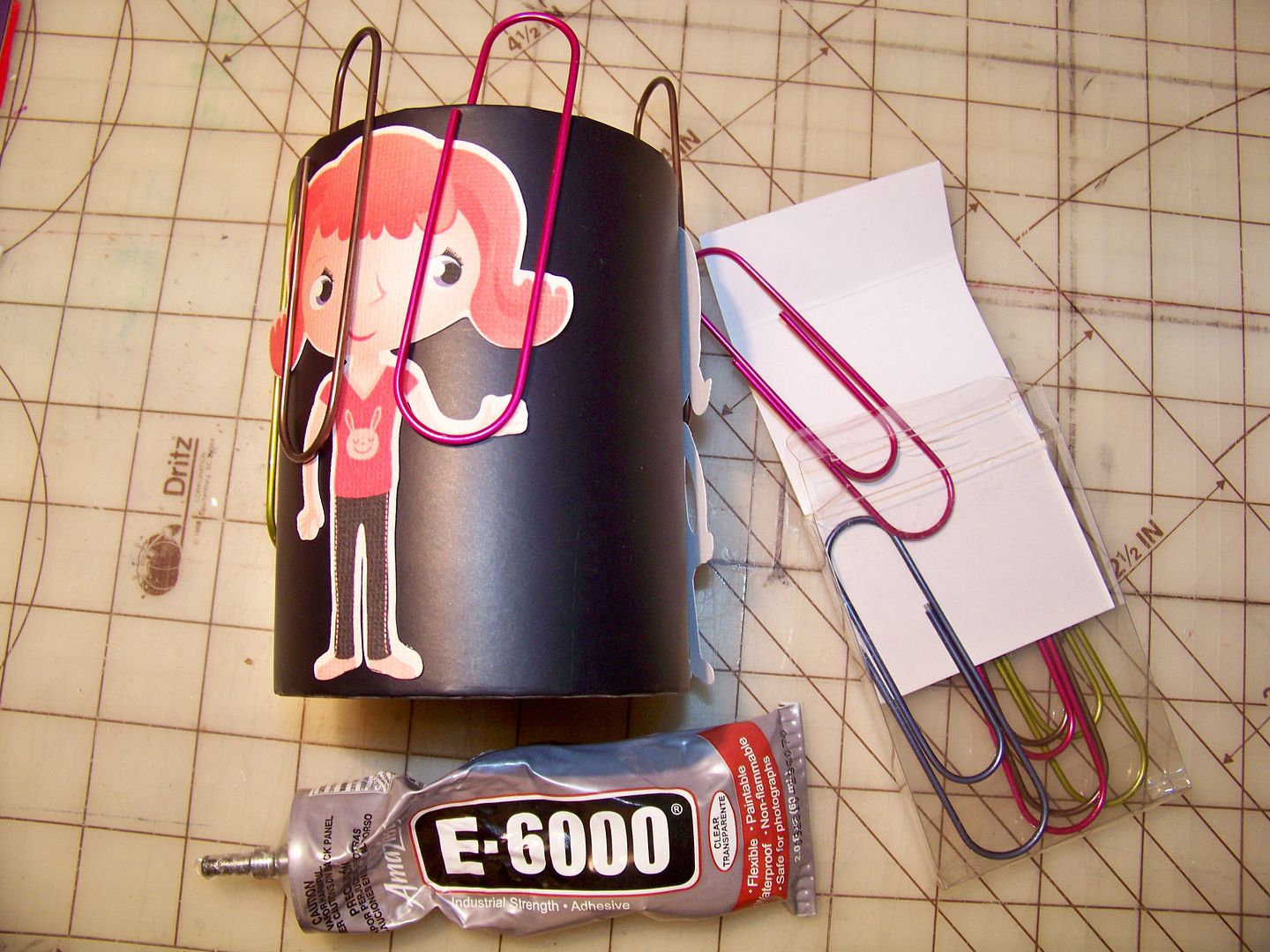 The giant paperclips I purchased for part of the gift set served perfectly to keep the paper images in place while the glue dried.

Rolled up strips of paper create 'chalk' for the characters to hold.
I had purchased a box of solid-colored pencils and cut lots of characters at 2" (flipping half of them to glue onto the backs). I placed some of the paper dolls at the top of the pencil, just under the eraser and some in the middle of the pencil, covering up the brand.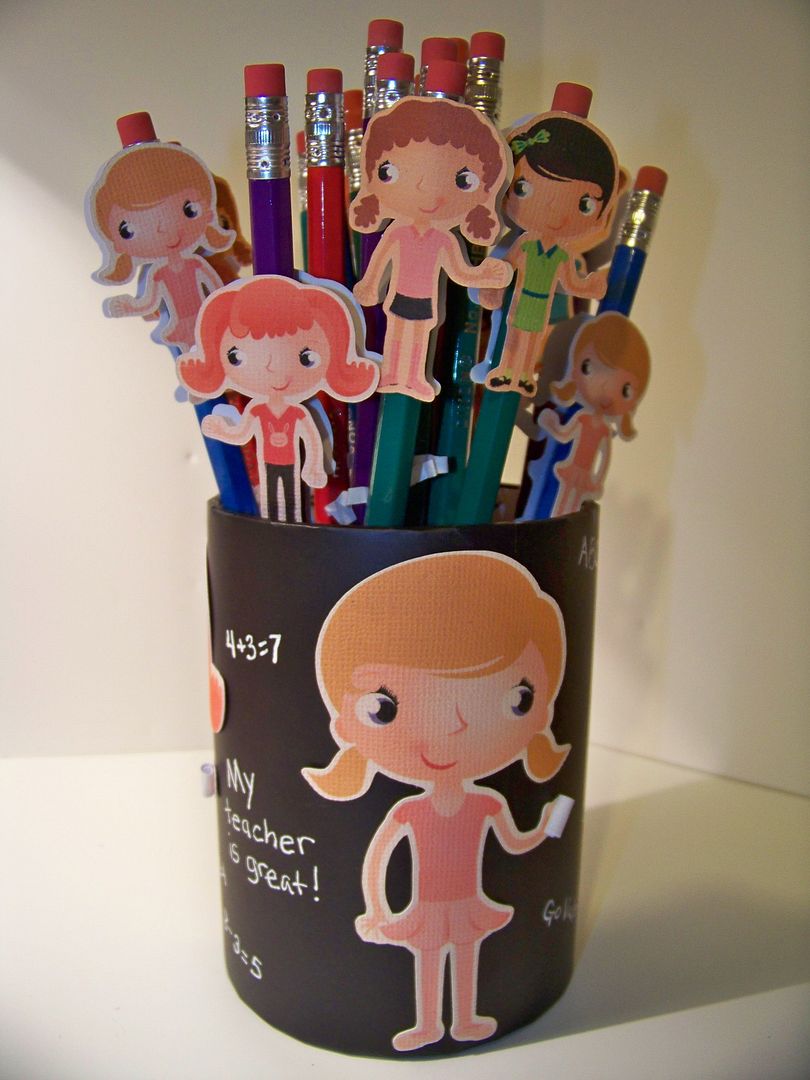 Piper and I worked on making brownies. Piper insists that brownies are her teacher's favorite treat. I hope she is right.
While the brownies baked and cooled, I finished up the projects, starting with a card. I had been thinking of a card I had seen a while back from Sonia Kertznus on the Cricut message board that used a car decal girl and placed her in front of a blackboard with 'my teacher is great' written over and over like punishment sentences. I thought that was so funny and clever. I used this design with my Best Friends Piper doll, cutting her at 4", popping her up and giving her a piece of rolled paper chalk.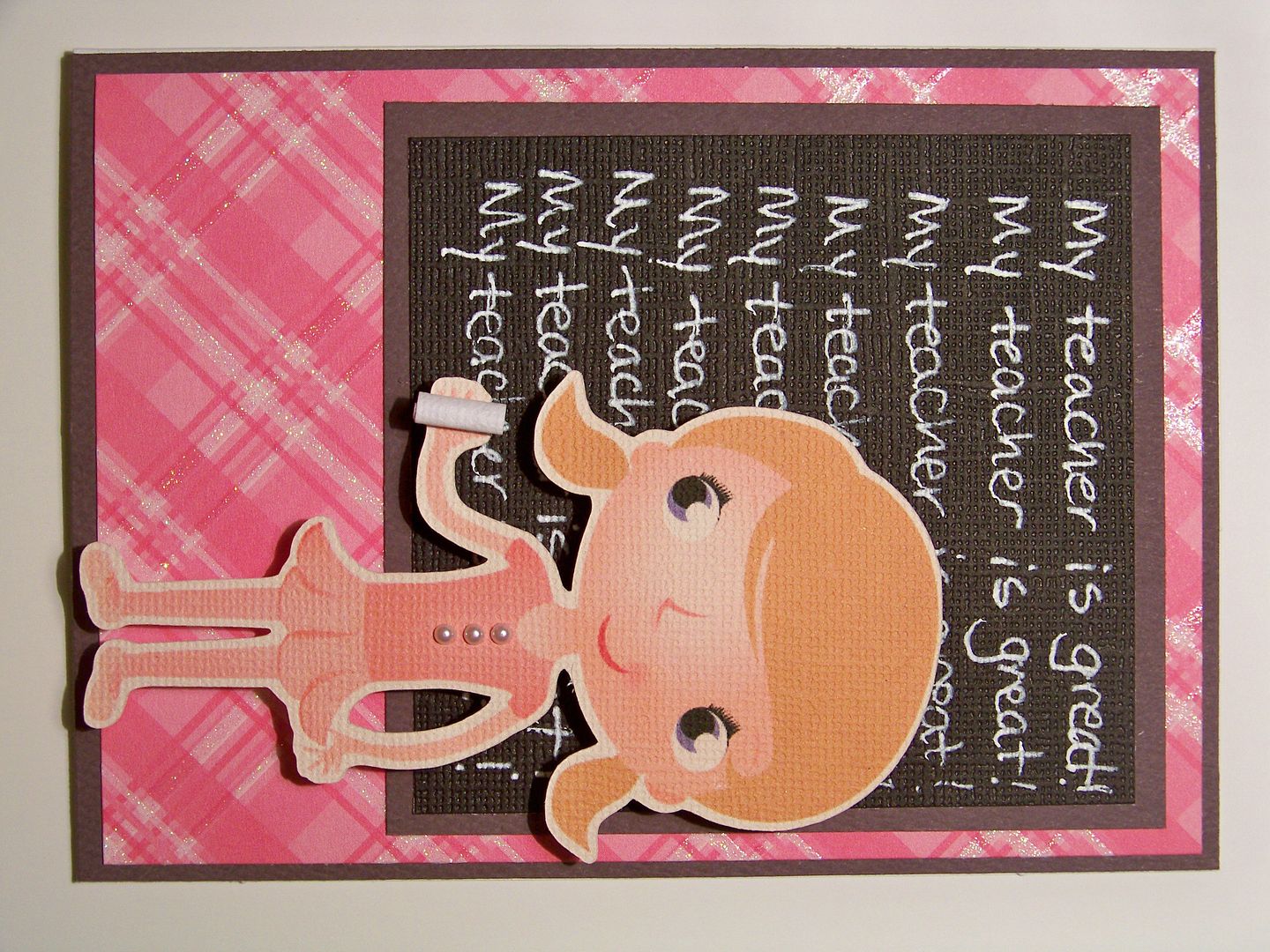 I printed the sentiment inside on my computer.
I gathered those jumbo paperclips that helped with the pencil cup and decorated them to match the set. This idea originally came from Scrapalette. She once posted her bug head paperclips and then sent me one to see firsthand. Over the weekend, I did my first one with Doxie's metal challenge. I loved the way it finished so I decided it would be fun to include a few with this set. Like the pencils, I printed two of each character, flipping one, for each clip. These were each cut at 3". I used the E6000 again to ensure that they would stay together.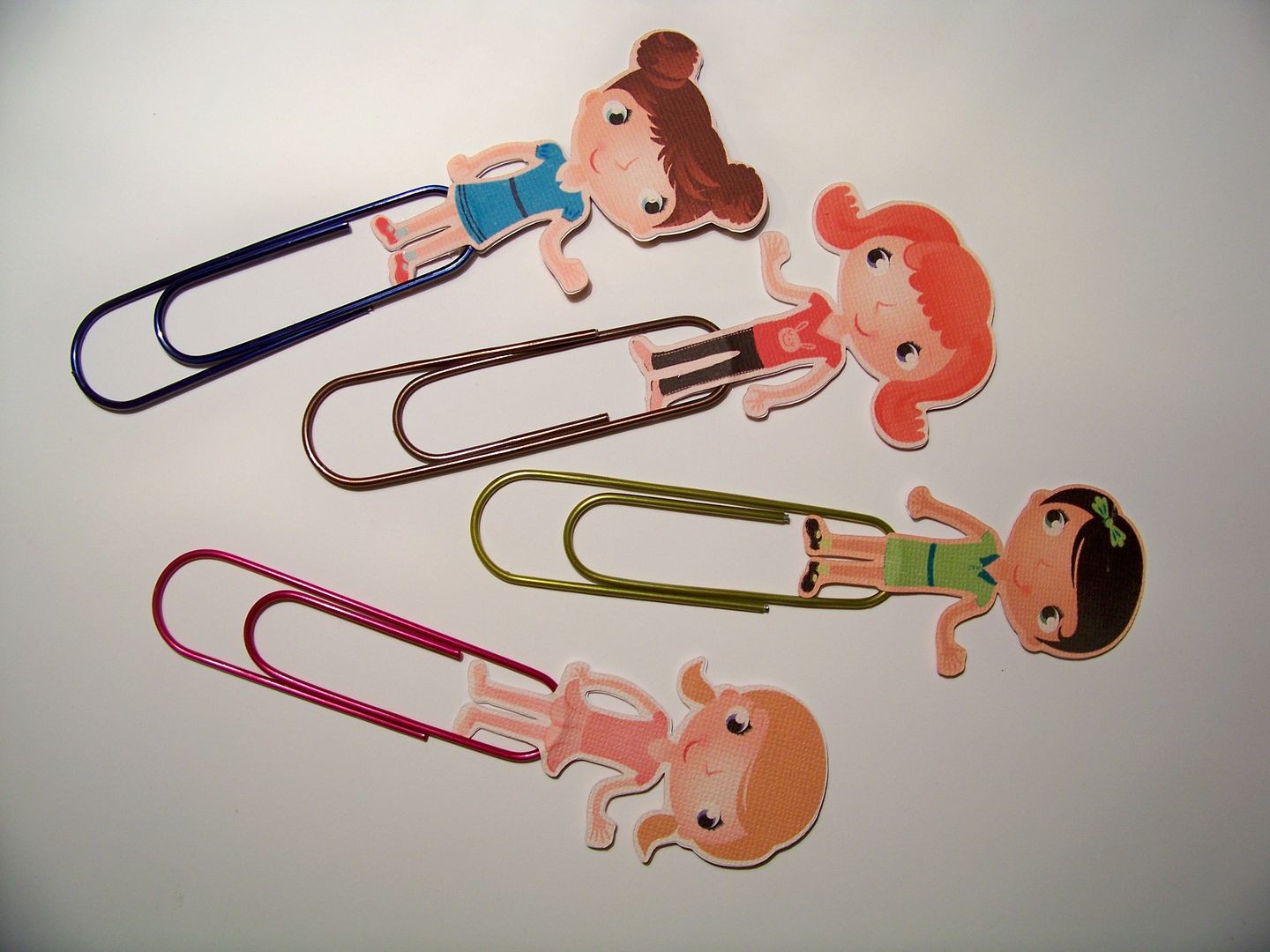 I had purchased some baby roses and wanted to make a pick that would carry on the theme. These were also cut at 3".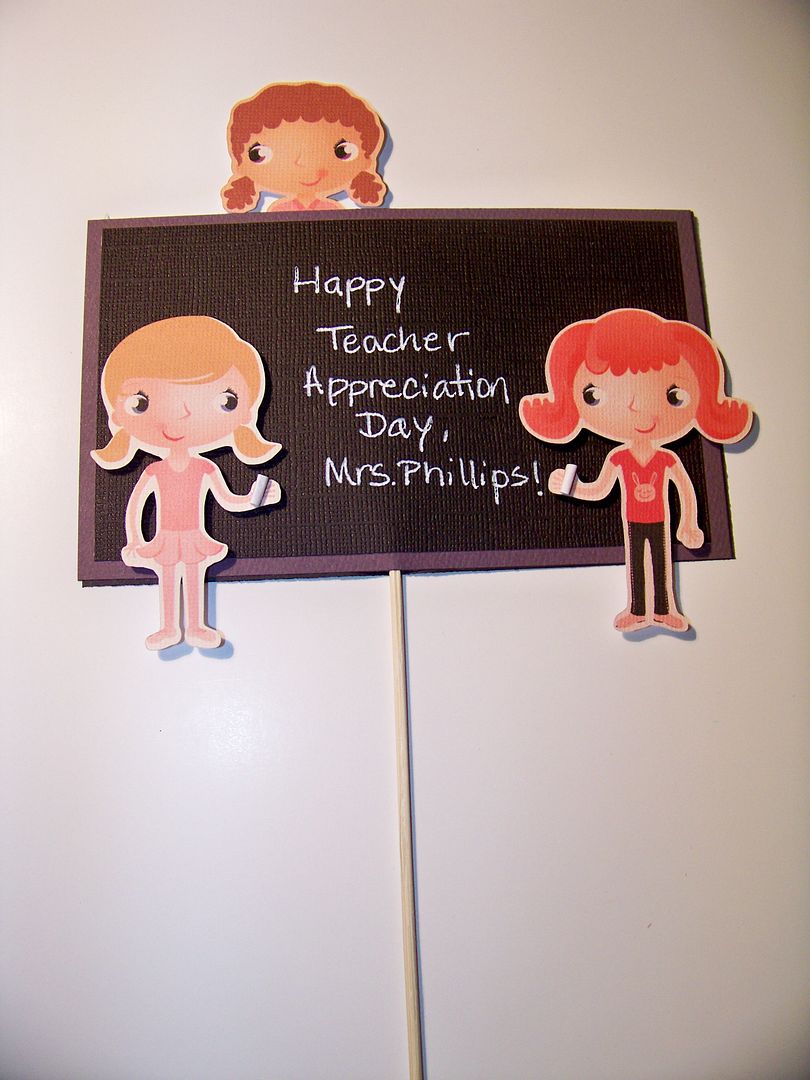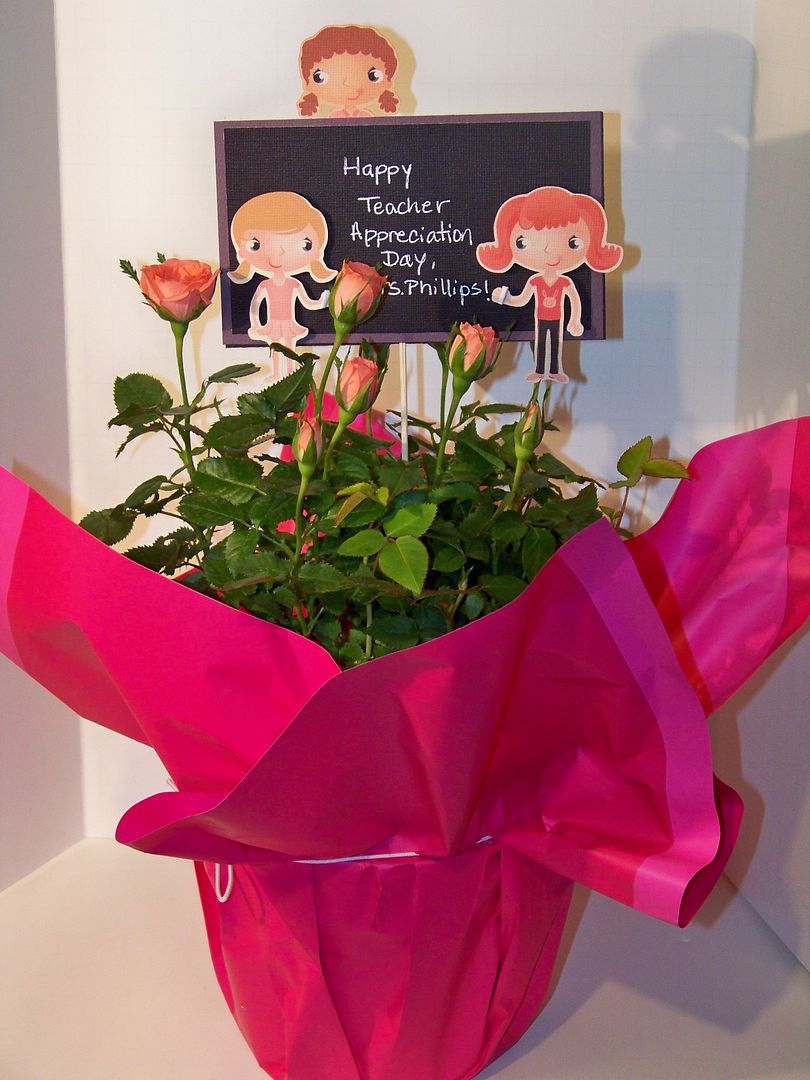 Once the brownies were cooled, they were individually wrapped in wax paper and them packaged in plastic. I made a little tag using a 2" character.
I put it all together, ready to go out the door, letting all those faces peak over the top of the bag. I clipped the card to the bag with one of my jumbo paperclips.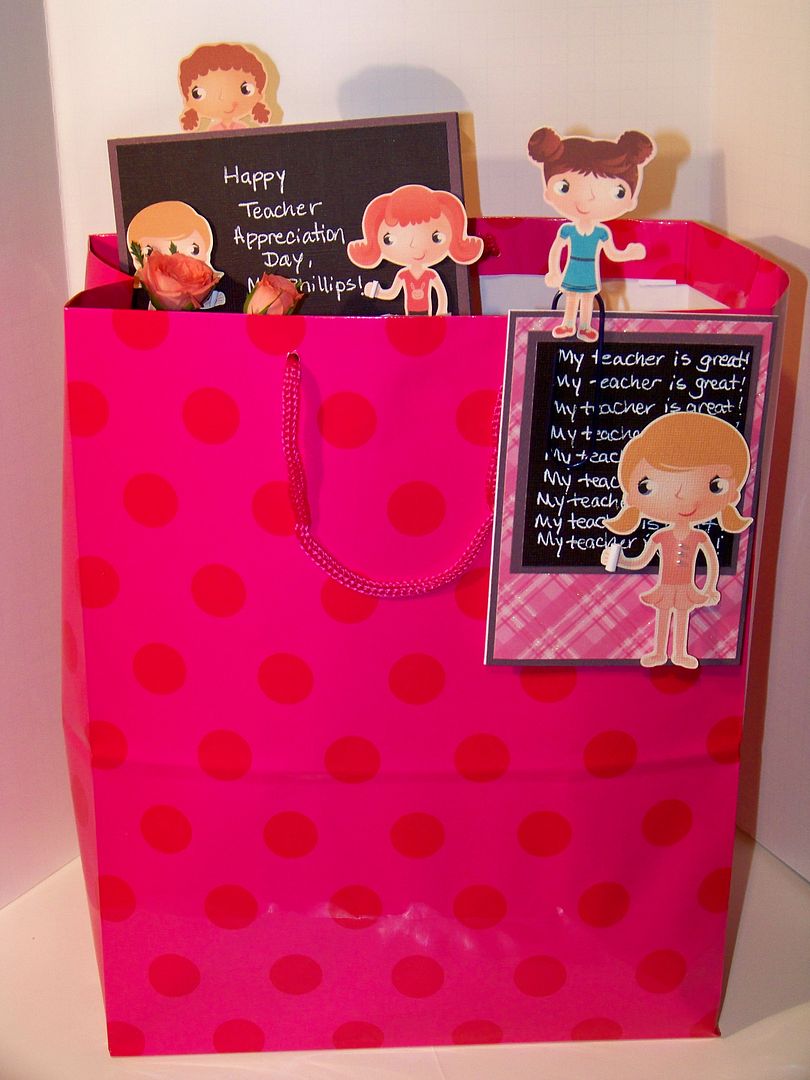 I hope she likes it. Hopefully it will make her smile.
Thank you for visiting my blog. I have had such a fun evening putting together this gift for such a wonderful teacher and kind person.