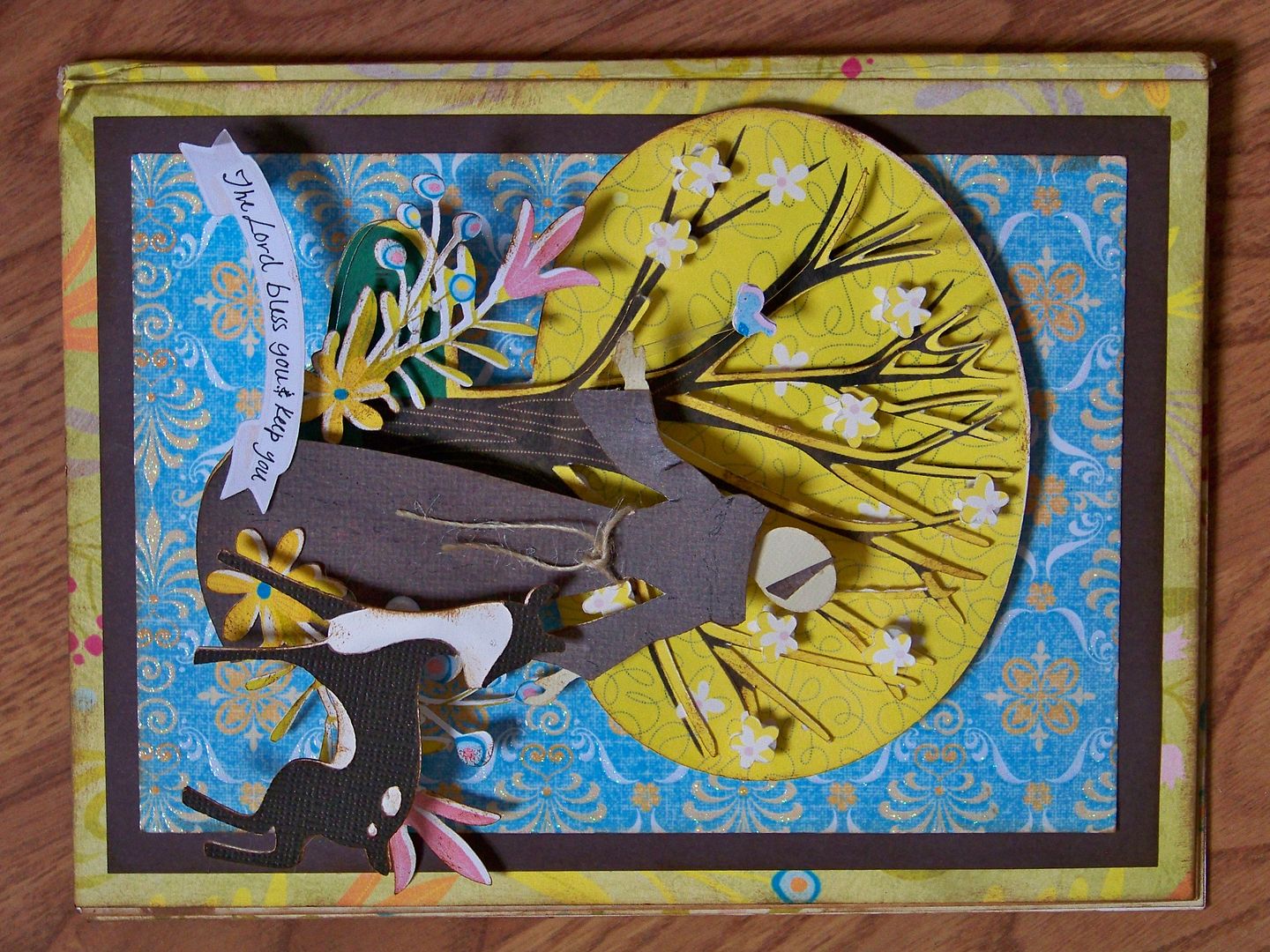 I went downstairs this morning to find a box my husband had left for me that was at the post office yesterday. I had received a message from a fellow crafter on the Circle message board, Sis 'O Snap, a few days ago, asking for my address so she could send me a card she had made to celebrate my confirmation. I realized this box contained her 'card'.
Sis 'O Snap, or Noele, created a treasure for me.
It was protected in a box she made of chocolate brown cardstock with a subtle sparkle, wrapped with a silky piece of earthy green binding, and tagged with an inked bit of cardstock hand-written with: "For Nadia ~ on her confirmation Easter 2011." It was already special to me. Noele shared with me in her initial message that she was not Catholic but that she had read my post during Holy Week where I mention my confirmation.
I opened the box to find an image of Saint Francis that she had created using a variety of Cricut cuts, combined with her alterations by hand.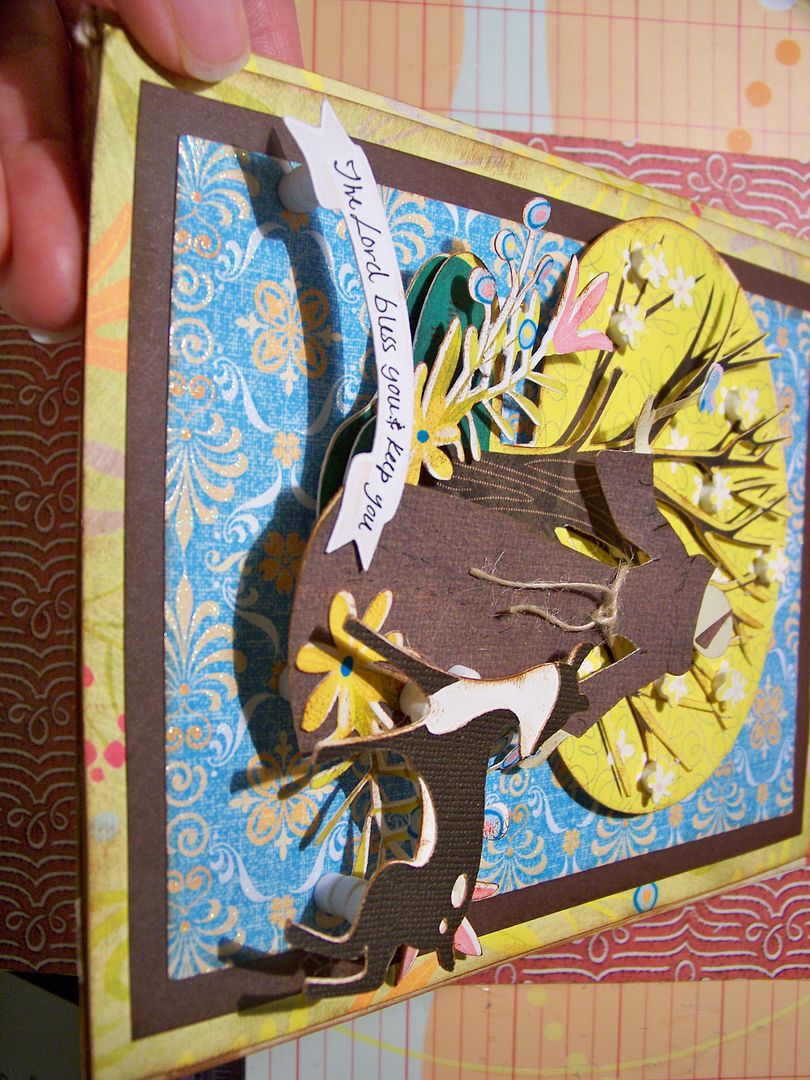 What struck me immediately, was the figure. I love altering figures and knew she had to have done this to create this project. Her kind note indicated that she altered figures and changed heads! On a later message, she told me these details which I know you will appreciate (I have removed her sentiments that are personal):
"...the idea has been floating around in my head for so long - with no way to get out as I could not use a paper doll for St Francis. His body and robe were originally a Christmas lady ....his robe was hand trimmed to make it more robelike and more male. I used the milk girl face from Country life and added an oval to make a full head. It seemed that leaving the face plain was better than adding eyes or other features... Most of the papers came from the Seasons imagine cartridge - except for the "Italianate" one which interestingly came from a stack called Far East. Go figure - proves a title should not limit you. It was the first book I made..."

Her details are magical with the hand-drawn lines on the figure's robe and the bird frozen in flight courtesey of a thin strip of acetate.
Noele is masterful in her creation of dimension, creating a sculptural interest. Some elements are popped up as much as 1" to create perfect spaces for each.
This project 'feels' like a book with its weight, created from a heavy core and her layers of decorative papers.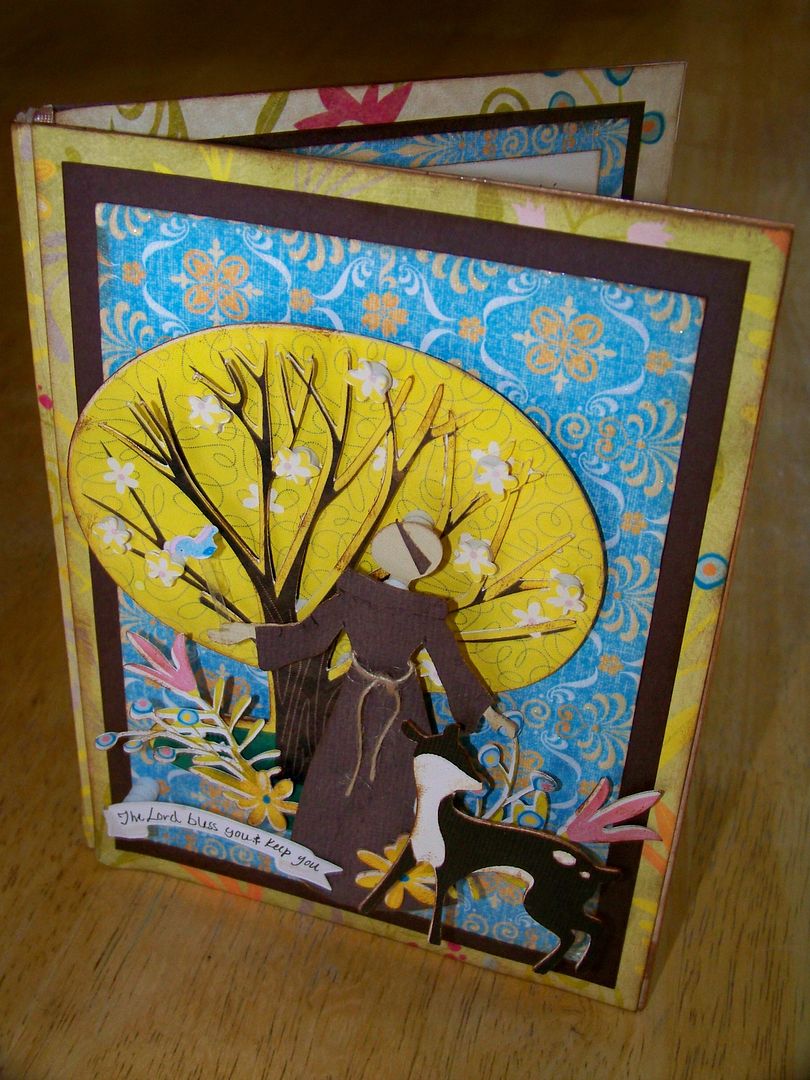 It is even bound like a book with a fabric binding and creased spine. I was stunned to read that this is the first book she had created!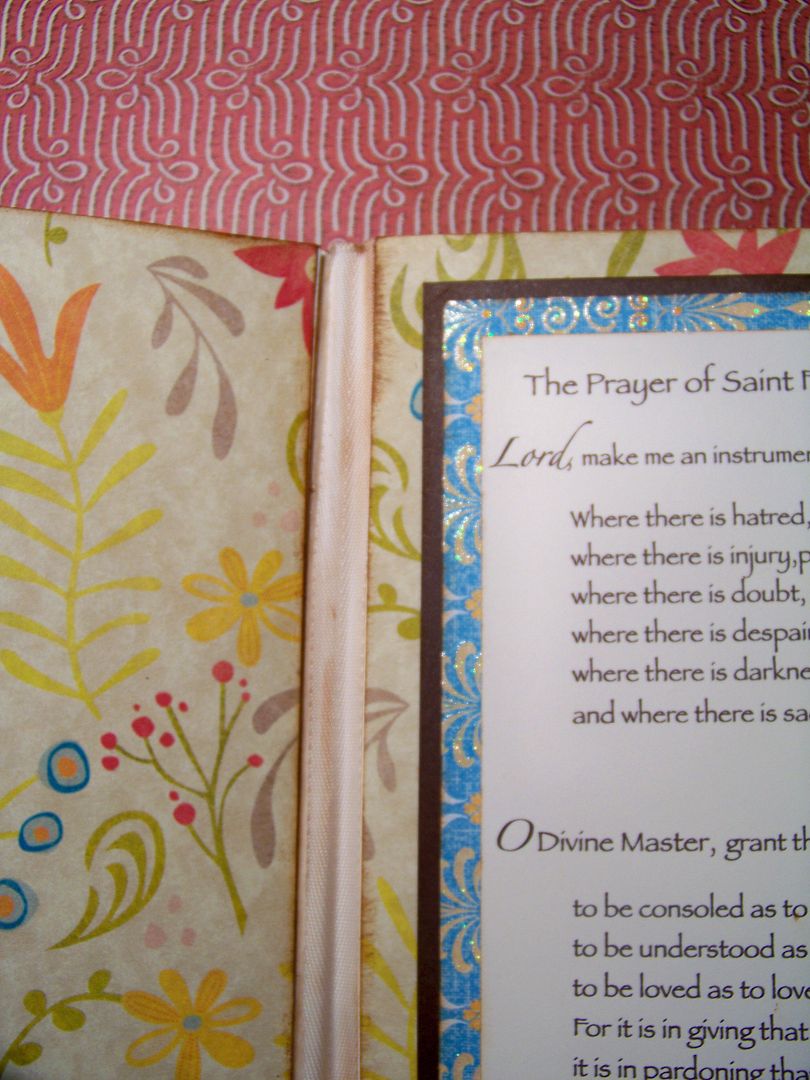 Oh, those papers! Beautiful patterns so lovely together, perfectly balanced in color and scale! Just like the flora and fauna that she has depicted with her choice of cuts. Her curved banner with her handwriting expertly mimicks the curve of the tree and balances her beautiful composition. Just perfect!
The inside is so meaningful with the powerful Prayer of Saint Francis.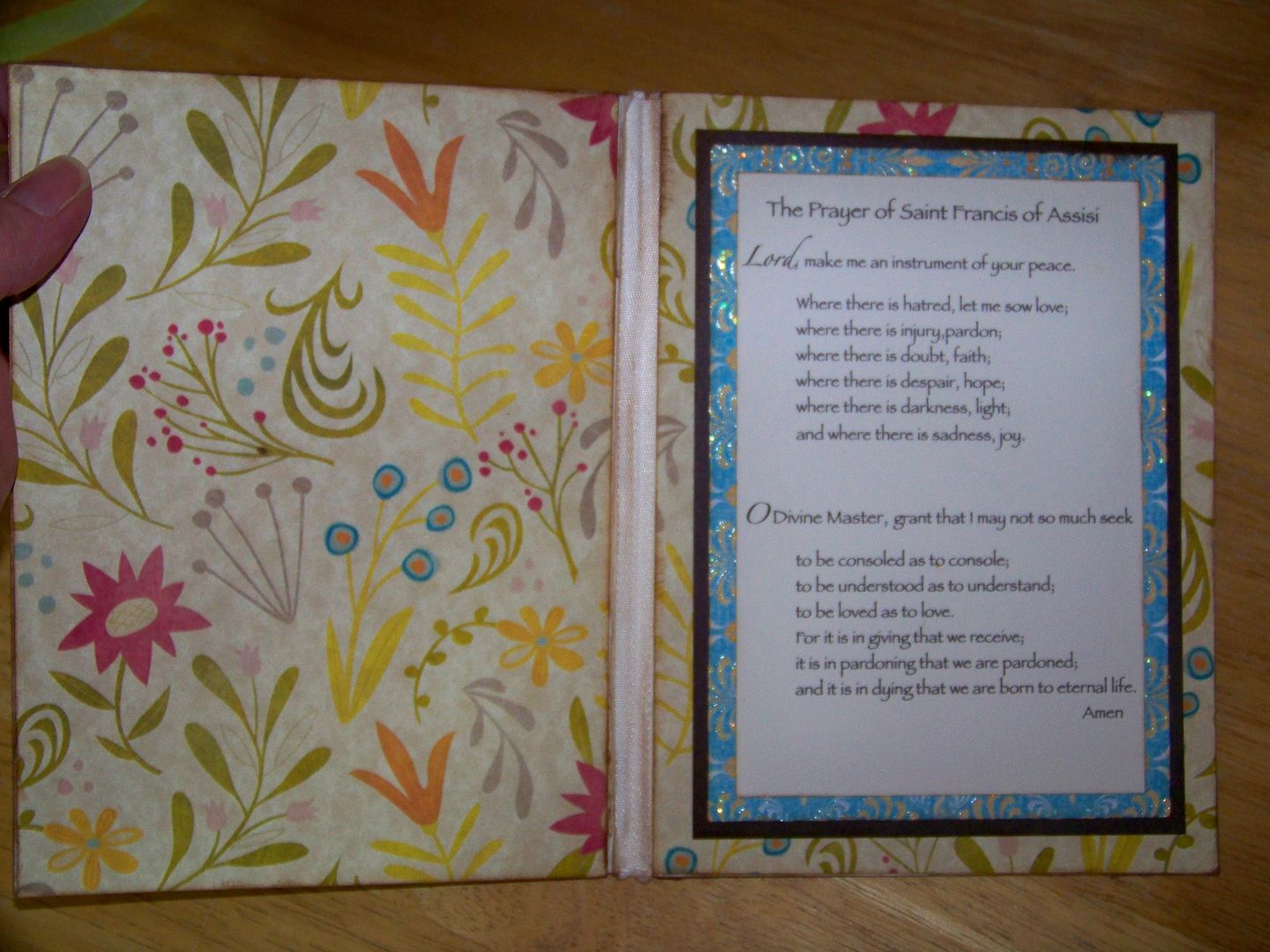 This gift absolutely touched me. Its beauty is not just the lovely artwork and beautiful prayer, but also the gentle kindness of the gift and the generous nature of the giver. I am so humbled that anyone would do this for me! It will be an honored treasure to me forever. Thank you, Noele, for thinking of me and for sharing your talents and your time!
And on that, I will end this post with the prayer. It is so beautiful!
Prayer of Saint Francis of Assisi
Lord, make me an instrument of your peace.
Where there is hatred, let me sow love;
where there is injury,pardon;
where there is doubt, faith;
where there is despair, hope;
where there is darkness, light;
and where there is sadness, joy.


O Divine Master, grant that I may not so much seek
to be consoled as to console;
to be understood as to understand;
to be loved as to love.
For it is in giving that we receive;
it is in pardoning that we are pardoned;
and it is in dying that we are born to eternal life. Amen
---