I cannot believe my daughter's last day of school is this Friday! How did that happen so fast?
For fun, Piper always takes a little good-bye gift for all the kids in her class. I have seen lots of little s'mores kits on the message boards this past winter and spring. So many cute ones! I decided to use that idea and create some for her class.
I found the most wonderful flavored marshmallows. Piper loves the strawberry ones but I am in love with the caramel marshmallows!
After we did a little test kit last week, I found that the marshmallows get hard after 3 days in the sealed plastic bags that I purchased for packaging. I am guessing that the combination of air in the bag and the graham crackers cause this. Since I didn't want to wait until Friday morning to put these together, I ended up using a little Saran Wrap to individually wrap each marshmallow to keep it fresh before placing them in the bags with the other ingredients. I bet you are thinking it wouldn't matter if it got hard since we are microwaving it. That's what I thought too, but nope, it makes a big difference! Are you impressed how thoroughly I test these projects? *brushing the crumbs off my chin*
I created the text on the computer for the fronts and for the directions that will go on the back of the bags. I wanted a fun play on words.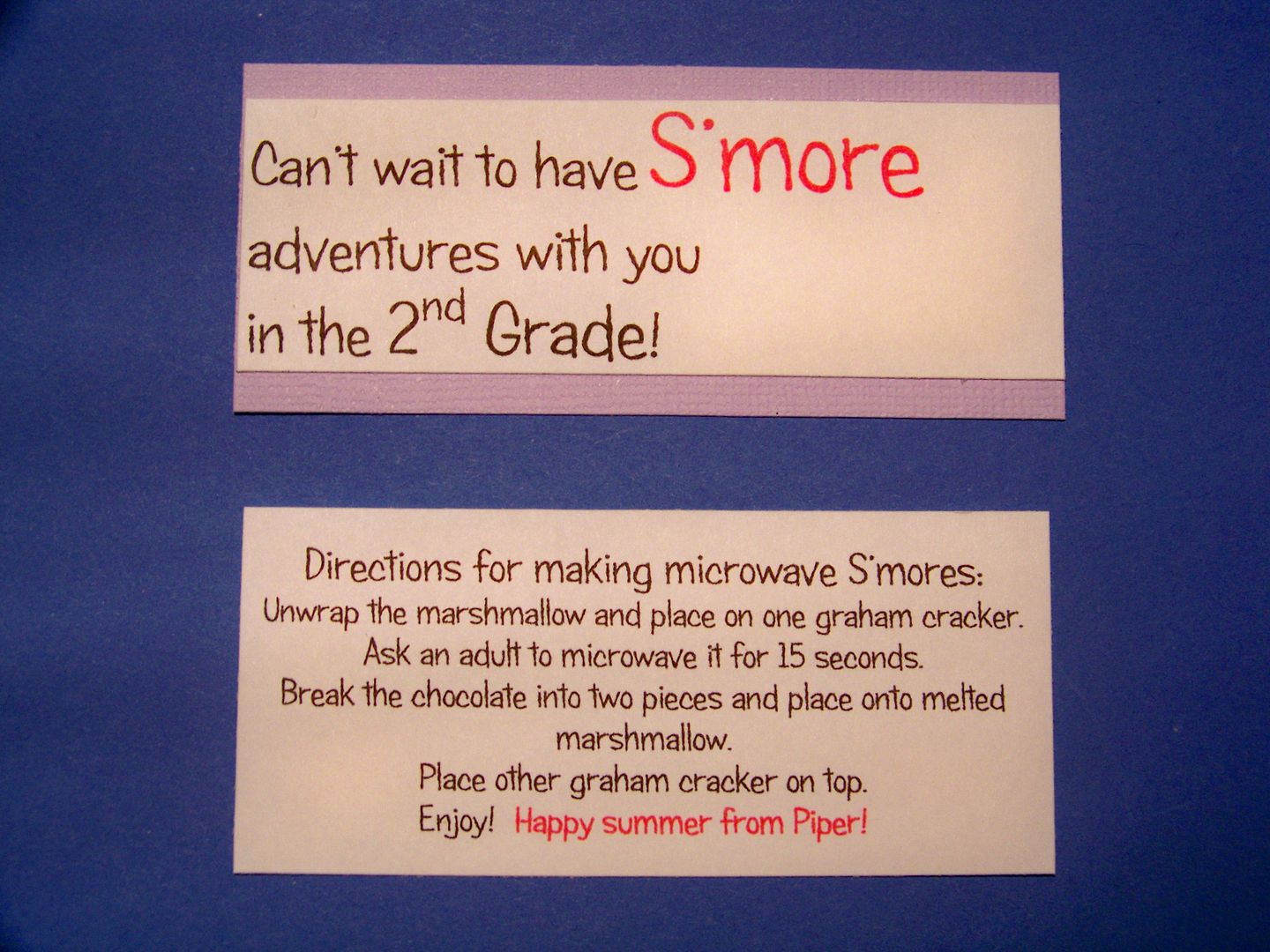 The directions are on the back of the bag topper.
I used Campin' Critters for the little porcupine. I loved that I was able to find a little guy roasting a marshmallow!
The googly eye were adhered with E6000 so they wouldn't pop off!
I cut him at 2-1/2" on my Expression. At that size, starting with the largest shape (the outline), I was able to get 12 on the page when I used Autofill. That allowed me to know that I wouldn't need any more than one sheet of paper for each layer.
I used Liquid Applique to give the paper marshmallows dimension and texture. I applied a thin layer so it wouldn't pop up too high; I wanted it to look like a roasting marshmallow! I found that leaving the heat source on it caused it to brown! I love that!!!
I used reclosable bags that are 4"x6". For the bag toppers, I cut patterned paper into twelve 3"x4" pieces. They were folded in half to finish at 1.5"x4". This used only one sheet and fit the bags perfectly. I used ATG tape to apply the greeting and directions to the topper, as well as to adhere the critter in place!
Thank you for visiting my blog... now I have to figure out some kiddo activities for next week and the rest of the summer. Yikes!!! (Wasn't it winter like a month ago?!)