Have we all fallen in love with the Teddy Bear Parade cartridge or what?! I was never even a teddy bear kind of kid, but this little cartridge is so much fun to use!
Speaking of fun.... Before I started this card set, I had a little fun just making some bears. I wanted to play with how to make them look different, dimensional, textured. The most obvious thing is flocking powder, but in my extreme cheapness, I only had flocking powder that I picked up on clearance-- and not a bear color in the bunch! That forced me to be creative.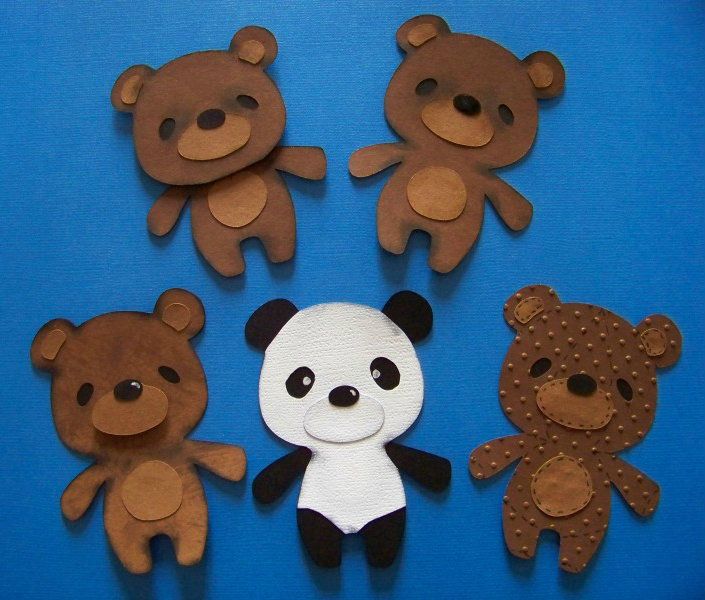 Top (starting from left): Bear inked in brown and black with head cut and reapplied, Bear inked in brown and black with a Glossy Accents nose. Bottom (starting from Left): Bear dry-brushed with brown acrylic paint with white accent on nose and popped up snout, Panda bear made from hand-altering white layer, Bear embossed with Cuttlebug Swiss Dots and hand-drawn stitching to look like a toy
A few how-to hints:
For reapplying a head, I added a hidden modification...
For dry-brushing, I just used a cheap nylon brush and acrylic paint...
For the panda, I used two base cuts, hand-cutting to remove legs, arms, ears, and to add big-ole panda eyes from the white layer. (I never used the panda in my note card set, but included him here anyway since I thought he was fun!)
On to the note card set!
Each card finishes at 4-7/8" x 4-7/8". The simple reason for that: the manufactured envelopes I decided to use mandated my size! So for each card, I cut cardstock at 9-3/4" x 4-7/8", scoring to fold at the center.
Beary Good Swimmer
.... Okay, let's face it: it is hard not to use "beary" with this project. I am going to apologize now for that but I won't really stop!
Crafty Details for Beary Good Swimmer:
Base mats cut at 4-5/8" square (clouds) and 4-3/4" square (orange).
Bear cut at 3-1/2" from Teddy Bear Parade Lite Cartridge. (This is the one that was inked and has a shiny nose due to Glossy Accents. His swim shorts were embossed with a Cuttlebug stripe folder. The bear was popped up 3/8" at his head only; his lower body was adhered flush to the paper.
Background (cloud) paper printed from Imagine Best Friends --trimmed down from a 9" square for that scale.
Goggles and Duck floatie were cut from vinyl to get a plastic look! For the goggles, I placed the vinyl cut onto acetate (recycled from a cartridge clamshell) and hand-trimmed around it! The goggles are popped up 1/16". For the duck floatie, I placed the yellow vinyl directly onto the black paper base for that shape and accented with orange vinyl for the duck bill. The floatie is popped up 3/8".
Water was cut from Ocean of Words (page 49) at 1-1/4". The top layer is popped up 1/16".
Crafty Details for Beary Believable Rudolph:
Crafty Details for Pirate Bear:
Crafty Details for Beary Sweet Baby card:
So.... I thought these would be a cute gift! I found a perfect box on Sweet Tooth Boxes!
This project was so much fun to make!! I hope you enjoyed this card set as much as I liked making it!