My daughter had her First Communion this spring. She was lovely! As a former life-long Methodist until a year or so ago, I had a lot to learn as an "RE" parent, such as how expensive a little girl's First Communion is after the dress, headpiece, shoes, professional photos, and gifts are purchased! Truth be told, this is a hard concept to "get" so being excited that eight-year-olds understand and accept the Eucharist is understandable! ...And the fuss, attention, gifts, and dressing up just makes it fun for them.
What has astounded me is the positive, encouraging support that Piper has received, especially by non-Catholic family and friends! I think it is a true testament to their compassion and understanding!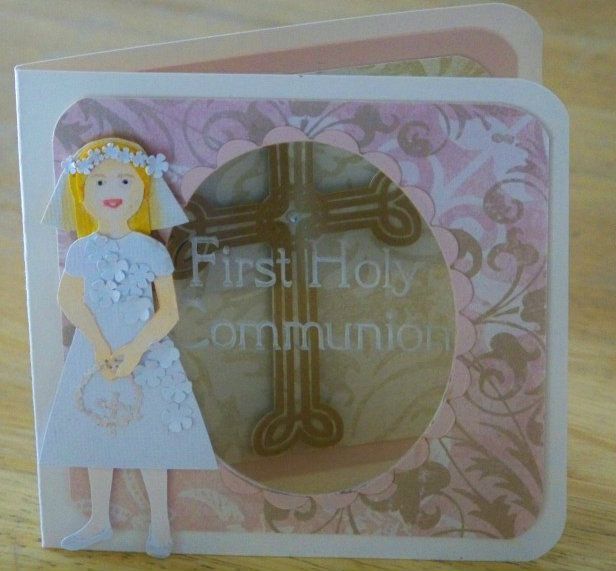 Made by Sis Patterson for my daughter, Piper!
One of the most beautiful gifts that Piper received is a card that was created by Sis Patterson. (That's "Ms. Patterson" to Piper!) When I became Catholic, Sis introduced me to her gracious and generous talent with her gift of a St. Francis card to me. (You can see my blog post of that project by clicking
here
.) Her card to Piper was just as beautiful and creative!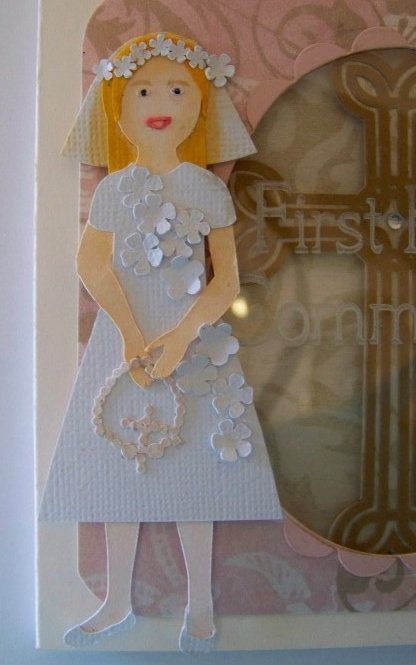 I love the little girl she created and the way she incorporated a window, stamped with a sentiment. The cross is beautiful, and as always, Sis creates projects that physically feel substantial due to her selection of materials. I love the subtle coloring on this card. It is particularly impressive that she has created the feel of a monochromatic card while using many colors, even dark color in the case of the cross. So clever!
Sis' blog,
Paper, Craft, and Scissors
, is beautiful and filled with her over-the-edge creative paper-crafting projects. She is one of my favorite Cricut and Silhouette die cut users and you can always find a link to her blog on my sidebar under "Inspiration." You can find all of her crafty details regarding the First Communion card she made by clicking
here
to go to her blog post! Her photography skills are so much better than mine so I highly recommend going to her site if you are planning to "pin" this card to Pinterest for the best picture!
As a person who struggles sending dimensional cards with delicate 3D elements, I was tickled to see the box that Sis sent this card in! It is a Silhouette file, she told me, but the secret is an inner liner, similar to the exact cut of the box but just a tiny bit smaller to nest inside. The card was delivered uncrushed, unharmed, perfect! (My mission is to figure this out on a Cricut!)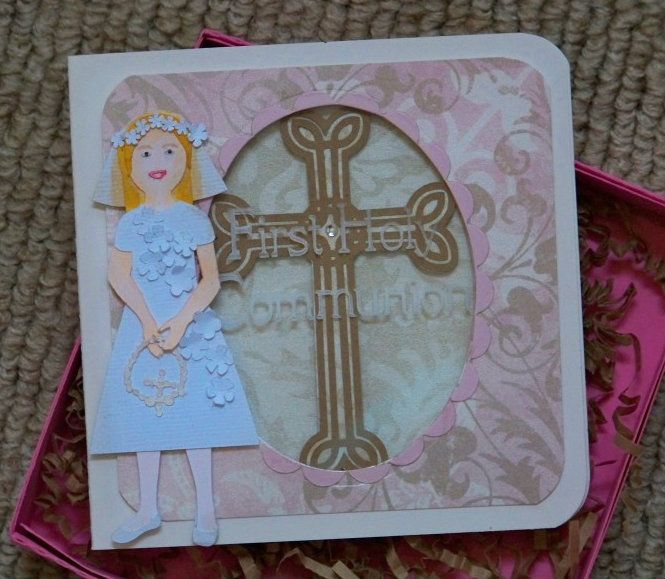 The pink box is the one it arrived in!
(This isn't the first kindness that Sis has expressed to Piper. Twice, on fantastic international excursions, she has sent messages to Piper through a Flat-Stanley-type of exchange where "Awesome Emily" told Piper about people and places she encountered-- and sent her souvenirs from all the countries she visited!)
Thank you so much, Ms. Patterson! This card will be a treasured keepsake forever!
Piper is so fortunate to have had many kindnesses gifted to her for her First Communion. Last night, she finally finished all the thank-you notes and decorated her cards. She was so serious in building up color layers. (The Studio G ink pads at Walmart are highly recommended if you have a kid that likes to dabble in color! At under a $1 each, you can allow them to thoroughly cross-saturate the hues and not give it a moment's thought! Of course, they are now hers!)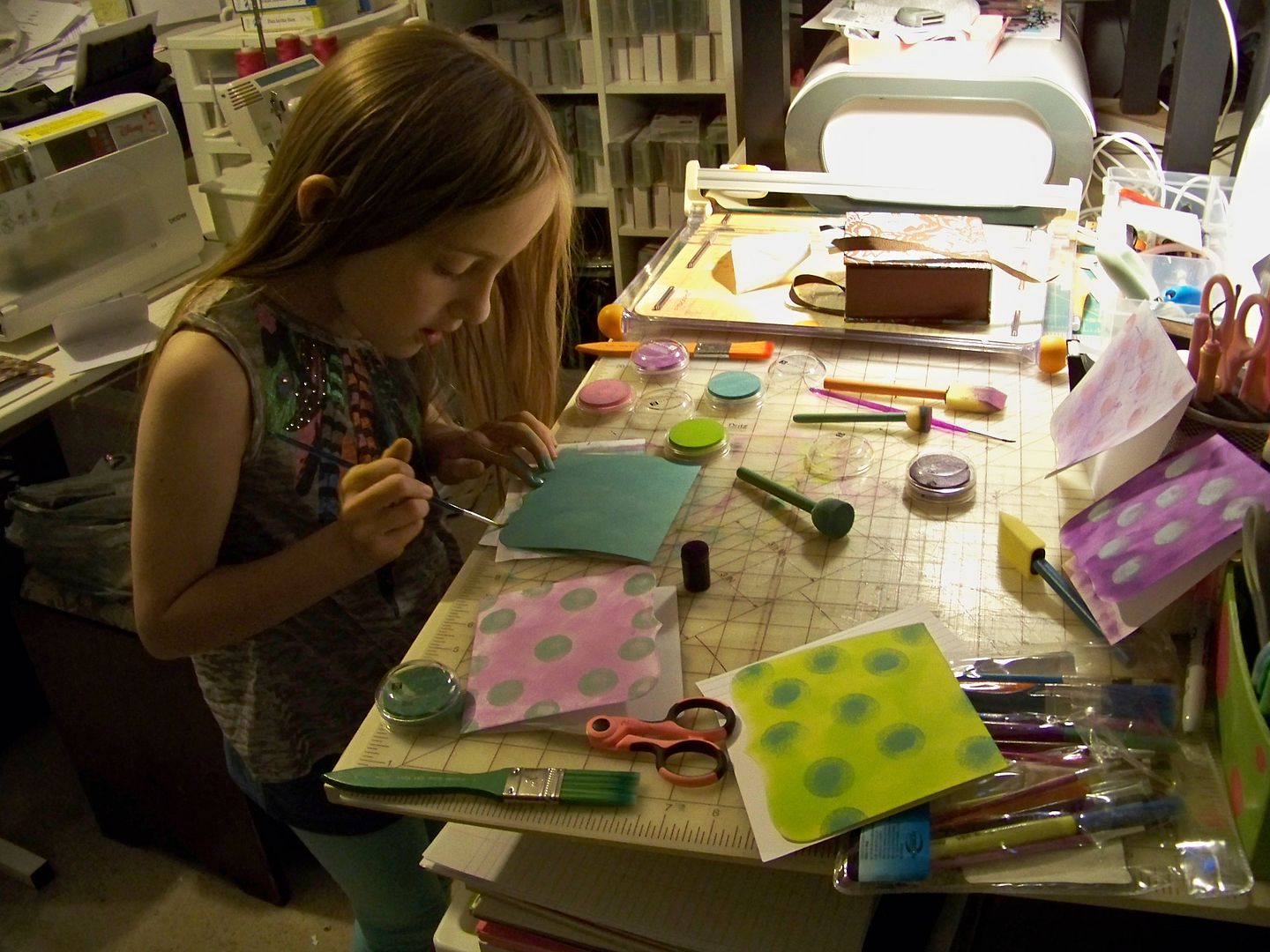 For fun, I helped her create her own little stamp for artsy ownership of her efforts!
"Made by Piper" is on the back of her thank you cards.
I have lots of pictures to scrap of her First Communion, but I am still awaiting the ones from the professional photographer! I hope to have actual scrapbook layouts to share with you soon -- I am making a memory book for Piper with pictures, cards, keepsakes, and the DVD from the church.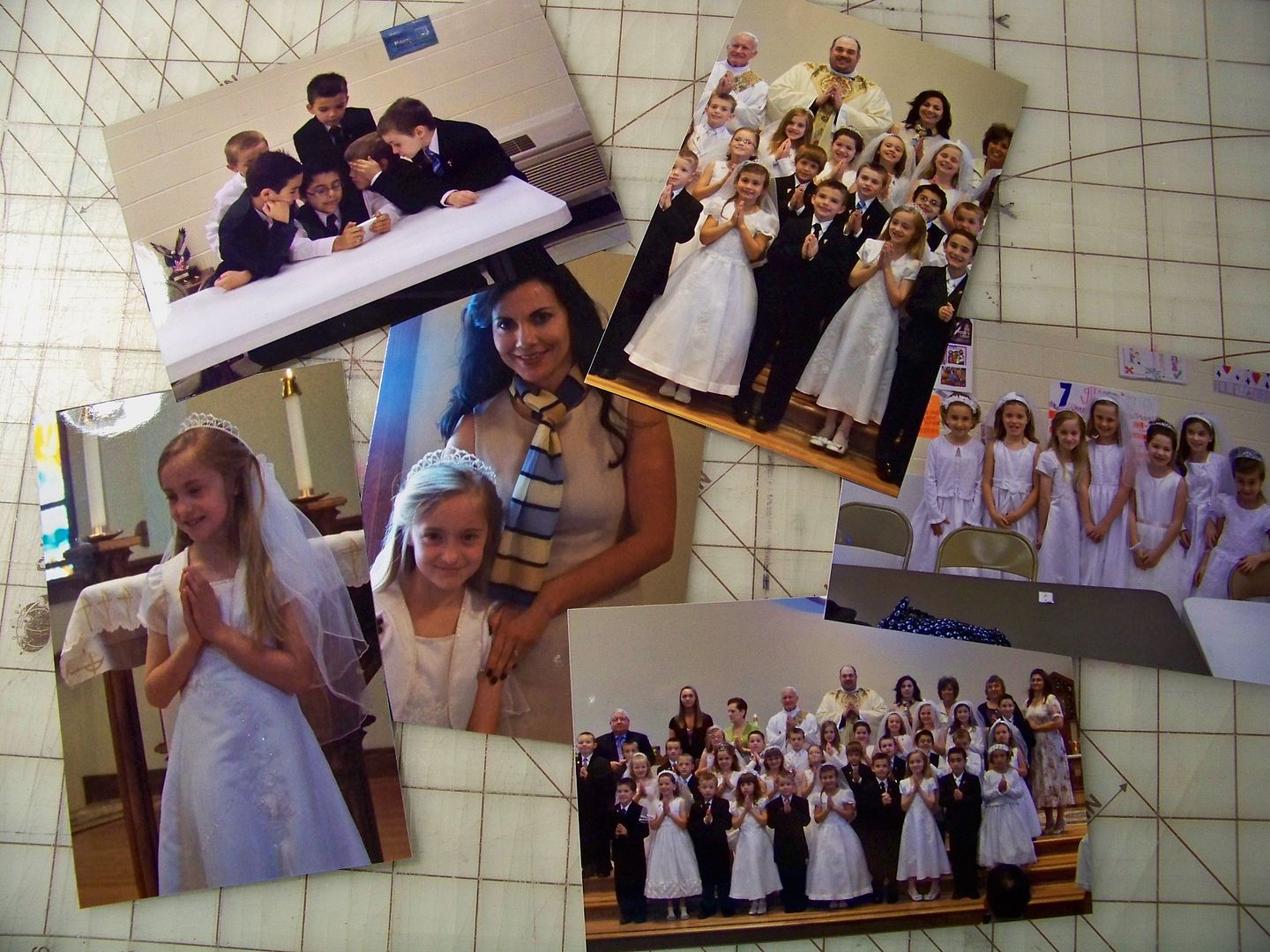 Thank you for checking my blog post! Be sure to visit Sis Patterson's blog to witness all of her crafty genius first-hand:
Paper, Craft, and Scissors
.