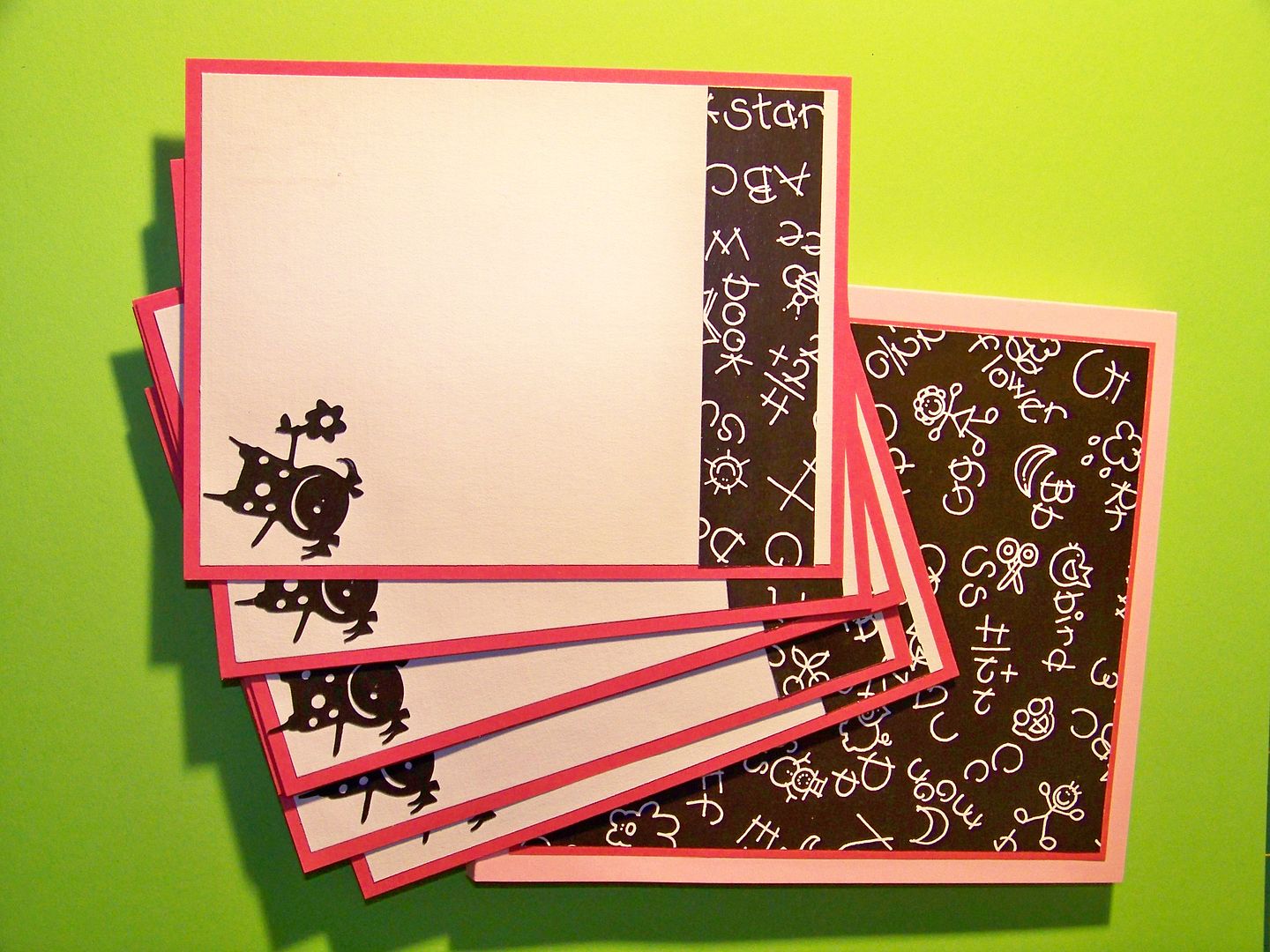 Happy Monday! I have been crafting this weekend and wanted to share some projects! AllisonF and Caroline over on the Circle have been hostessing a wonderful weekend of challenges! Saturday was a tutorial challenge. We were provided with directions for a great notecard and holder set. This is my entry. The little girl in the corner is from Car Decals (page 33), cut at 1-1/4".
Caroline's tutorial put me in the mood to learn new techniques! I learned to make this peony over the weekend by watching a fantastic video tutorial by Julie Walters.
Check it out here!
In the tutorial, she uses a Sizzix die for her 8-petal flower form. I could not find a similar 8-petal flower on my Cricut cartridges, and since she mentioned that it would work with a 6-petal one as well, I found one on Accent Essentials (page 57, shift key). I made a few changes from hers, using more layers and omitting the use of a stylus, for the practical reason that could not find mine anywhere! That turned out to be a happy accent and using my fingers to curve the petals worked just fine!

Julie uses a heat gun to help dry the over-sprayed layers. I loved that idea! I use paper towels in my spray box to help soak up excess paint.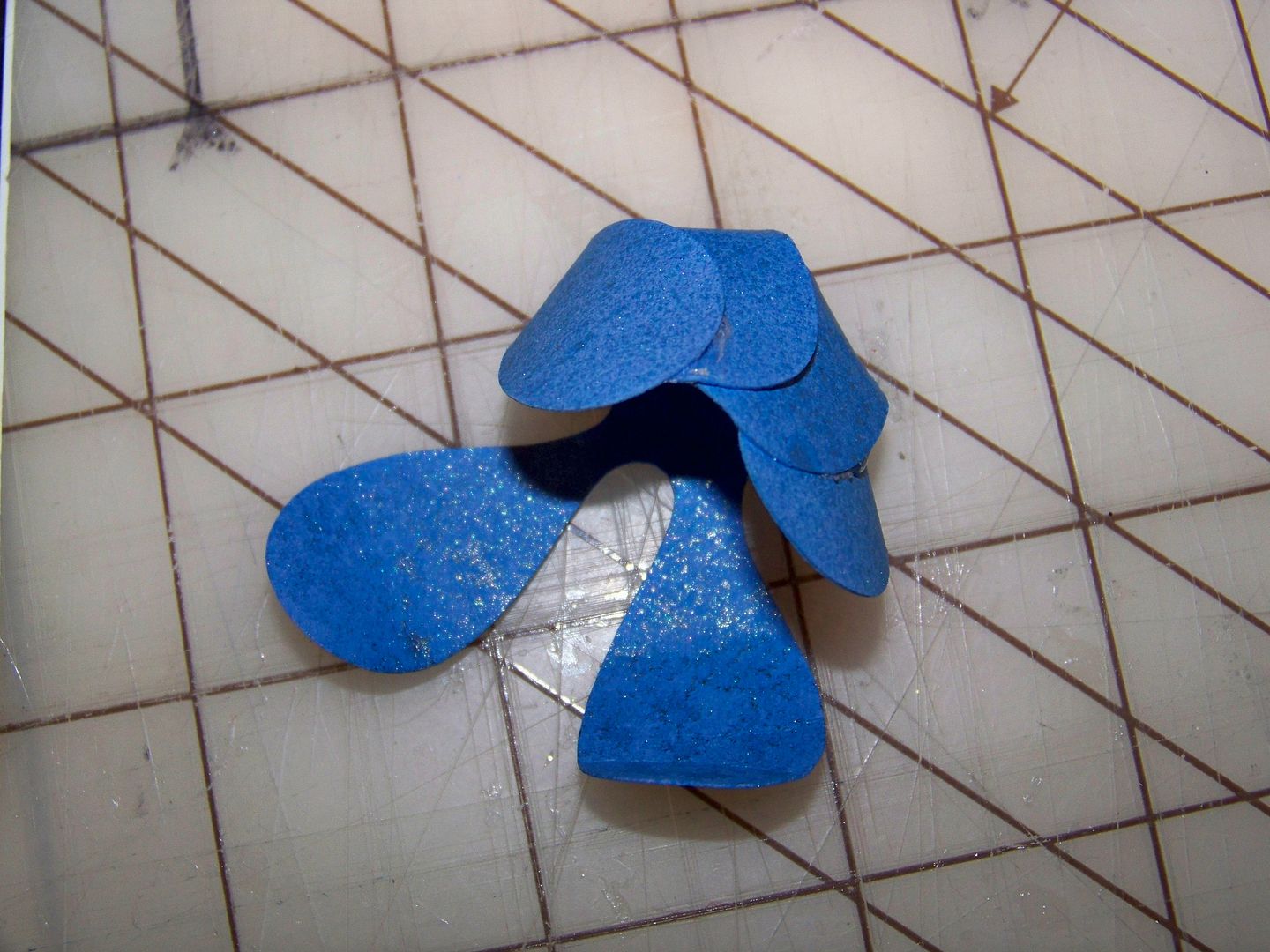 Using the 6-petal flower instead of an 8-petal one meant that the bud was a little different from her tutorial. I glued and positioned the petals to close the top, instead of folding at the end as she does.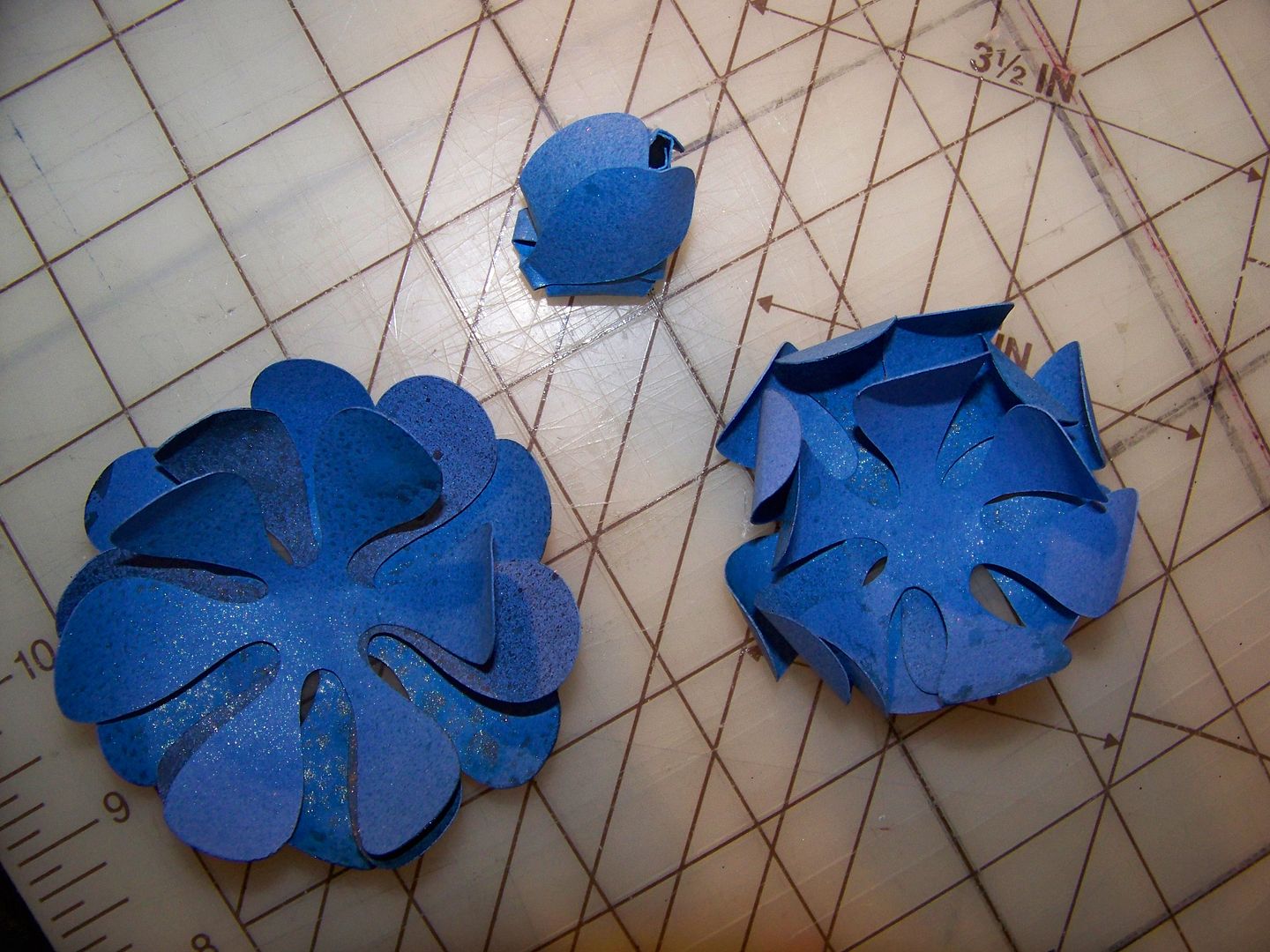 I added a few more layers and no stylus. I simply used my fingers to curl more tightly the layers that would be around the bud.
Before adding glitter...
After glitter...
For the 'wet' challenge (use sprays, inks, etc. on your project) I used the peony to create a little gift holder.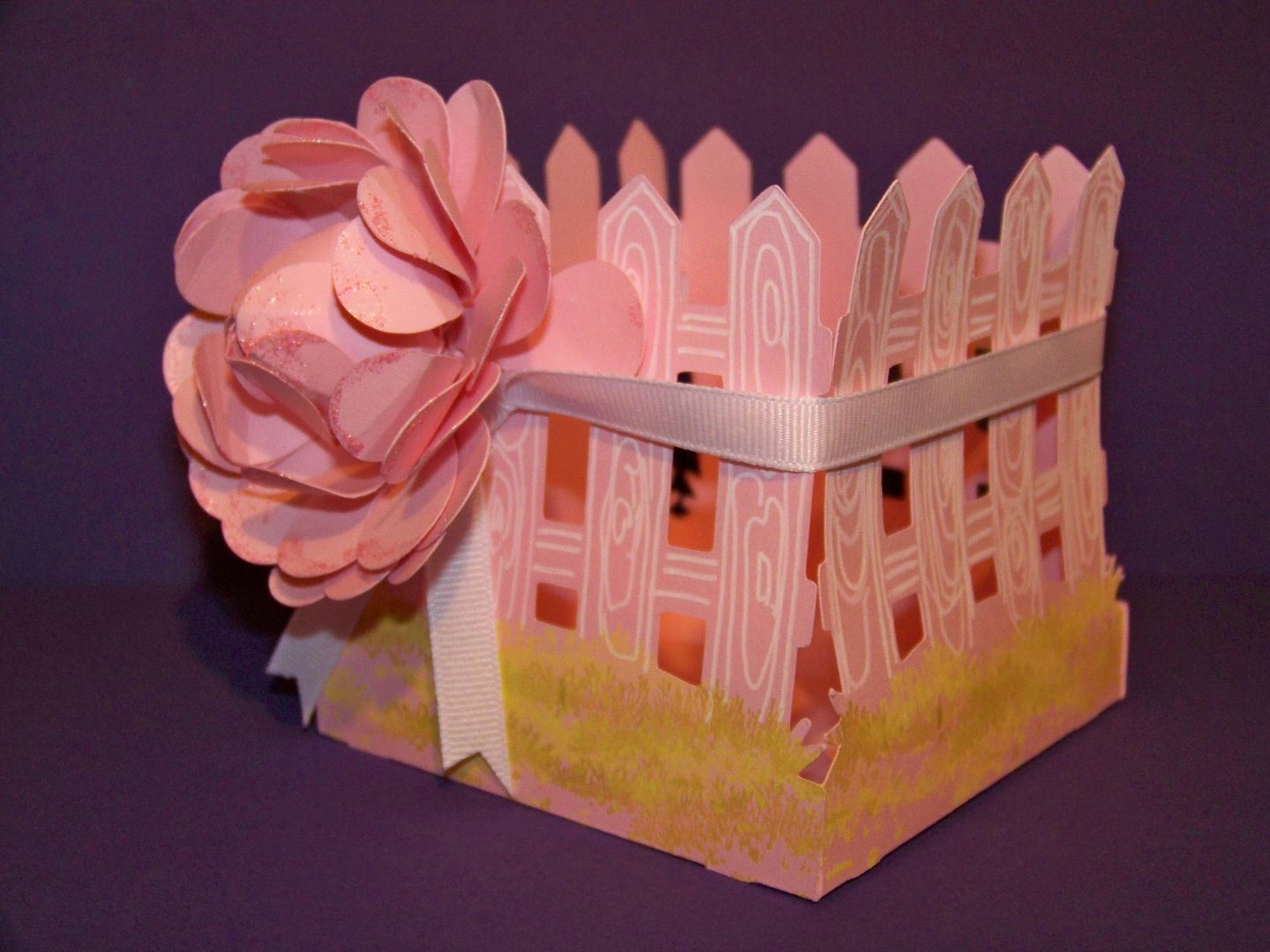 This is from Wrap It Up (page 45), cut at 11" with only one layer. I stamped the grass on (to go along with the challenge theme) and used a white pen for faux bois details on the fence.
This card was created for the sketch challenge on Thursday. I wanted to do a card for my late grandmother's sister, who just turned 100! She was always an advid quilter, so I was excited to find the print with scissors and thread! I used Birthday Bash for the cake (cut at 2") and sentiment (cut at 3-3/4"). I hand-cut the pennants for the banner. The scallop-edge circle is from Mini Monograms, cut at 2-1/2". I inked the edged a bit.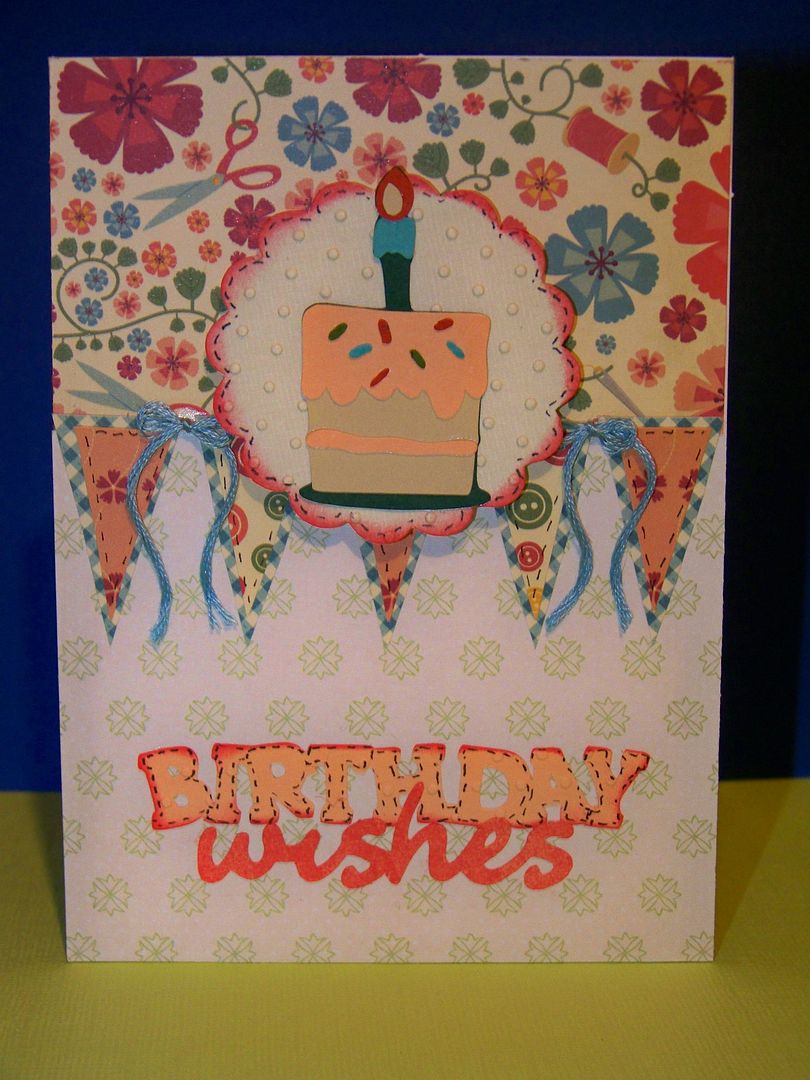 The hardest challenge for me is always a color challenge. I guess I have a problem being limited when I love color so much! This card was an easy out because I used a picture of my daughter and tried to just have a little fun! The text is from Groovy Times, cut at 1-1/4". I used my trimmer, circle punch, and corner chomper for all other elements.
Thank you for checking out my blog and looking at my projects! I hope you found a little creative time too!