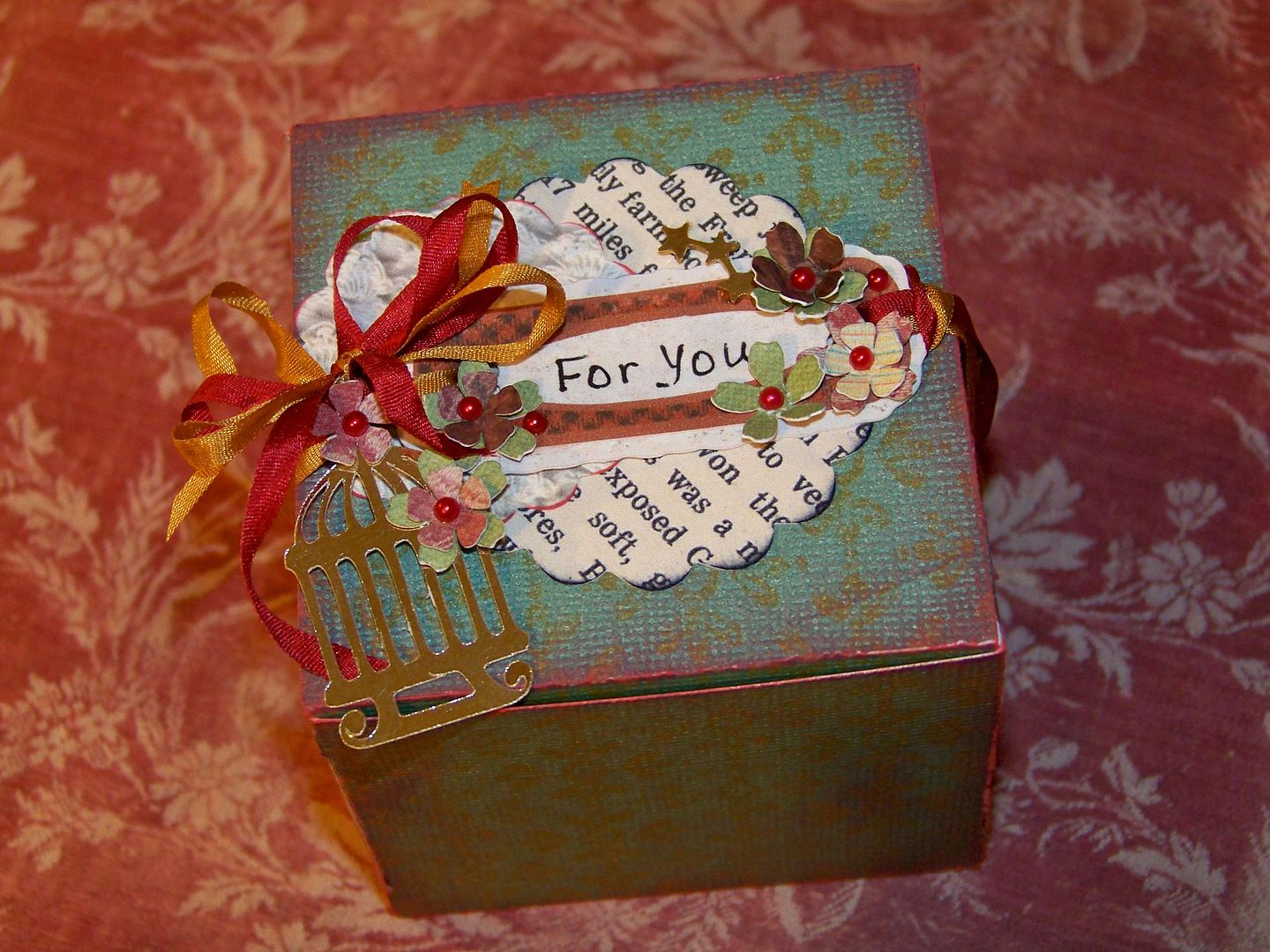 This is my entry for Weekly Challenge #25: Use Your Imagine-ation Challenge!
My new Cricut Imagine arrived a couple of days ago. This is a machine that I was super-excited about when news of it first started circulating, but then lost interest when so many projects looked alike... I mean really looked alike. It was obvious to me: the machine made it too easy and the ease removed the need for creativity. As paid designers, professional bloggers, and company-created projects surfaced, I really became sure that this was not for me. Then, something changed. The Circle Blog's designers started featuring some really interesting projects... and so did some of the folks on the message boards. I started to believe that it must take time to learn the machine and then unlearn the ease to get back into one's own creative niche.
And then, the magical part that was required for my complete transformation into an Imagine owner: they lowered the price and then discounted it further for Circle members. Now it was less than half price and I took the bait!
And I find that I am right -- it will take time to learn how to use the machine to be creative and not to simply print and cut someone else's ideas out. I knew I wanted to get away from the clip art images that come on the Imagine carts - at least in part. For one, they have been programmed to leave a border around some of the cut layers, instead of just cutting that layer's image. It gives the feeling that a sticker has been used instead of a die cut.
I have surprised myself at how much I love using RGB codes along with the traditional cartridges to get the perfect color! I have sought out tons of charts for trendy colors, Disney colors, flesh and hair colors, and Imagine colors. That is the best, most creative feature for me so far!
Click here a printable list of links.
I have pushed myself to learn to use the Imagine carts and traditional carts together. I have played with the Cut-to-Size and Autofill features, since I use those so much with the Expression. I miss the Centerpoint feature and happily got to use my Expression for that on a project I just finished for the Circle blog weekly challenge. I forced myself to do a project because I really want to learn and use this machine! I usually don't have to be 'forced' to do challenges, but I knew my project would be pretty simple!
For my challenge project, I cut flowers from Pagoda. I used a patterned paper that I turned over and allowed the Imagine More cart to print the shape of the flowers on the white side of the paper. I like my flowers to be dimensional so this allows for different colors/patterns on each side.
I also used a pattern from Imagine More to print a pattern on a box from All Wrapped Up. I used a beige paper so the inside of the box would be a solid color, while the outside is printed with the added bonus of a shifted color due to using paper other than white! I inked the corners and edges of the box after assembling it.
I have been wanting to use old newpapers and books to put words within the design. This is something that was popular in the fabric world a while back. It is probably out-of-vogue in the paper world, but I love the look. I made a color photocopy of the yellowed newpaper onto white cardstock to have a paper substantial enough to put in a die cutter. I used my Expression for this. I really loved using the two machines together for a project!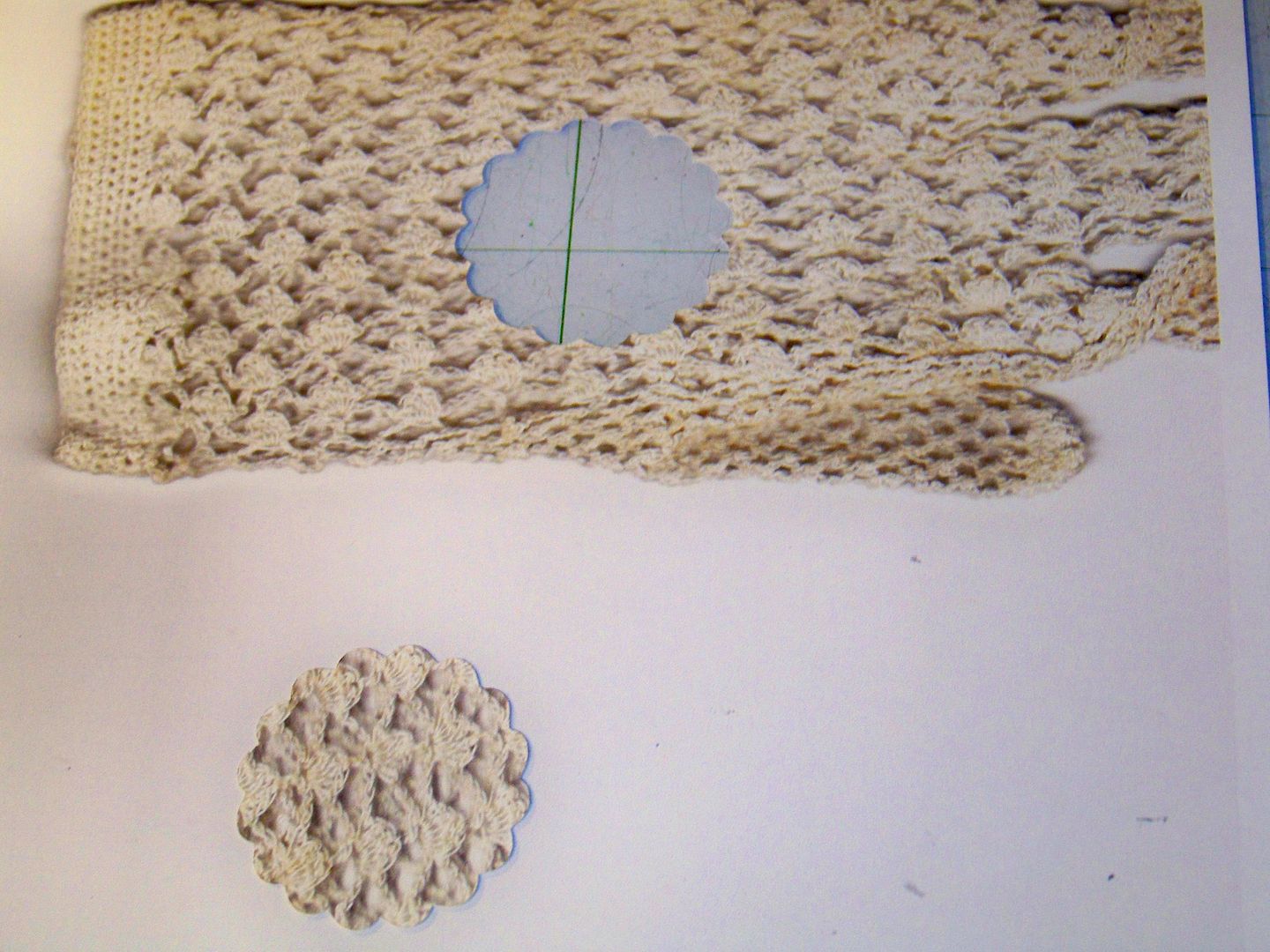 I also made a color copy of one of my grandma's lace gloves onto cardstock. Using the Centerpoint feature on the Expression and Mini Monograms, I was able to create a lace scallop.
I used an image from Imagine More to make my tag. I had it print and cut in layers, choosing not to use the flower layer since I am using the Pagoda flowers. I cut a birdcage from Serenade, found a metal star charm, and used some silk embroidery ribbon to finish my little gift box.
I have been learning the features of the machine this week and do feel that this is a great crafting investment. I think my comfort level with the Imagine will take time. I don't find the cutting aspects of the machine to be as flexible as the Expression. I am hoping that the release of Provocraft's new Cricut Craftroom will help with that a bit, although I really do prefer to cut and play rather than to design on a computer!
I am waiting for my other bargain to arrive: Lori's Garden. Having other patterns to play with will be fun! I do think that the Imagine will make gift packaging and quick cards a breeze! And with all my agonizing over using the clip art Imagine images, I am really looking forward to new Imagine carts, especially Buccaneer. Thank you for looking at my project and for visiting my blog.