In a fit of crafty craziness, I got a card done this morning while my husband was in a phone meeting! That may have been the fastest I have ever made a card in my life! But before I get to that, if you are looking for my NSD tutorial on adding dimension to die cuts or for my gift card give-away which ends Sunday, May 12th (Mother's Day),
click here
!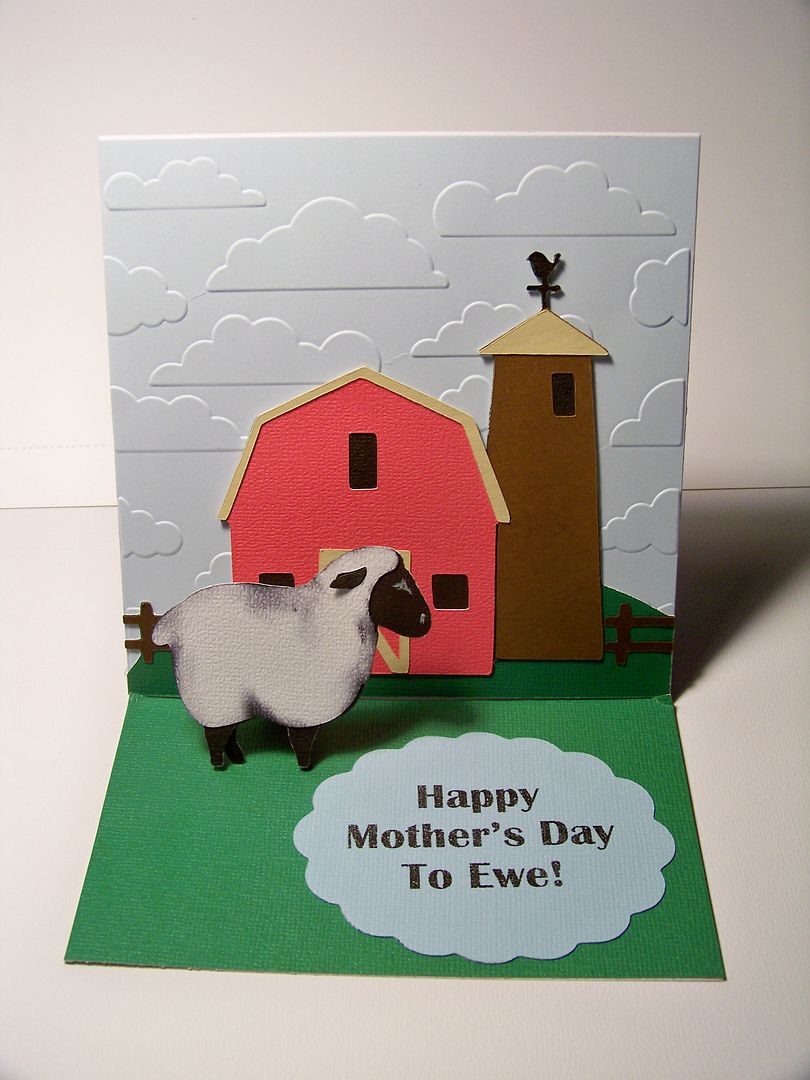 So my husband and I share a space in our home-- he uses it for his office and I use it for my craft and sewing area. Although I don't mind working with him in there, he hates it when I am there! A couple of years ago, I moved my office downstairs just so I could get my work done... why didn't I move the craft stuff too? Not thinking that day, I guess! Anyway, the fact that I could learn it and do it so fast illustrates even better how fantastic and easy-to-follow the easel card tutorial is that
Colleen (of Col's Creative Corner)
created for a challenge for NSD! Her challenge started last weekend, but it continues through Saturday so there is still a little time to swing by there! All you have to do to join the fun is to make an easel card! Click
here
to check it out-- and find her great tutorial!
I am combining it with a challenge from Jenny Dennis on the message boards to make a project with a barnyard animal! Jenny's fun challenge made me think immediately of my mother-in-law who has a farm! They raise antique tractors on their farm (LOL) but I chose a sheep so that I could get a little punny on her card. I made it dimensional by cutting two sheep (one flipped) so that the legs were really separated. I added a separate ear and inked her so that she looked more detailed than the barn and landscape behind her far off in the distance.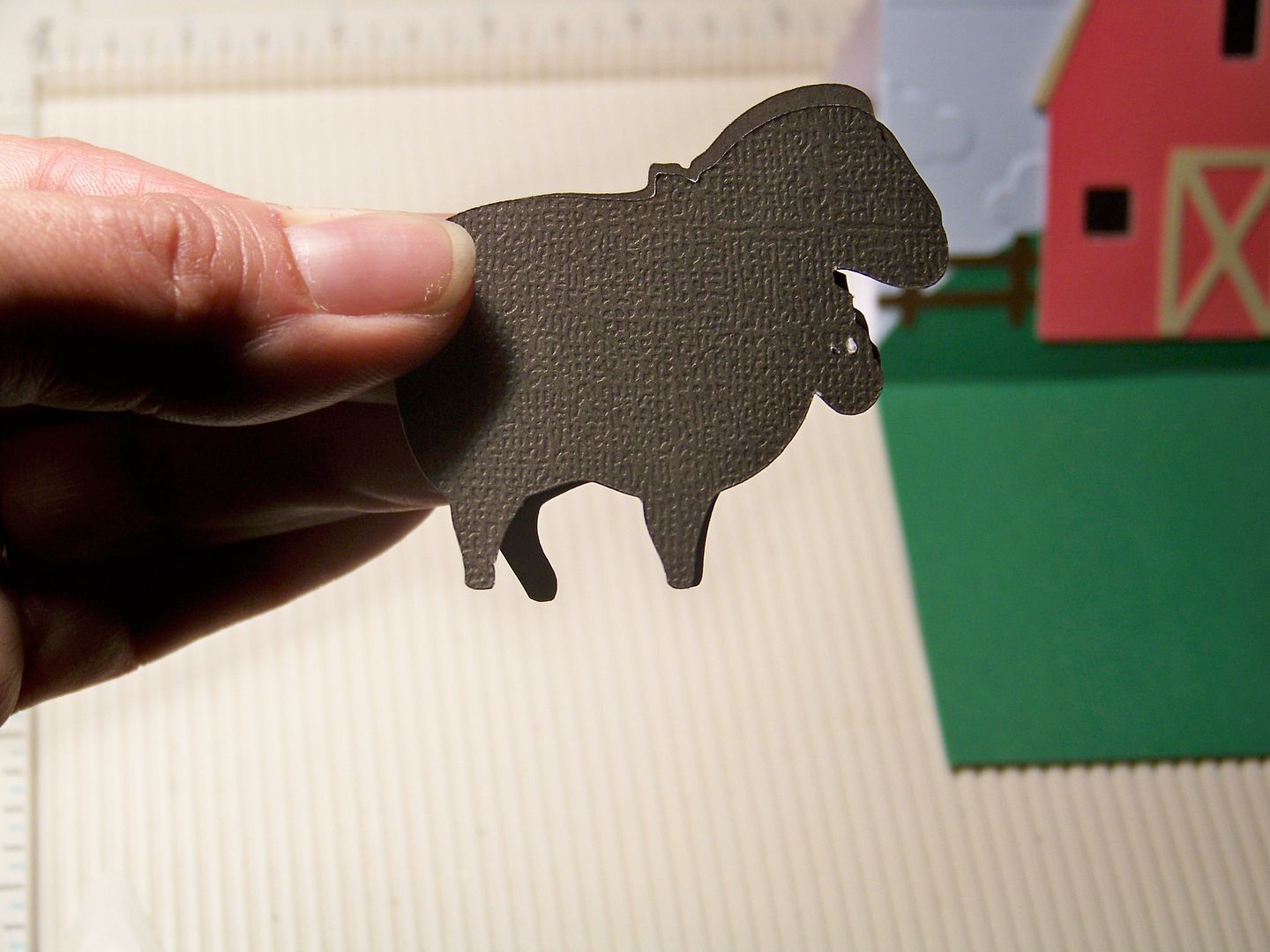 I used layered pop dots to make the sheep pop up about an inch.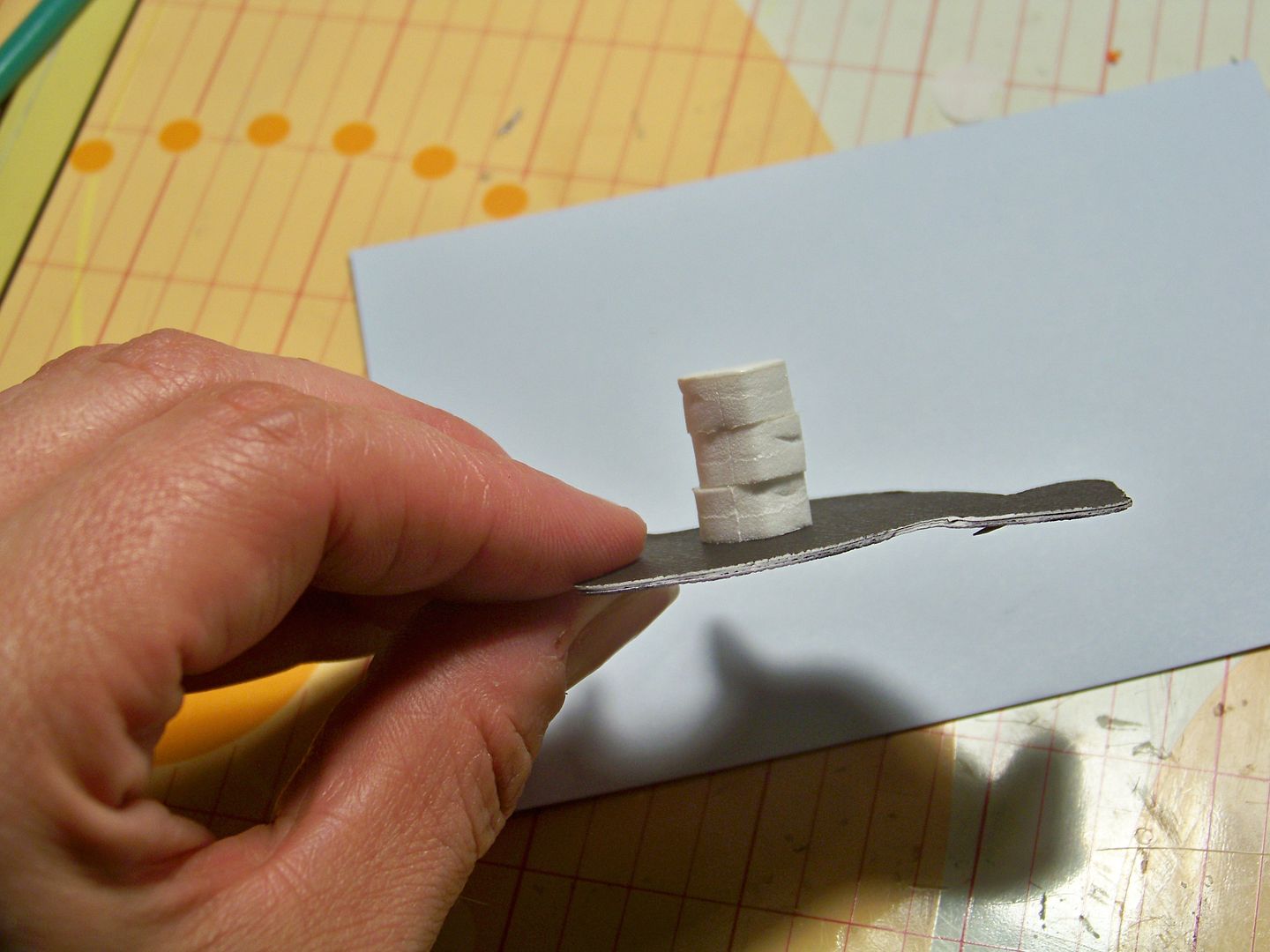 The sky was made using a Cuttlebug embossing folder.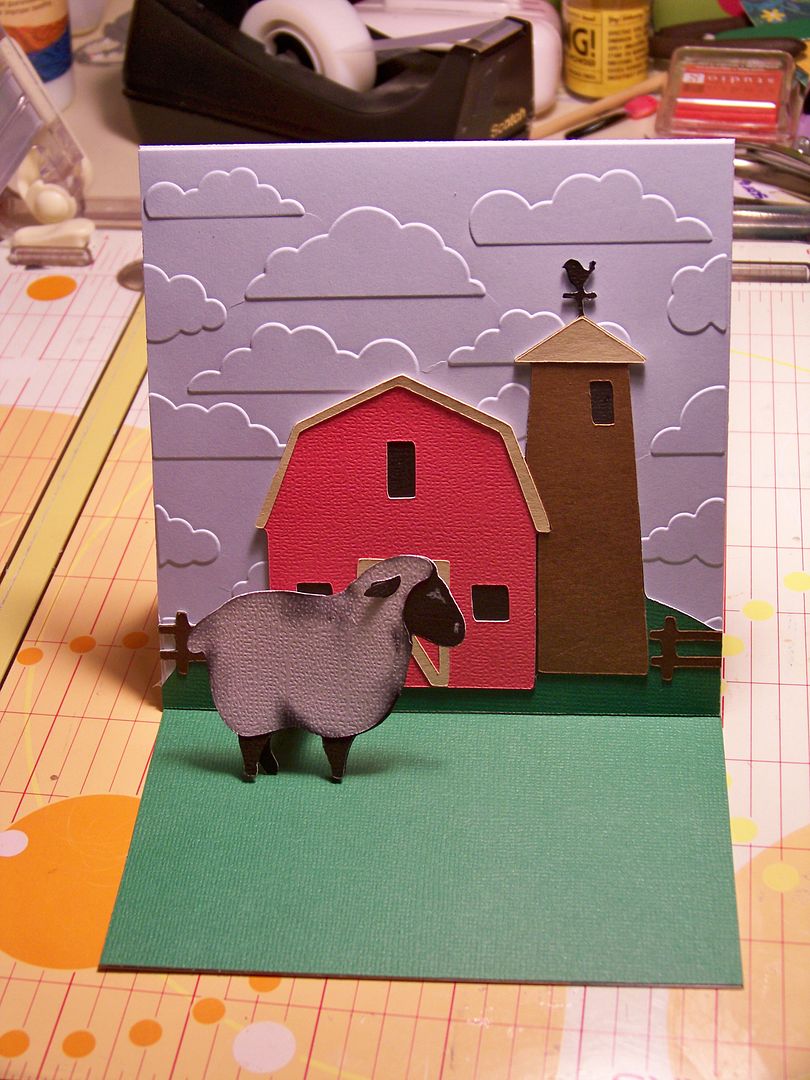 I added a mat with my sentiment that I printed using my computer. I turned up the corners on the bottom to make it easy for the easel to 'catch' in place.
This card was made using Colleen's measurements from her tutorial so it is the perfect size to fit one of those gift cards from the grocery with all that extra packaging.
The barn scene was cut at 4" from Cricut Country Life (I cropped off the sides to fit the card).
The sheep was cut from Cricut Quilted Christmas (I cut off the bell and holly silhouette) at 2".
The text mat was cut from Cricut Elegant Edges at 3".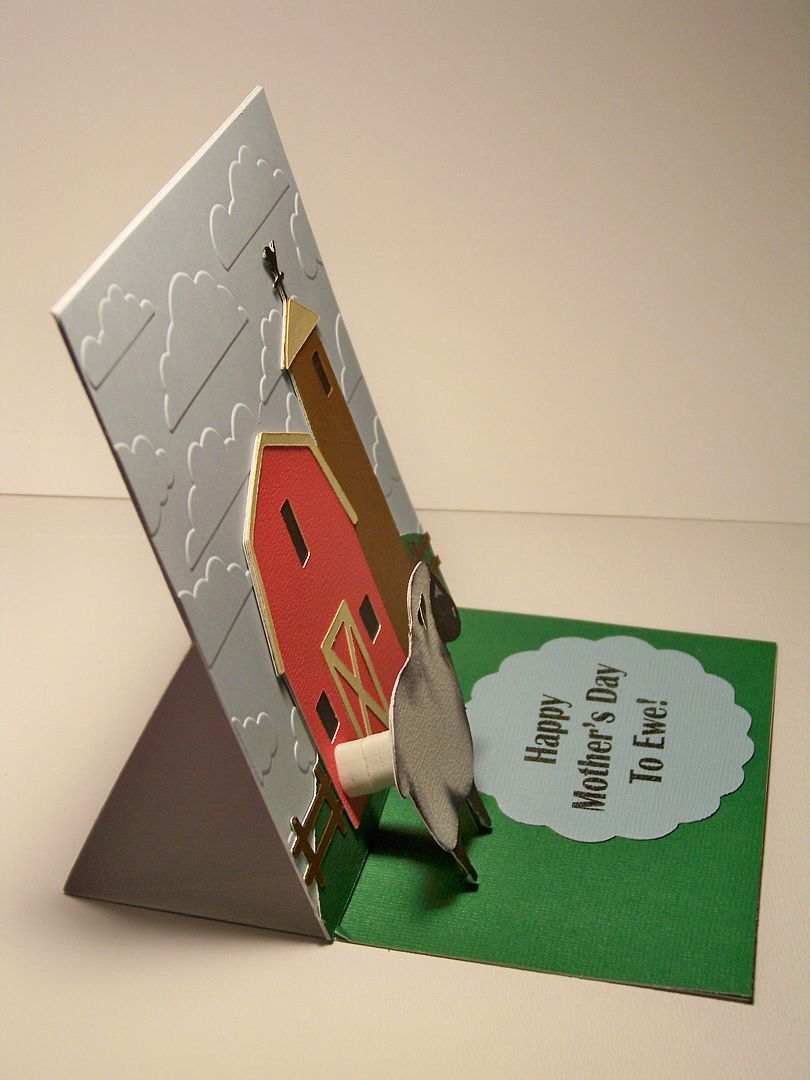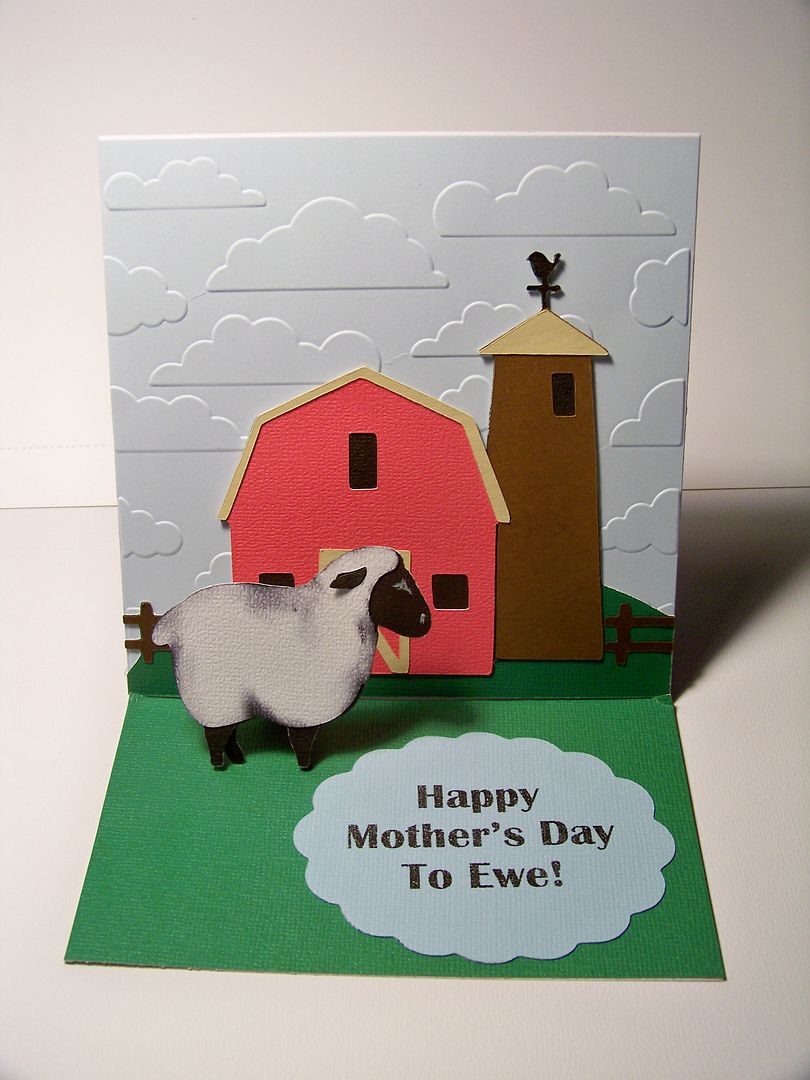 Thank you for checking out my blog post today! This is a final reminder to swing by my tutorial and leave a comment over there for a chance at a gift card (don't leave it here-- it won't count!). You can find it by clicking
here
.
Check out all the Circleville NSD bloggers' posts-- some have challenges, some have tutorials, all have prizes but you need swing by soon because they end by Mother's Day (May 12) so you need to visit before then! Here's a list: