This is my entry for the Circle Blog challenge CELEBRATING CREATIVITY. I knew from the moment that this challenge was announced, that I wanted to do a character in a Louie style of garment. I have been working on altering the clothing for die cut figures in order to pull this off.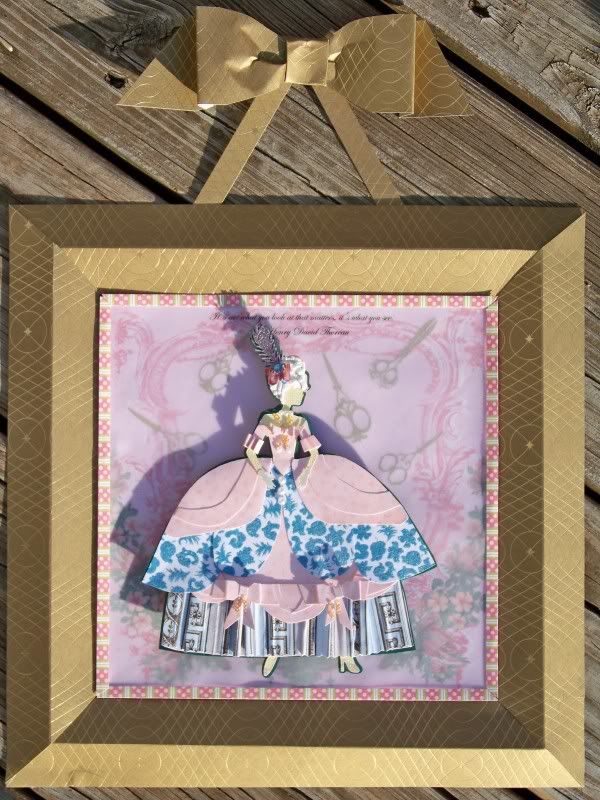 This challenge requires using the 'shadow feature', patterned paper, and embellishments to create a scrapbook layout or home decor project. Patterned paper and embellishments are par for the course for me, but shadow feature is what makes this one a real challenge!
I have been waiting and hoping that I would get Shall We Dance for this project and then remembered my ignored Forever Young cart that is loaded with figures I have never used! My figure is from Forever Young (page 29), cut at 6". I hand-cut that dress with all its layers, bows, and pleats. I added rocaille beads and pearls. The headpiece features a peacock feather from French Manor (page 47), cut at 3/4". I added embossing powder and heat set it to get the glittery irridescent finish on the feather. The little butterfly is one I cut from a patterned paper. I cut this figure all in flesh color and then manually cut away her arms from her clothing. By adding the glove from Sentimentals (page 25), cut at 1/2", she has fingers! Her powdered wig is made by using Liquid Applique.
This is where that little detail about shadow feature got tricky. I really tried to think of just a shape that could be used for the requirement, but sometimes, the project really dictates what is needed. I wanted this figure to stand away from the base. I achieved this by reducing the saturation of the background colors, popping up the figure 3/8" off the page, and using the shadow feature. I cut the shadow for the figure on the cart and then hand-cut the outline of the skirt. Because Sentimentals does not have a shadow feature, I created a "shadow" of the feather by cutting it at 1". All the shadows were glued together and placed behind the figure.
The background took me longer to figure out than the figure. I wanted it muted and with an element that represented creativity - for me, that symbol is SCISSORS!! I love shadow quilting and used that concept to create my background. Shadow quilting is where shaped elements are sandwiched between a base fabric on the bottom and a sheer on top. The shapes are seen through the sheer and quilted around. This creates a new fabric! With this project, I used a beautiful paper by Melody Ross, covering up her text by super-imposing pieces I cut up from a second page. I glued on various embroidery scissors from Sentimentals in 1-1/4" and 1-1/2". (There are three styles on that cart and they are so beautiful! I was thrilled to get to use them all.) I covered the paper with a sheet of vellum. This reduced the saturation, or brightness, of the paper and looks like the scissors were part of the paper. I also printed a quote from Henry David Thoreau, "It's not what you look at that matters. It's what you see." I wanted to emphasize the theme of Celebrating Creativity with this quote.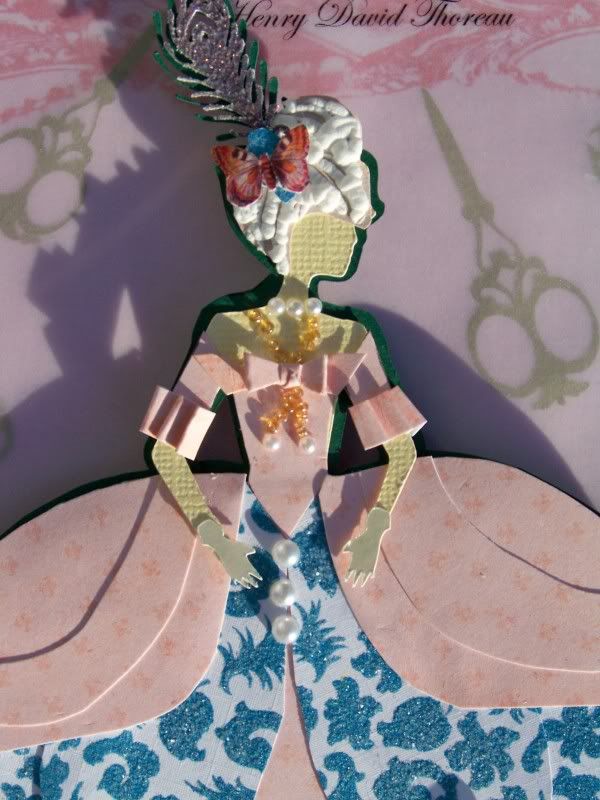 Since this is a home dec project, I wanted to find a way to finish it by framing it. Part of my goal in this is to learn alternative presentations; part is to follow the theme of creativity. I did this by creating a paper frame and paper ribbon hanger. I cut two inch strips of a beautiful Martha Stewart paper, mitered the corners, scored down the middle, and assembled it into a frame shape. I hand cut the ribbon and glued it all together. I am so happy with the presentation. I just didn't want to be stuck with a shadow box and wanted to create my own options.
The frame finishes at 11-1/2" by 11-1/2". The paper bow and hanging strips adds an additional 3-1/2" to the height of the project.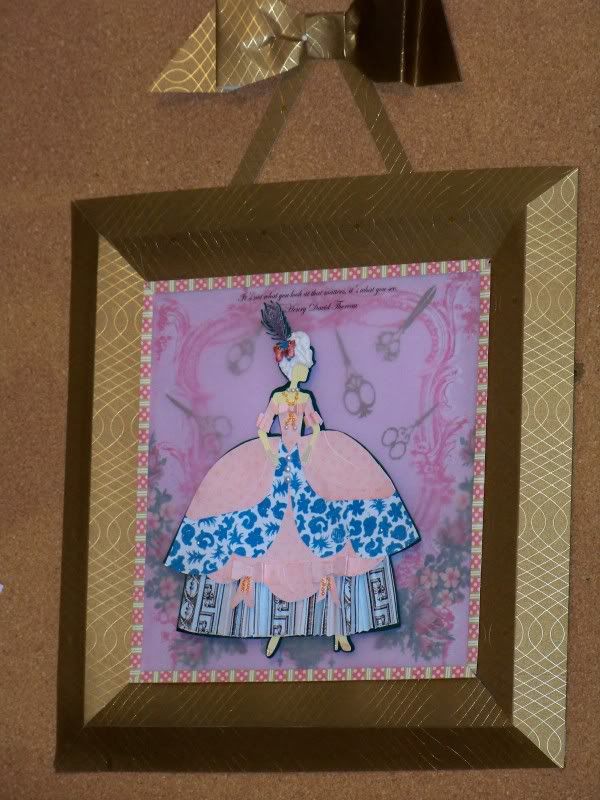 Thank you for looking at my entry!