This past weekend was the Swarm in Utah. I just could not go and was so disappointed. Those wonderful Cricut Circle gals, AllisonF and Doxieluv01 (Caroline) created group therapy for those of us left behind with a multi-day challenge! This was a kind of virtual swarm. These are some of the projects I posted.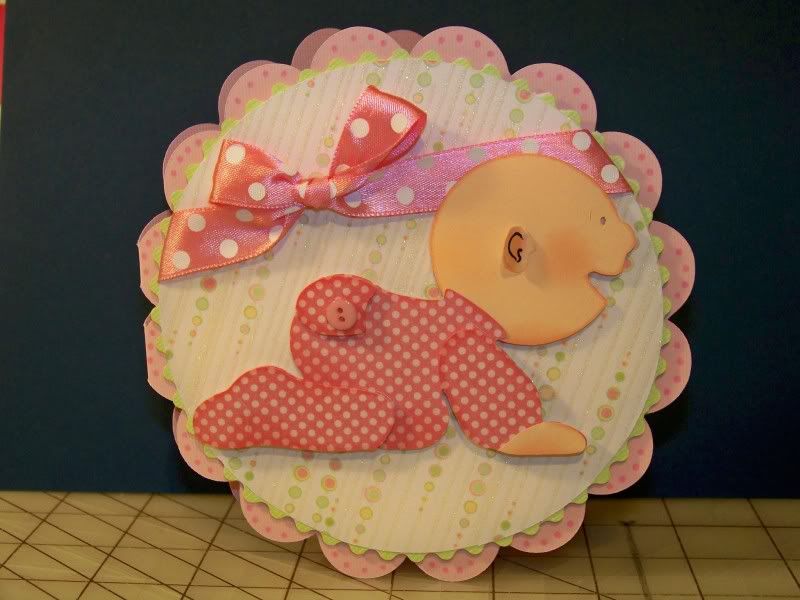 This was my entry for the Circle challenge on Thursday. I used Everyday Paperdolls, cut at 5". (I did hand cut an ear for that poor baby - why did they miss that?) I used George for the top circle-- I think also at 5" real dial size. The green circle was cut at 5-1/4 or 5-1/2 (not sure) then I used those scissors that make me cuss to get the ric-rac edging. Mini monograms with CDS set at 6-1/4, welded & nudged, and one side flipped. The printed papers are from a stack called Nana's Nursery. Ribbon and button from my RAK package. Other papers are from my stash.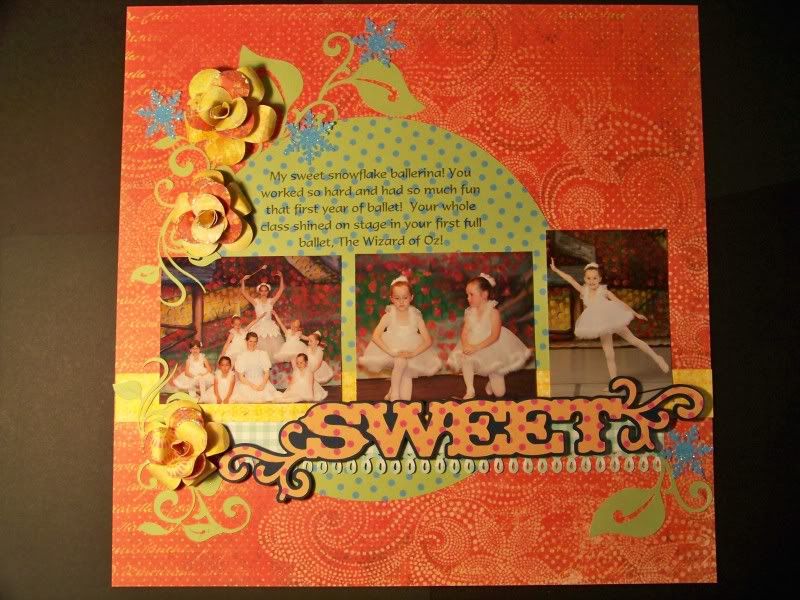 This was my entry for the Sketch Challenge. We could choose between a page lay out or a card.
I really am not very good at making scrapbook pages and want to do wonderful lay-outs like the talented girls on the Circle Blog. They wow me and I want to try a bit harder to get results I like for my pictures. I decided to use the LO sketch. I picked that over the card sketch hoping that a little practice might improve my work. My subject could not be any closer to my heart -- my sweet girl and her ballet efforts. Her class were all snowflakes who killed the poppies so that Dorothy and friends could make their way along the yellow brick road-- in case you are wondering why I have snowflakes on here. Now, you should be asking why I have yellow roses for the poppies. Let's just say that was artistic license.
I used George for the circle, cut at 7-3/4". I used Rock Princess for "Sweet", cut at 2-1/4". The vines and leaves were from Wall Decor & More, cut at 2-1/4". I used the flower on George (blackout/shadow)cut at 2" and 1-3/4" to make the 3D flower. I learned how to do the flower by watching a
video that Kathy Orta did
. The snowflakes were cut with a Martha Stewart punch.
My daughter and I exchanged art projects during the challenge on Sunday, which required embellishment. I made sure to put lots of embellishments on the one I made for her so I could use it for the challenge. This is for her room. I guess we will just pop it up with thumb tacks.
I bought this cart, Live Simply, for this frame. Once my daughter saw it, she wanted a "girl with all the animals" but luckily she didn't make me cut ALL of them!! The girl is from Rock Princess (yes, I have Happily Ever After, but the style is all wrong for these animals). I changed her up a bit to turn her into Snow White, cutting and reversing her arms, adding locks of hair, cutting a basket, and changing her dress. I was really pleased with figuring out the dress. She is cut at 4-1/4" Everything else is from Live Simply: Butterfly 3/4", Tree 4-3/4", Fox 1-3/4",Deer 2-1/2", Bird in next 1", and Frame 8".
This was my entry for the Monday color challenge, using orange, black, and baby blue. This is Pumpkin Carving cut at 2-3/4" with the Drippy Goo and Cracks Martha Stewart edge punches. This is a Martha Stewart stamp. I almost never put a sentiment on my cards, but I LOVE the creepiness of this. I used a little heat embossing powder to get it good and dark.
I had such a great time creating these little paper projects. I almost forgot about missing out in Utah. Thank you for checking out my projects.