This is my fun little entry for the Cricut Circle Blog:
Weekly Challenge #4 BOO! Challenge
Create a Halloween project that incorporates some kind of transparent element (vellum, acrylic, plastic packaging, overlay, etc.)
I am having such a great time with the Mrs. Frankenstein figure on Happy Hauntings! The rendering of her face is just so pretty and the layers really are perfect. I have used the whole figure, and more recently, just the face cuts. I do plan to use her face when it is not Halloween -- without the green skin!
My personal challenge on this was to see just how much of a figure is needed in a scene. I am finding, like in this case, that the whole figure is often not needed to convey a message.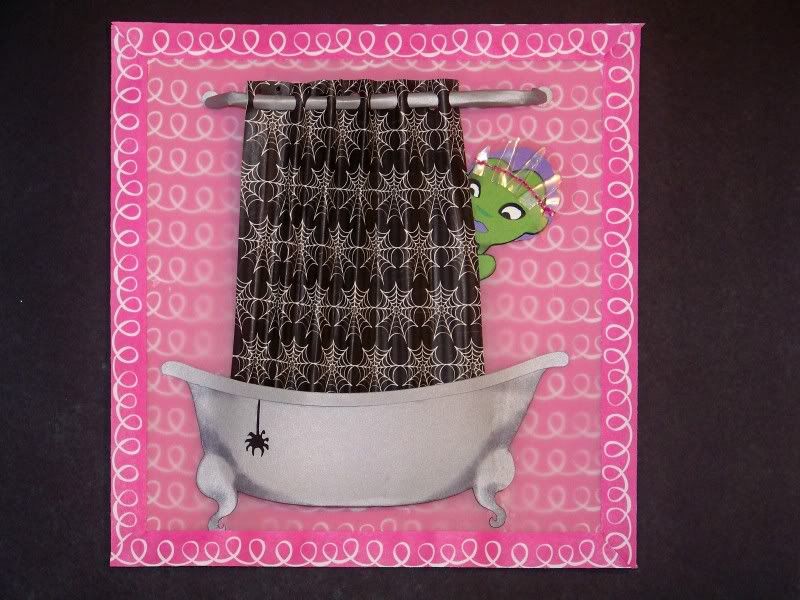 This has been the most technically difficult challenge on the blog for me. The obvious issue is with adhering transparent elements. Kudos to Jana for making us think! I used two transparent elements in my project. I knew I wanted to do another bath scene with this character to contrast an earlier one I did.
You can check that out here.
This time, I wanted the project to be brighter and less traditionally colored for Halloween. I used a bright paper for her background and placed vellum on top to mute the brightness slightly so it would not compete with the brightness of the figure's face. I wanted to demonstrate this by also using the same base paper as a mitered border without the vellum. (This is called 'making sure they know I used a transparent element'). The border also serves to hide the glue that holds the two together and that shows through!
The shower cap is my second transparent element. This is made from the protective shield that comes on Cricut Expression mats! I always keep them even after the mat is thrown out so I have lots of them to play with. I pleated it and then stitched it in place with thread. Then I stitched it to the paper figure! This solved my problem of adhering it to the head.
The figure's face was cut using The Bride of Frankenstein from Happy Hauntings, page 31, cut at 5". I hand-cut the hair and shoulder. I inked it all in black.
The tub is from Splish Splash and cut at 2-1/2". I used this tub at this size in a previous project. This time, I inked it and really like the effect. The shower rod and shower curtain were hand-cut. I really like the spider web paper. Why does she have spider web paper if she is afraid of spiders you ask? hmmm... Why do I have snake skin shoes if I hate snakes? Hard to say. I just like how that paper brings back the Halloween theme.
The hanging spider is also from Happy Hauntings, page 54, cut at 2".
I hope you like my project. Whacha think of hot pink for a Halloween color? I am thinking hot pink is good for all holidays!