I am having a great week! LindaK has given me a shout-out on her blog
The Paper Boutique
and
Sweet Sassy Diva
has asked me to be a guest designer and is featuring one of my vignettes on her blog!
This is my little Halloween tribute. I made this for Bobbi Jo last week during our Stay-At-Home Swarm, but didn't share it until now. It was killing me! I had so much fun with this!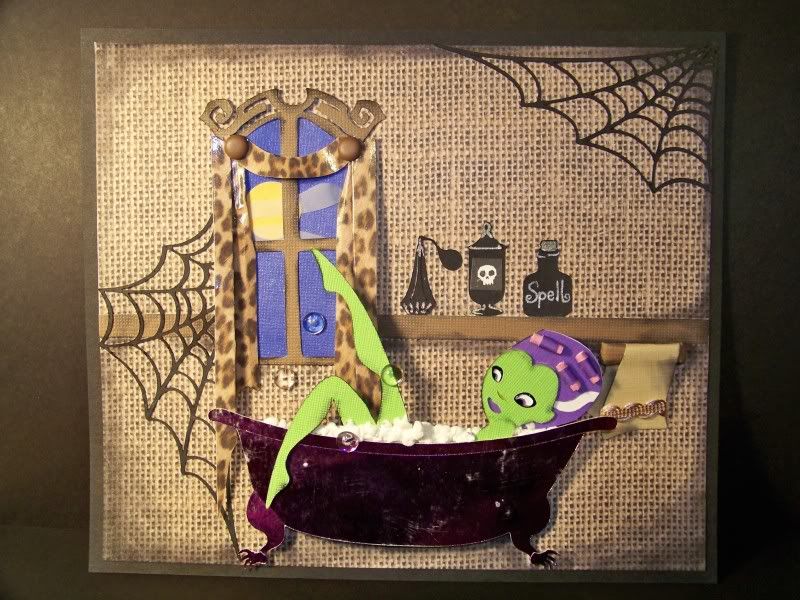 This is something I have had on my mind for a while: how to combine figures on the carts together to get unique characters or poses. This is made with Mrs. Frankenstein on Happy Hauntings (page31) and the reclining girl on Rock Princess (page 37). I did trim down the monster's hairdo and created little hair curlers by simply rolling paper into little tubes. She is inked in black.
The bathtub is from Splish Splash. I wanted a claw-foot tub and found that terrific and creepy hand on Happy Hauntings (page 47) to use for this. I sanded the foil paper to scuff up the tub, which was cut at 2-1/2" from paper I bought super-cheap because it was damaged. "Damaged" is just what is needed here! (Have I told you I like discounts?)
The window is slightly altered from October 31st. I manually cut away the shutters and sill. I love the arched top with its jagged curls. I hand-cut a swag-and-jabot window treatment and created an outdoor scene behind the window.
That bathwater is made from Liquid Applique. It adds dimension that helps create the illusion of a filled vessel. Those soap bubbles are flat-sided beads. I love those!
The spider webs are from October 31st, manually cut as needed to fit. These were cut at 4".
The room details were in the back of my mind throughout this project, though I really had not figured them out until I started adding them. The potion bottles are from Splish Splash with a few details drawn in with a silver gel pen. (The little skeleton is a happy accidental find -- a bit of a printed paper that I had in my drawer of little scraps.) I had so many ideas of a bathroom filled with little potion bottles for her. Sometimes I change my mind over and over while doing a project. The woodwork and towel rack were hand-cut. The towel is slightly altered; it's from Everyday Paper Dolls.
I heavily inked the corners of the room to give the effect of grubbiness for this haunted house bathroom. The vignette is mounted on a black mat and finishes at 6-3/4" x 8".
Thank you for looking at my work. I hope it makes you smile...
Edited November 14, 2011 to add: This piece has been published in the October 2011 issue of Cricut Magazine! Photos were contractually removed and have now been replaced. This physical piece is now property of Paige Evans but copyright is still under my ownership and photo rights are mine by agreement. ~nsh-m