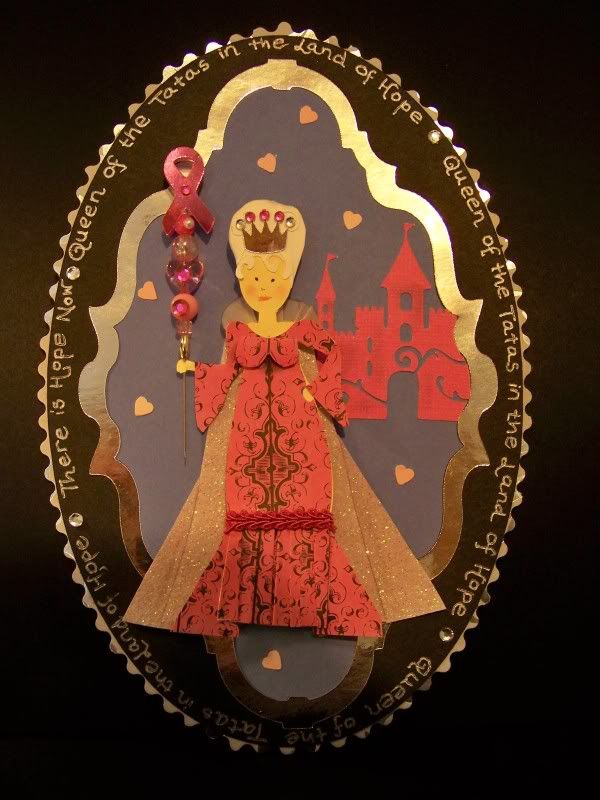 This is my entry....a silly little plaque with a bit of humor mixed in for my mom!
In honor of my mom, I decided to have a little fun with a subject I NEVER thought I would use as a theme. I have always thought that there was plenty of awareness of the issue of breast cancer. The cancer itself has seen to it.
Since this week's challenge, however, is "in honor of Breast Cancer Awareness month," I decided to lighten up and focus on my mom and just embrace it! Although my mom is a survivor, it hardly personifies her. In fact, it is easy to forget because of her personality. Mom is the most generous, whimsical, thoughtful, and understanding person I know. She is always thinking of others.
It is in that spirit, that I cut this, The Queen of the Tatas in the Land of Hope. The Queen is cut from Country Life (page 30) at 4.5". I hand-cut a dress and glitter-covered cape, using the cart dress as a base. I also added a little anatomy-- I mean she
is the
QUEEN
of the Tatas, so she needed some! My mom is big on hair and makeup (I must be a disappointment to her on this!) and so she needed a hairdo. This is hand-cut with curls from PaperDoll Dress up. I use the waste from the bride hair cut at 5" (not the actual hair itself thought). Her crown is from Rock Princess (page 30), cut at 1/2".
All queens need a scepter. This one is from a sweet package that was sent to me from CriCutCase (Anne) on the Circle MB. She actually said she had looked up someone who had posted about a mom who survived cancer before sending me the beautiful pink package of gorgeous embellishments. I added a few glue-on stones and made the pink ribbon at the top. The ribbon is from Stand and Salute (page 31), cut at 1".
The challenge required that we use at least three elements including the color pink, ruffles, scallops, flourishes, glitter, and jewels. I have yet to embrace the world of flourishes, so I decided to include a flourish! I love the castle on Wall Decor & More. I used the layer only with the flourish, cut at 2.25".
The frame is from French Manor, cut at 1.5". (Yes, I typed 1.5. I have no idea why this was programed to be so big, but I learned after a few trials!!) The black oval is from George, page 114, cut at 8". The silver oval behind it as been scalloped with scissors. It was also from George, but cut at 8.5".
Those little scattered hearts are a bit of an inside joke in our family that I will let you in on. My mom has, for years, put confetti in all her cards. Of course, unsuspecting recipients tear into the card and confetti bits go all over the place. Everyone who had received a card from her (and that is a lot of people because she makes and sends LOTS of cards!) opens all mail from her in the most careful and controlled way. It is kind of funny when she forgets the confetti to watch someone open the card. Kind of like a bomb that doesn't detonate.
Thanks for looking at my little project. I have been working on a few fun things that I will be posting soon.