This has been such an ego-boosting weekend! I was cleaning up this blog a bit so I could use it to post pictures on the Circle Blog and suddenly got a follower..and another. I was shocked! I even started a thread on the board that said that! Later in the day, minding my own business, lurking on the MB and reading everyone's posts, I get to one that called out a great project. Then I read my name. Holy cow! That was a post about me! Then the replies... it actually made me cry!
I called my husband up to read some of the posts. I just could not believe the sweet and kind words that were being said about my projects! And then my followers list started growing. That was so much fun!
This morning, my husband was teasing me about it a bit, asking if I would be harder to work with now (I work for my husband). I just want everyone to know how much the kind and positive words really mean to me!
Well, today is Sunday and that means I get to Cricut! Two days of papercrafts in a row -- that NEVER happens! This is a project I did for Doxieluv01's Sunday Challenge on the Circle MB. The challenge is to use embossing folders or embossing powder on a project.
I changed my mind on this only a few hundred times. The highlight of the whole project was using the Liquid Applique on the cake for icing. This paint-like liquid just puffs up like crazy when heat is applied. I really don't see how it looks anything like applique, but it looks exactly like frosting! This was a fun surprise. I bought this not really knowing what it did. The package doesn't give too many clues either. I don't know why I even opened the package and used it but I am so glad I did.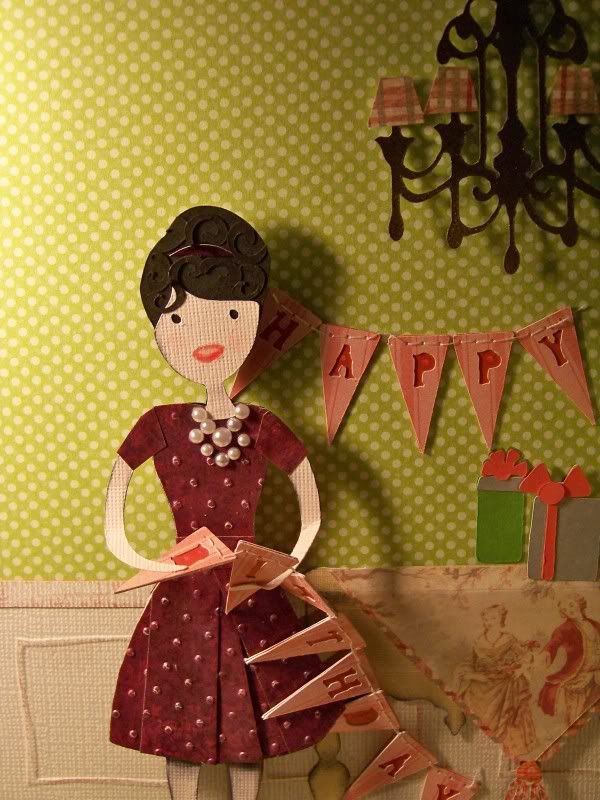 The table is from Sentimentals, page 42, cut at 3" without the drawers, and inked. The table cloth is hand cut.
The chandelier is from French Manor, page 37, cut at 2-1/2". I sprayed it with Glimmer Mist. The shades are hand cut.
The figure is from Country Life, page 36, cut at 6". I used the swiss dot Cuttlebug embossing folder and glue-on pearls to the dress that I hand cut. Her hair was trimmed and curls were added. The curls are the waste from cutting the bride's hair on Paperdoll Dress Up at 5"-- didn't use the hairdo just the waste that was cut out.
The wainscoating was done with Cuttlebug Decorative Squares #2. I sanded the paper a bit for a little color.
The cake stand is from Sweet Treats page 42, cut at 3/4". The cake is also from Sweet Treats, page 39, cut at 1-1/2". I coated it with the embossing pad and then sprinked on Holographic Embossing powder. I really like the color that it turned out. (The paper was a light pink). As I mentioned, the dimensional accent is from Liquid Applique.
The banner is from Country Life, cut at 1" and then sewn together.
Thank you for looking at my project! I have another work week to go before I get to craft again... until then!