I have been asking myself how do I make a standing die cut figure into a seated one. I have been bothered by that for a few weeks now. Ever hopeful that a front-facing seated figure will show up on a cartridge, I was holding out until now.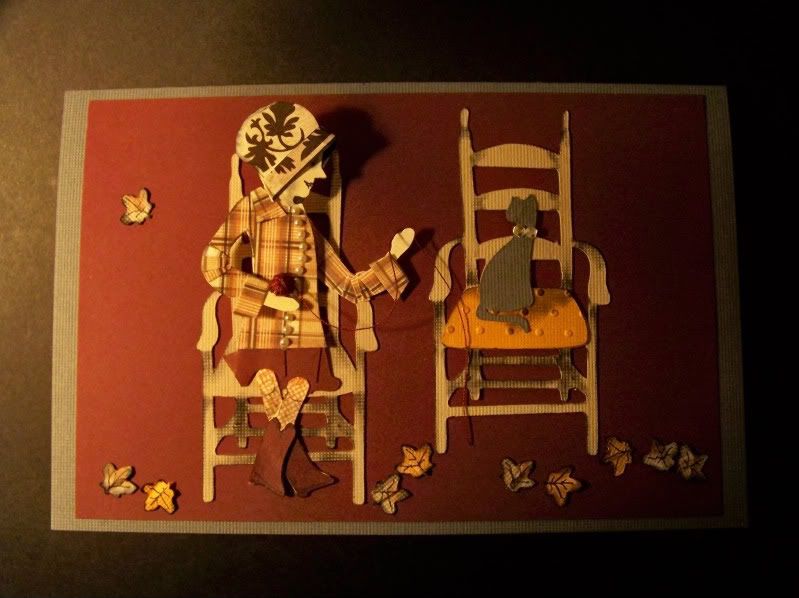 This week's blog challenge only required that the colors gray, orange, tan, and burgundy be used, along with texture. This was not nearly as hard as creating a seated figure with a twist at the waist (knees forward and shoulders sideways). This took every bit of my memory from studying nudes in college art classes to pull this off. The problem comes in with the chair, which is rendered as though you are looking at it from above, not eye level, which means you need to see more of the thigh with perspective that is the same as the chair.
I started this by using Country Life. This is the figure that is playing the guitar. I chose her because her arms were out and active and she was partially turned. I cut her initially in flesh to start. Then I cut her up!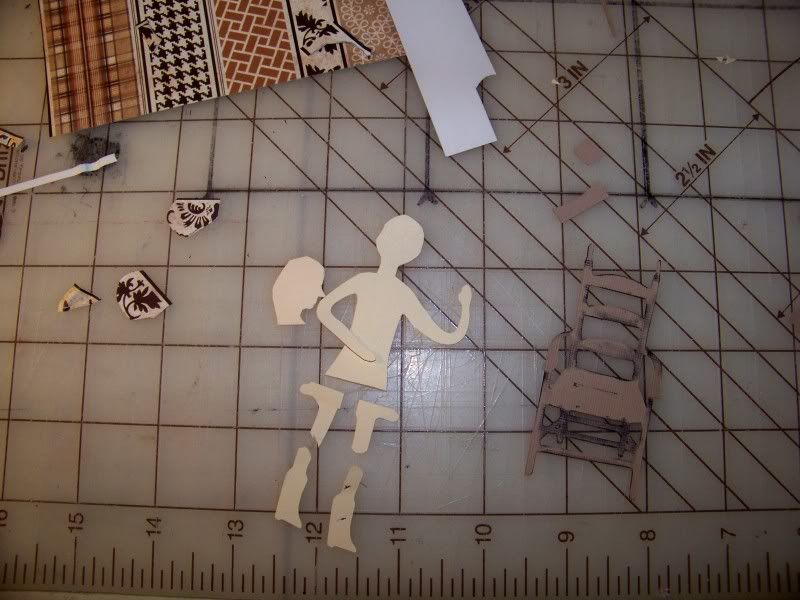 I manually cut away her guitar and hat/hair. I cut around her hand to separate it from the clothing. I decided I wanted her face in profile so I cut a second head and started thinking about her hat. I cut out her chair so I could place the parts on it to be sure my cut sizes were correct. For the chair (also Country Life), I simply cut away the cat. I inked it to get a little depth.
I shaded her face after doing a mock up to be sure where the shading would be placed.
Then I started working with the hat.
Next, the body. The die cut figure is already turned a bit, but I wanted to emphasize this. I also needed her to twist a bit since the chair is facing forward, so too would her hips and knees. This was done by cutting away her arm, popping up her body from it, and adding a line of pearls that work like a little arrow to really show off the twisting by simply shifting toward the middle of the figure as it approaches the waistline.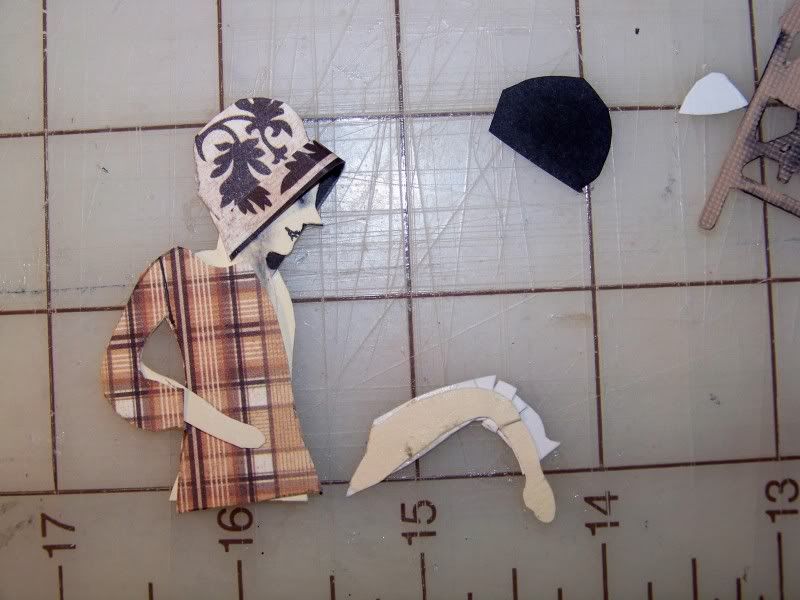 I wanted to use a plaid paper for her clothing. The challenge here is that a bent arm means that the plaid should break up caused by the folds at her elbow. I did this by cutting little wedges of the plaid and just glued them on top of the shape.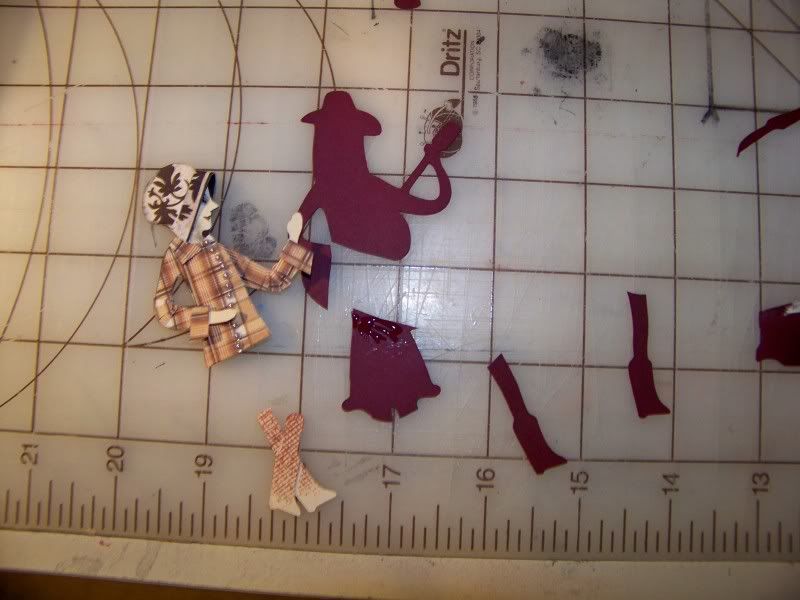 I added french cuffs to the shirt, that line of buttons, and then started working on the lower body. Can you tell I was putting this off?!
I used the knees, calves, and feet from the figure cut in flesh. I used a bit of ink and a stamp with a mesh design to create pantyhose texture. Then I crossed her legs as a ploy to help the viewer see the figure as seated. Then I cut the figure again in burgundy. I cut away her upper body. I used the skirt and boots. The boots were simply glued to the flesh-colored legs and the skirt was glued on behind the shirt. I did add a few pieces of skirt color to emphasize the shape of her thighs. I just glued them right on top of the skirt, careful to cut out her knees.
I cut another chair, this time, keeping the cat for my gray element -- and to give the figure something to be turned toward! The cushion was embossed and inked and voila! My orange element! Since the challenge was 'Autumn Splendor' I decided a few leaves tossed about might be in order. These are from Straight from the Nest.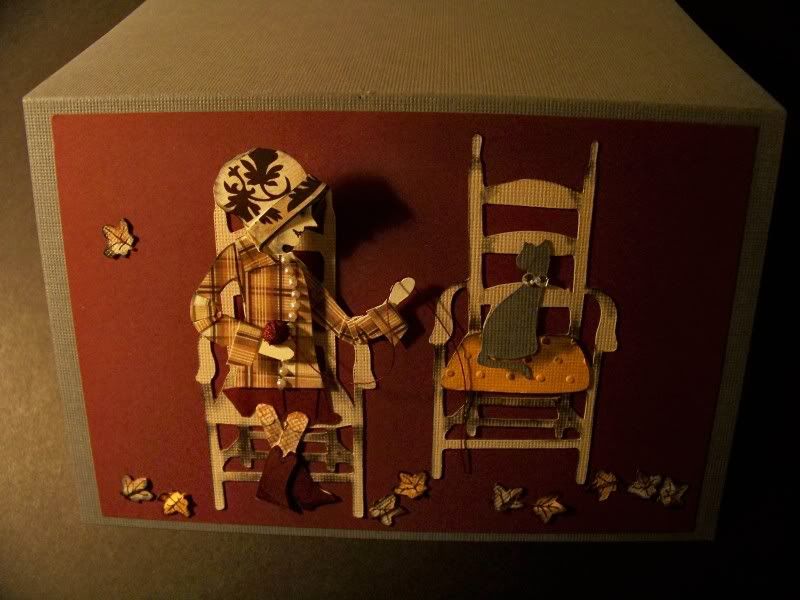 I think I made this project a bit more work and a bit less fun, but I feel like I am on the right path for creating seated figures. I have so many ideas that require seated characters. Now, I might just be able to complete them!
Thanks for looking at my project. Can you believe it? This one is actually a card!