I have been over-indulging in paper-crafting lately. These are a few of the projects I have been working on.
This first piece is the latest on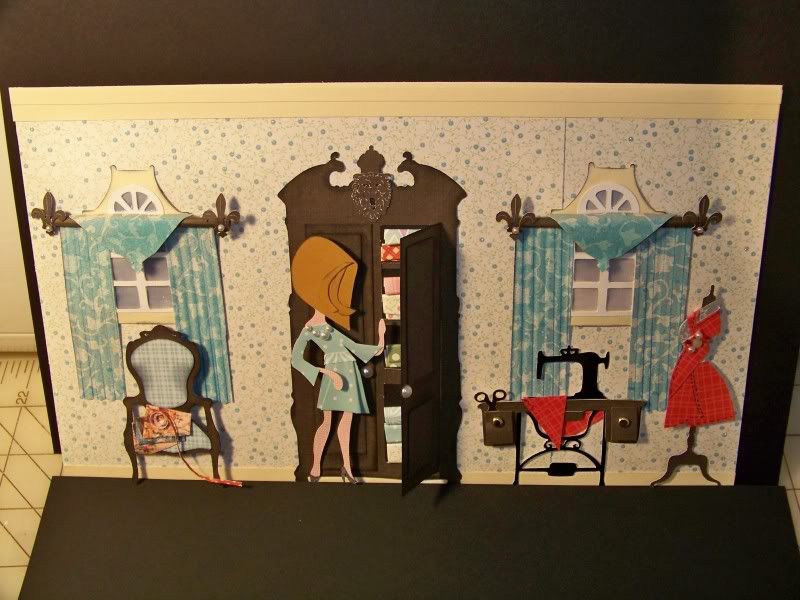 e. I have been doing cards, but along the way, realized that these are cards I will never send. Even if I wanted to send them, they are so dimensional, they
could
not be sent! I would need a box!
This one features a figure from Rock Princess. I manually removed her guitar and gave her a bit of couture, even changed her hair. Like her necklace? That is a bit of required challenge bling.
The windows, finials, armoire, and even the lion's head on the armoire, are from French Manor. So many people hated this cartridge. Not me! I love it! I created doors and shelves using the elements that were cut. Stacked fabric is made from folded and rolled papers from my stash.
The dress form is from Summer in Paris. I created my own little folded dress and add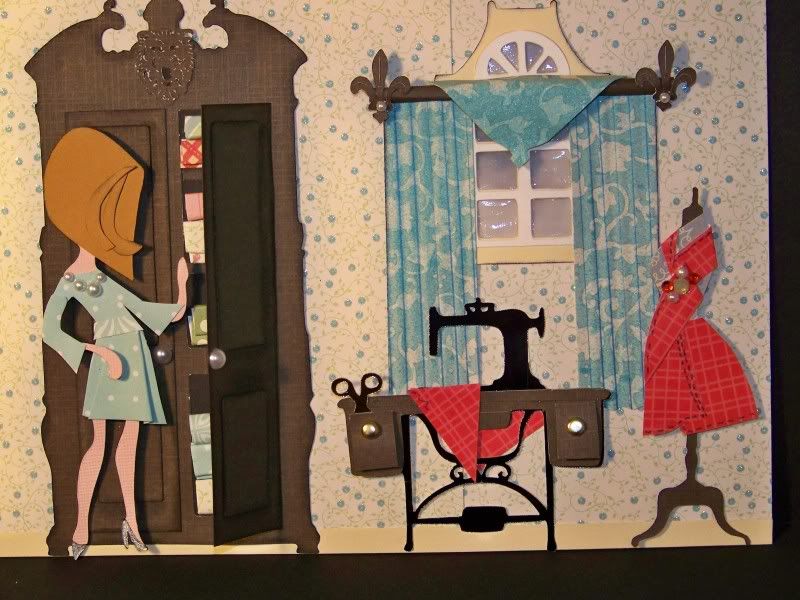 ed the required [for the challenge] pearls and stones. I just got a tool to heat set stones. I can't say I love the tool. Glue worked better for me. Maybe a bit more practice! The sewing machine is from Country Life. I changed the drawers a bit to be larger. Who in the world would want those tiny drawers? Not my Rock Princess! The scissors are from Happily Ever After.
The widows are from French Manor. I used cloud paper and vellum behind the window. Then I used a crystal lacquer to give it a gloss like glass. This was the fun part! I created the wood poles by hand. The finials are from French Manor. The drapes are hand-cut and then crimped. A bit of Glimmer Mist and a bit of detail with a pen to look like pleated drapes.
The chair is from Sentimentals. I love this chair. With a bit of inking, it really looks dimensional. More folded fabrics and a skinny strip of paper rolled to look like ribbon drape onto the floor.
Last night started this idea of creating rooms with another challenge.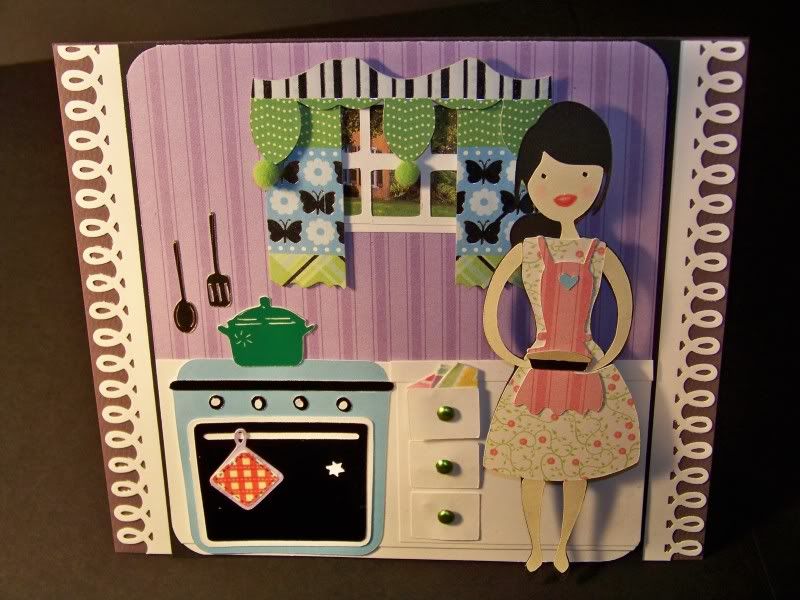 This one was for a challenge using prints. This is right up my alley! The window is from French Manor. The valance is too! (It is an upside down border). The stove, utensils, pot, and potholder are from the cart From My Kitchen. The figure is from Country Life. I created a look of cabinets by using the drawers off the desk in Sentimentals.
I was still working out how to do a window on this one. I used a brochure picture from My Old Kentucky Home. I definitely do not like this now that I have worked out the vellum and crystal lacquer technique!! (It is distracting now that you are looking at it, right!?) This one is a card too- but again, why did I do that?
This is a challenge card. The text in the blue circles says "Dang Bees". I just think the word 'dang' is hilarious for some reason. The challenge involved using a kit. Not having a kit, I bought a paper pack at Walmart that had coordinating papers, stickers, puchouts. This is what I came up with. The figure is from Country Life. I removed the dog manually. I finally figured out shading a tree trunk. The grass is from an edge punch. Clouds are from Serenade. I love the clouds on that cartridge!
The next challenge involved using only the colors pink, black, white, and gray. I loved this challenge. I had never done anything with color restrictions. This pushed me in a creative direction I would never have gone and I love the results!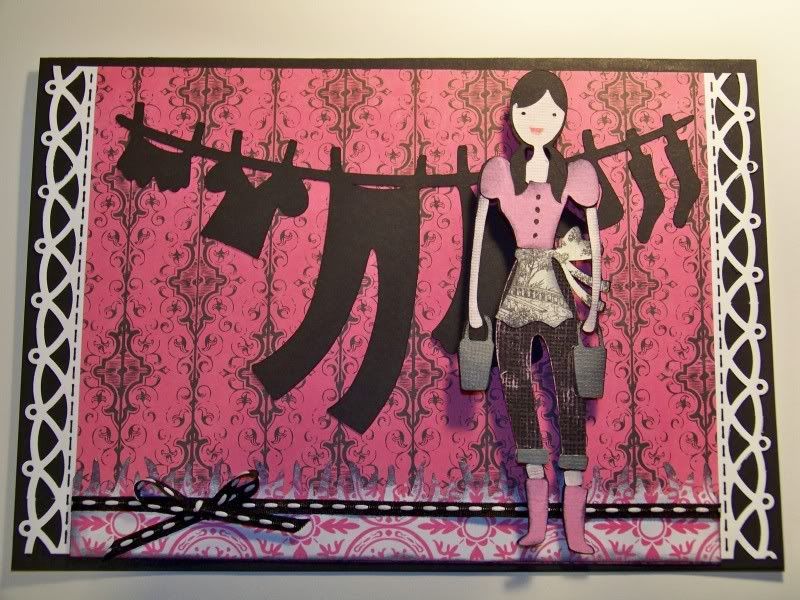 The figure and hanging clothes are from Country Life. The edges are made with that terrific tatting edge punch from Martha Stewart. How does she know what I like? I used a mini toile for the apron and Hocus Pocus paper for the jeans that I sanded to show the pink underneath. Someone on the MB called it "urban chic" which just made me smile! They are so nice to me and my silly creations on the Circle MB! Just really boost my confidence!
This was for a flower challenge. I wanted it to be very dimensional. There are seven layers to this card. (Again, this could never fit in an envelope so why did I think "card" on this?
The images are from Rock Princess, Freshly Picked, Serenade, and Pagoda.
The Rock Princess was manually altered -- I actually removed her arm.
The gnome, gate, and background flowers (without petals) are from Freshly Picked. I bought that cart for the gnome, so he was going to make an appearance!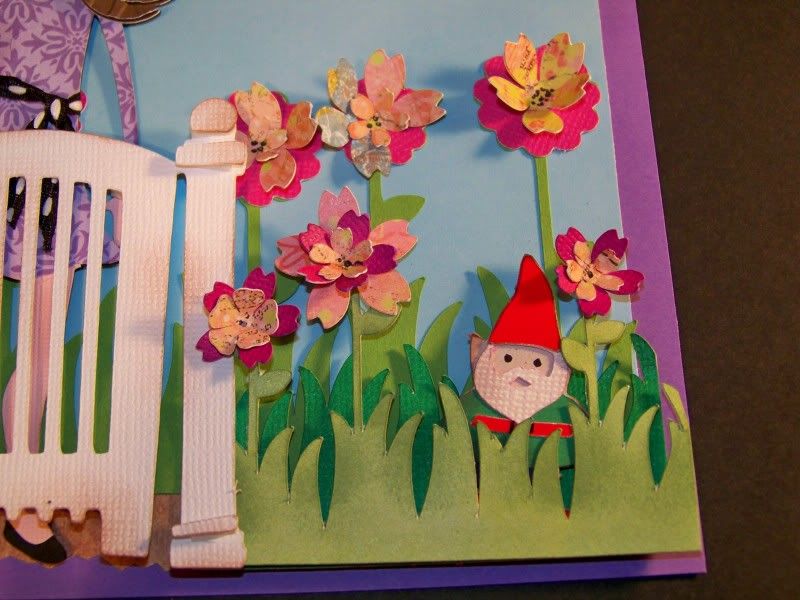 The flowers are from Pagoda. I use the shift image on two flowers and glue them together.
I was new to shading so I was hooked once I figured out how to shade on white and get an aged or outdoor look.
I used a ton of pop dots and squares for this project. That was one of the fun things on this card for me.
On to the next group-- Halloween. I used to love Halloween, then with all the anti-Halloween stuff at Piper's school, I kind of got away from it. This is impossible with carts like Happy Haunting! Check out these!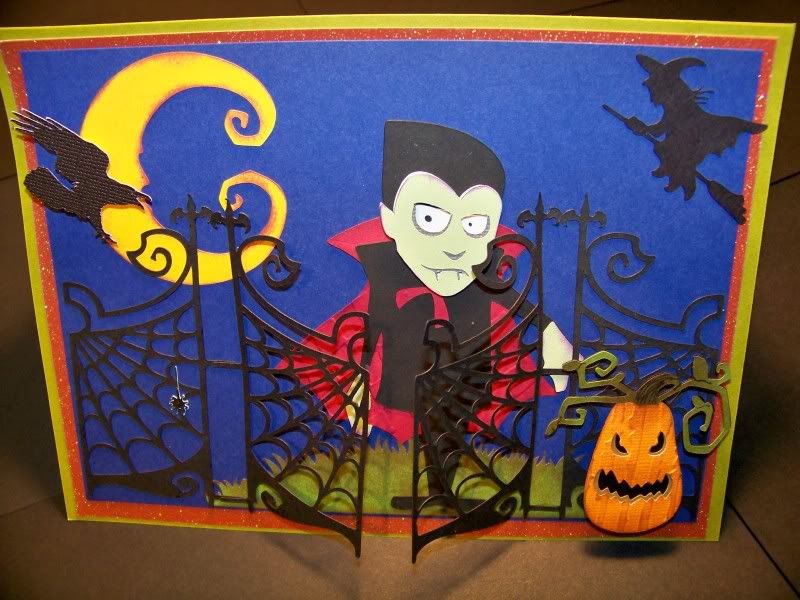 You can see the idea of an open door started here.
Don't you just love the way PC made this guy? This is one of those good news/bad news things. Good news: I will get a great ghoul every time. Bad news: I will get the same ghoul everyone else gets. This is a really hard cart to make special or different.
Nonetheless, I have used it a lot. I also used October 31st and Pumpkin Carving on this card. (Another card that would be impossible to mail due to the 3D nature of the elements.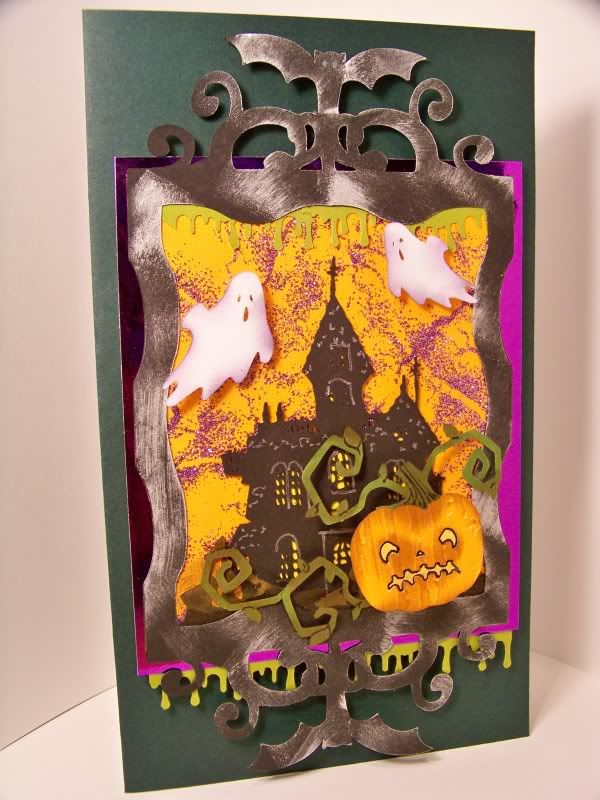 This is from a challenge that (not too challenging) asked that we use our favorite cartridge. I have too many favorites! I decided to use Happy Hauntings for this one too. It was my favorite that day.
Here is what I like the most: I figured out how to make black cardstock look like brushed metal. This was totally an accident, but having figured it out, I have used it over and over.
If this was the most un-challenging challenge, the toughest was one for Olive Juice Studio. We had to make a project that hangs with a Halloween theme, black and white picture, a key or bottlecap, one of several words (I used eerie and mothballs), and gauze or a bandage. This is what I came up with and I am so happy with it. I really had so much fun with it. It was one of the few challenging challenges!!
I used a picture of Piper from a couple of Halloweens ago. This is actually at a church function. The ghost was the real challenge. I glued the gauze to vellum then used the roller white-out that I scratched to look shaggy. This was necessary not just to make the ghost have a bit more to him, but also I needed areas that weren't see through for the pop dots I used! I loved this project!
The other Halloween challenge that I did, and was a lot of fun, was one that required that we bling out any project. I picked Halloween just because I love that Happy Haunting cart!
Check out her glasses! She was a hoot to do. The figure is from HH, the shape behind her is from Superman (yay for me for finally finding a use for that cart!!!!), and the glasses are from Paisley.
I got to use an adhesive glue pad and glitter to bling out the print on her dress. I LOVE doing that!!
Her glasses were covered in glue and glitter and shaped a bit and glued down. The earring and cufflinks were the three required brads for this challenge!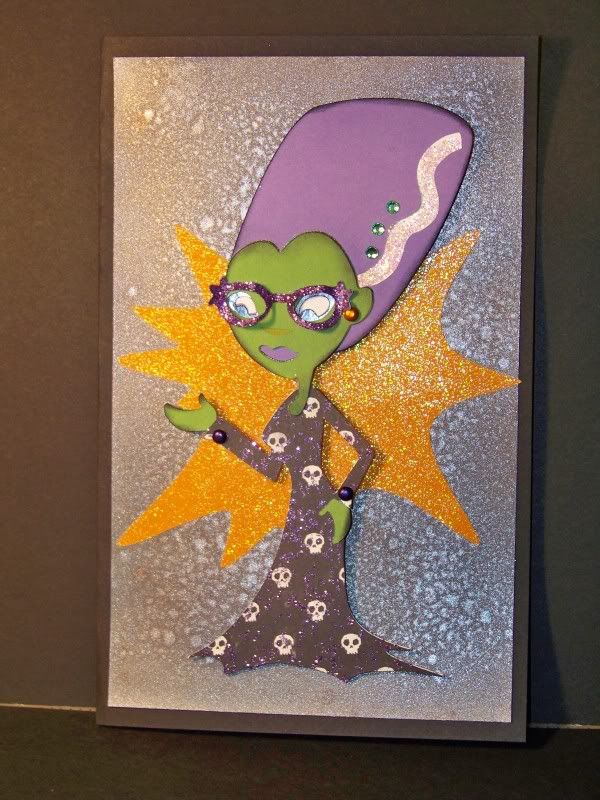 This was very quick and just a fun tension tamer! I sometimes get caught up in thinking that there have to be tons of details for any of this to be any good-- probably because I am using a die cutter and what is the art in this if I don't really work at it!
The idea of a lot of small elements and details probably started with a fall challenge that Provocraft sponsored on their message board. I loved playing with these leaves. I found great paper in my stash and inked like crazy those little guys! I didn't know how to do tree texture then, and it shows!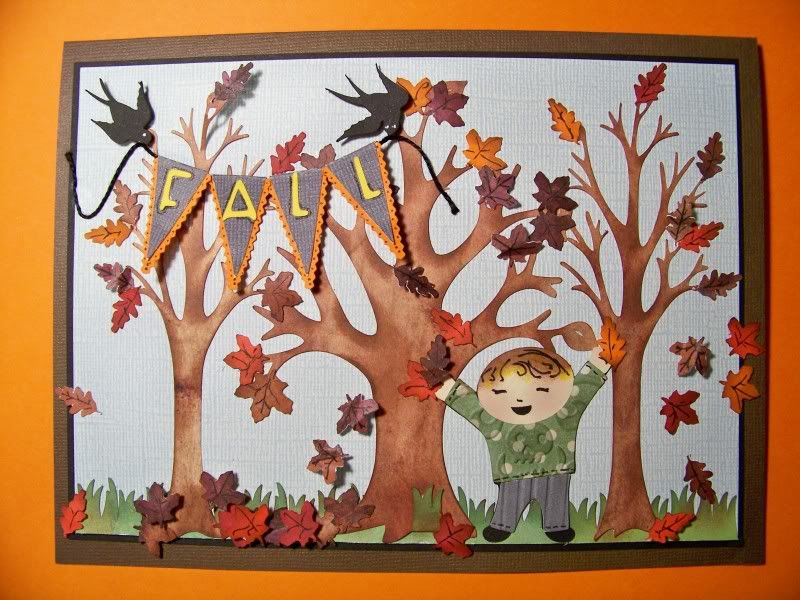 The little kid is from Winter Frolic. I was so pleased with him. This is a project in early September, and at that time, I had not used characters in ways other that what the guidebook illustrates. This little sledding kid became a kid playing in the leaves and that really opened up a new way of looking at the figures. Really helpful for the projects like the one I did today (the first one here).
So.. these are some of the projects that I have been working on.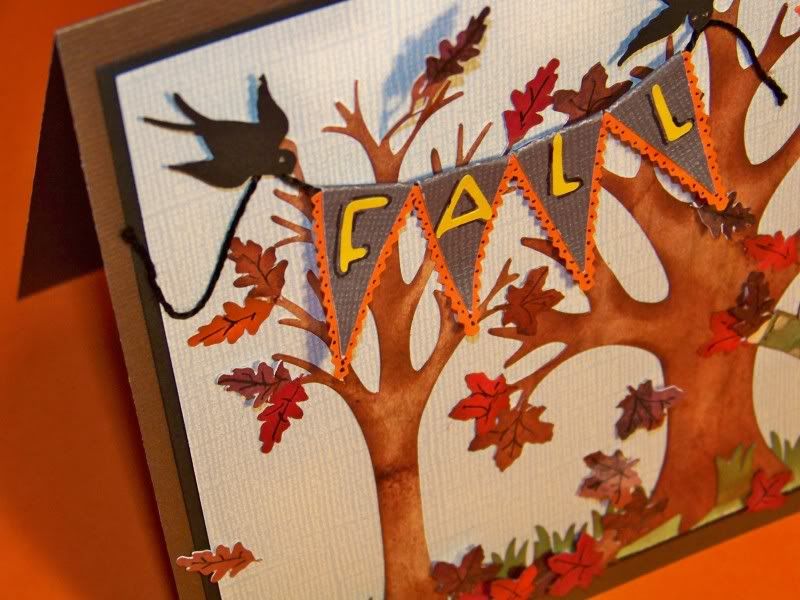 I have to figure out a way to finish them- -let's hope I find frames and don't have to make something! That could be a whole new obsession!