I was asked by Bobbi Jo of the
Sweet Sassy Diva blog
to create a fall project. That started me thinking about quilts! In a Rube Goldberg sort of way where one pin knocks over a pail that scoots a ball that triggers a net, and so on, this is how my thinking started.... First to quilts, then leaves, and the woods...to the pioneer woman that I have been struggling to make, then to her bonnet, then to changing the way I want to incorporate her with the quilt...
I came up with a 70s-Holly-Hobbie-meets-Ma-Ingalls character, finally figuring out that bonnet, and I even got to do a little stitching on paper!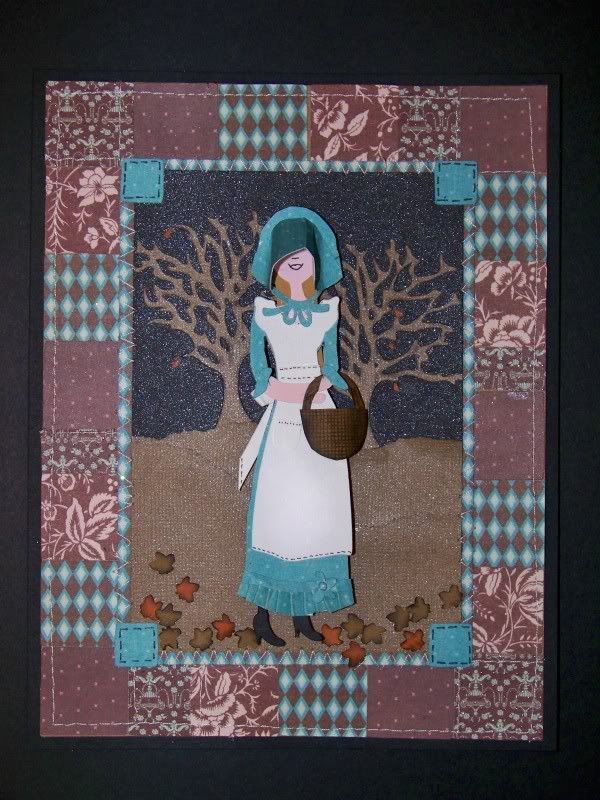 Since I was a quilter long before I was a papercrafter, stitching on fabric seems like such an obvious direction that I am not sure why I haven't really done it before now except that I don't care for stitching for stitching's sake; I think it needs a purpose for being a part of the project. The quilt motif give it that!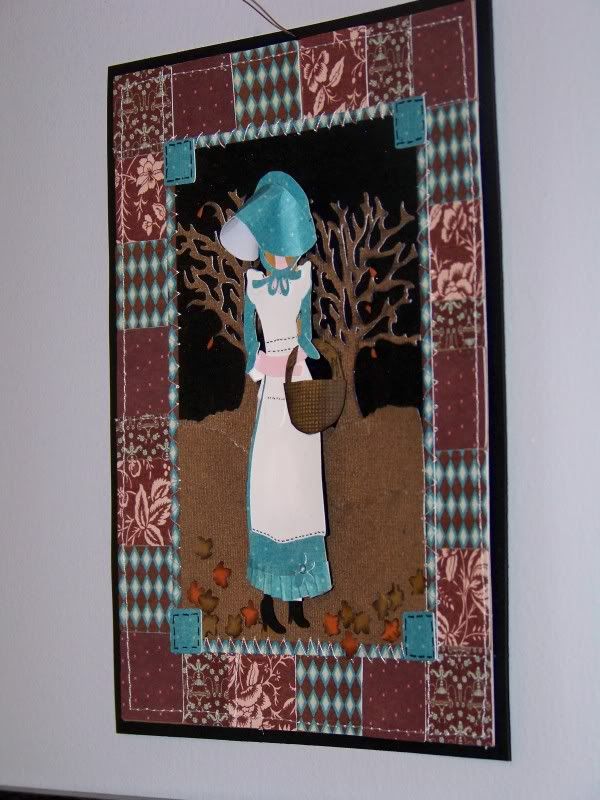 This figure is from Country Life, cut at 5". Here you can see the figure I made as compared to the original Cricut artist's intended finished figure.
I used the dress on the original cut as the apron and fashioned my own longer version of a dress, adding a pleated hemline detail. The flower at the hem is the flower that is on the original hat on the cart. I used the original tie on her hat and attached it to my hand-cut bonnet. I gave her a new hairdo! I shifted her apron a bit and flipped her feet in the other direction. I made her a little basket to carry, using a mesh texture rubber stamp to imitate the basket weave.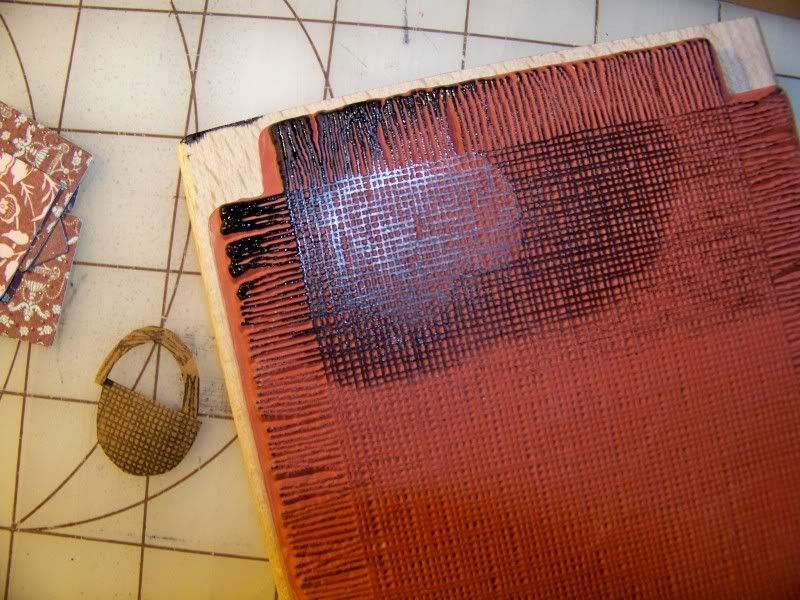 The background was the fun part and kind of had a life of its own. I started with back cardstock and added torn brown cardstock to give her a ground on which to stand. I added trees from the Cricut Heritage cart (page 25), cut at 2-1/2". After gluing everything down, I sprayed it with Glimmer Mist. My goal was to give make a frosty-early-morning scene.
I placed this scene over a small print to create a narrow border. I created the pieced quilt-like border by cutting 1" squares from George & Basic Shapes. I zigzagged the quilt border to the outdoor scene and placed corner squares, cut at 1/2" and glued into place to complete the border.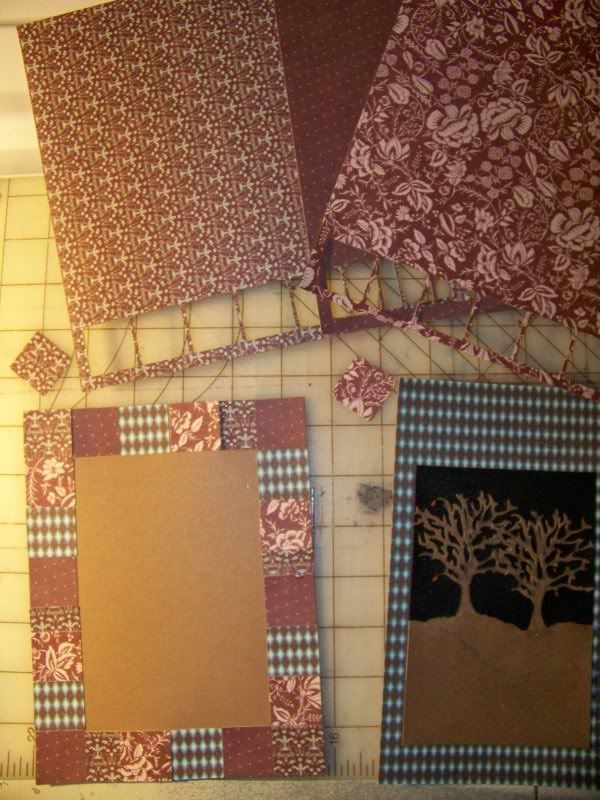 I finished the project by adding the figure with 1/4" pop dots to bring her up off the surface.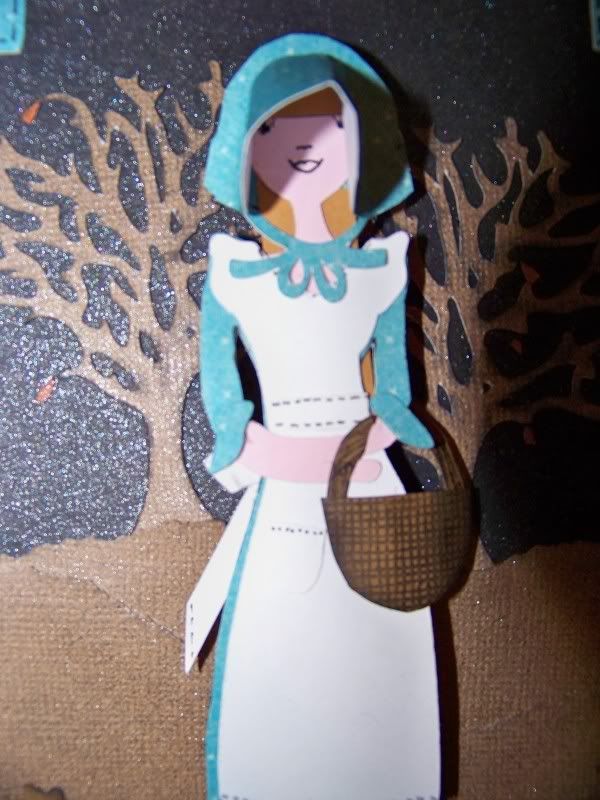 I cut small leaves from Straight From the Nest (page 56), cut at 1". I inked them and glued them in place, completing the project.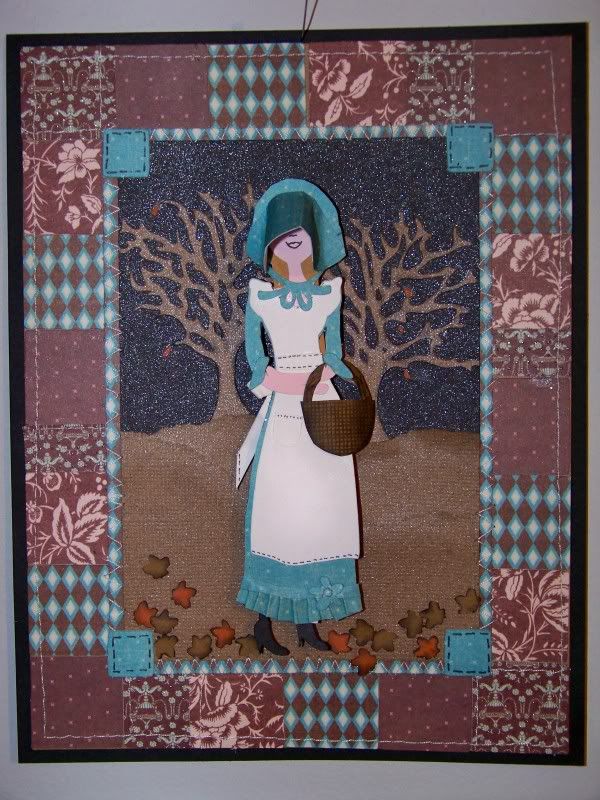 A few tips about sewing on paper if you have not tried it... use a 'sharp' rather than a 'ballpoint' needle. Set your machine to make long stitches. The paper is getting perforated with each stitch, and tiny stitches will make it very easy for your project to separate! I used to use paper as a stabilizer on certain fabrics and loved this quality about it; not so much when the paper IS the finished product! If you look at a machine needle under a microscope, it has a tiny bit of a hook. That hook dulls easily -- sewing on paper dulls it even faster so be sure to change to a new needle before sewing on fabric again. I use my regular sewing machine whether I am sewing vellum or denim, so no reason to get sucked into that "crafting" machine if you already have a working sewing machine! Try to avoid gummy adhesives applied where you will be stitching. If your needle does get coated, a bit of rubbing alcohol or Goo Gone cleans it right up!
So, you have read through, checking off autumn...quilts...pioneer woman.... what about the apple crisp, you say? Well, how could it even be November without that???!!!
Food usually makes it into my mind as I craft and this project was no exception. My favorite fall dessert is one from a long-gone Louisville restaurant, the Afro-German Tea Room. Before going out of business, they shared this, the only recipe I will ever again use for apple crisp. It would be cruel and unusual punishment not to share it with you...
Afro-German Tea Room Apple Crisp
Filling: 8 to 12 Granny Smith apples
1 tablespoon cinnamon
1/2 cup light brown sugar
1/2 cup white sugar
pinch of salt
2 tablespoons dark rum (I sometimes use bourbon instead)
1 teaspoon nutmeg
Topping: 1-1/2 cups flour
1/2 pound unsalted butter
1/2 cup white sugar
1/2 cup light brown sugar
pinch of salt
1-1/2 cups broken walnuts or pecans
Sweetened whipped cream (optional)
Peel and core apples. Slice thin. Combine with remaining filling ingredients.
Pour into a large, heavily buttered casserole.
Cut flour and butter together with pastry cutter. Add sugars, salt & walnuts.
Toss to combine evenly. Spread a thick layer over apples
and bake at 350º for 45 minutes until the top browns nicely
and the apples are syrupy. Serve with whipped cream.
Happy crafting and eat extra apple crisp for me!!