Happy December! I have always loved this season and all of the happy memories and the feeling of hope! It is my favorite liturgical season, my favorite decorating season, my favorite time to cook. I have finally come to the point that I work hard to make Christmas meaningful and happy, doing everything I can to move away from the material aspect of the season.
So, to focus on the now and on what makes me and my family happy in the Christmas season, I am on the December Daily bandwagon! I am taking two classes,
Shimelle's Journal Your Christmas
and
Studio Calico 25 Days
. I am using tips and prompts from each to make my own rules as I go! And I am using my stash-- no special purchases for this project.
Nope, I haven't made the cover yet... or the opening page, but I have the pages for December 1 and 2 to share!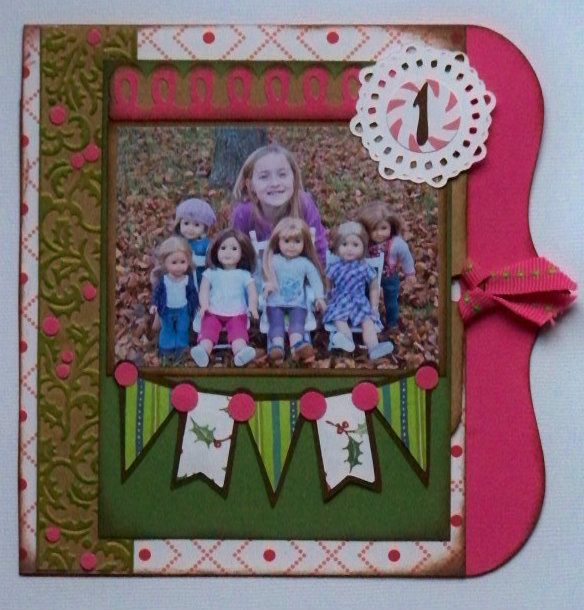 I heavily inked all elements. The banner, loop border, date medallion, page base, tag and number are die cuts. The holly border on the left is kraft paper that I embossed, inked, and added paper berries.
My journaling for this page is on a tag that pulls out and has a second mini picture from the day...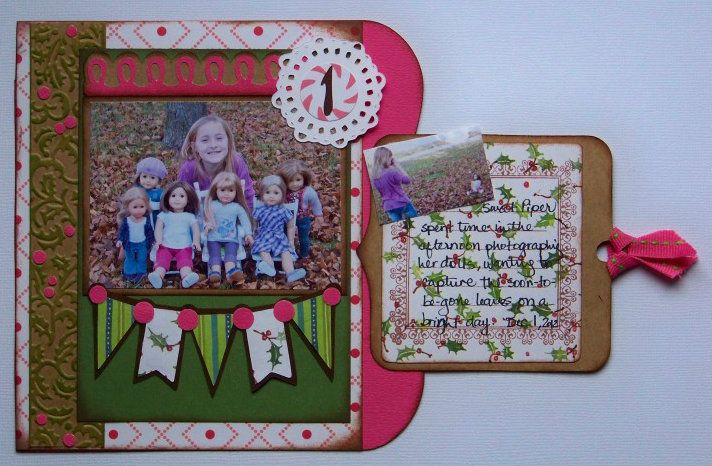 This page is about what was going on December 1st: my daughter grabbed her dolls and her camera and took their pictures outside. It was a sunny day and the autumn leaves were still on the ground. I asked her to stop what she was doing and I snapped this picture of her with all the the dolls. Then, I took a picture of her taking pictures!
The reverse of my December 1 page is my 'Christmas Manifesto', which I have patterned to go with my December 2 page...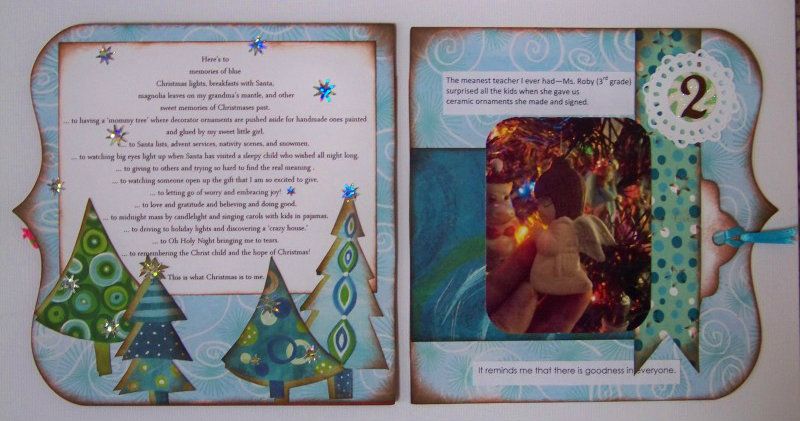 The manifesto is an idea from Shimelle's class. Mine isn't a true manifesto in the idea of a declaration of what I will make of Christmas or even why I am doing this journal, but more of a 'What Christmas Means to Me' kind of page.
The page base is a die cut. The trees were hand-cut from patterned paper. This page was adhered to the reverse of the Dec 1 page-- you can see the pink ribbon peeking out near the point on the left. Adhering the pages is making them so nicely substantial and heavy!
I really debated the idea of typed versus hand-written elements for this book. I think hand-written text is more personal and meaningful -- how I would have loved having something like this from my grandma! But I don't love my hand-writing so I had to come to a compromise. I kept the hand-written notes on my concealed tags. I decided that I would type anything that was fully exposed.
My December 2 page was on the theme of a memory. This is an ornament that I was given by my 3rd Grade teacher, Ms. Roby. She was, hands down and without a doubt, the meanest teacher I ever had.
At our class Christmas party, however, she handed each child a ceramic ornament that she had created herself. It was forever a lesson to me that there is some degree of goodness in everyone.
On the concealed tag, I made a note about the day, to keep true to the 'daily' aspect of the ongoing monthly journal.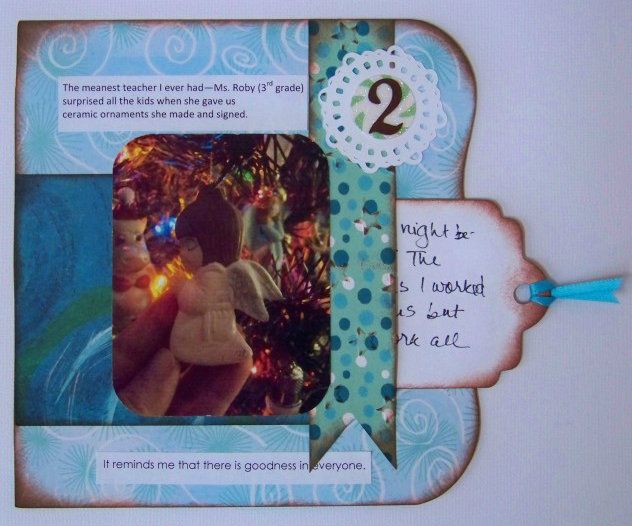 The page base, date medallion, date number, and tag are die cuts. I used decorative scallop scissors to round the corners on the photo. The ribbon element was handcut, embossed, and inked.
I am trying to balance my December Daily to have both photographic elements and journaling. I am also wanting to use lots of colors and patterns in this book. I finally figured out that I would probably be using the same page size and shape for each day. I am using a similar date medallion for each for continuity. I found great daily sketches that I am using on
Got Sketch
.
Thank you for checking my blog post today! I hope to continue sharing as the month continues. If you are doing a December Daily and posting on your blog, please give me a heads up-- I would love to visit to see yours!
To see many of my previous projects, check
My Project Gallery
.