Merry Christmas! My kiddo woke me up just after 4AM to see what Santa left (she's a chip off the old block for sure!), so I had a bit of time to catch up my Christmas journal.
December 22-- The first gift my daughter, Piper, received this year was a glass blowing activity from my mom. We loved the finished ornament!
December 23-- This was our first Christmas celebration of the holiday. Piper loves going to Nana and JT's house (and so do we). This part of Christmas is always characterized by a presentation my father-in-law does each year where he presents the gifts he purchased in ceremony-style. It is hilarious and everyone pretends to be be bored by his antics, when in fact, we are honored. His gifts are always great and I always crack up at his funny commentary and silliness. My mother-in-law keeps it casual and cozy.
December 24-- Christmas Eve
I picked these papers from my stash because they remind me of my husband's grandfather's home, where we spent Christmas meal #2 with extended family. It gets a little crazy there, as evidenced by my husband's face. Our little on-going joke is that we are going to celebrate
Festivus
(a la Seinfeld's made up December 23rd holiday) 'next year.' (Always next year!) No Festivus this year, and we did manage to avoid airing our grievances (one of the signature Festivus activities). Ha! In all truth, we love going to Great Grandpa's house (as my kiddo calls it) because it is packed with family, happy spirits, food, and laughter. ...And speaking of Seinfeld, someone picked up a
Chocolate Babka
-- all the Seinfeld fans will remember that. Apparently,
Panera
is selling them for the season. Seeing it on the table made me laugh.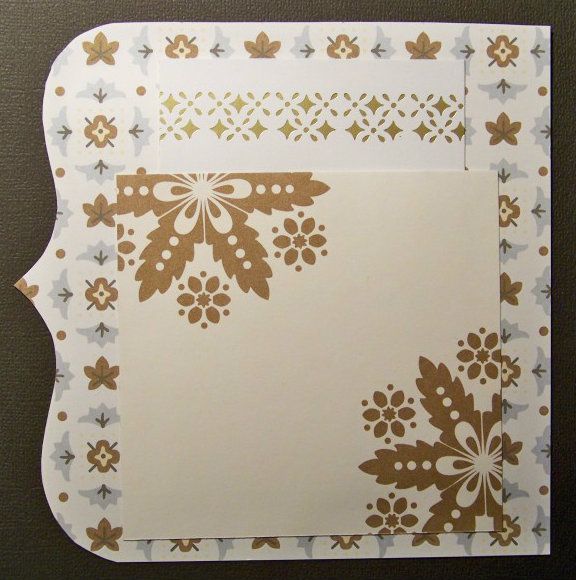 This is a journaling card in the pocket.
Because that time from bedtime Christmas Eve to wide-eyed excitement Christmas morning takes on a time zone all its own, I added pages for this time. It is after my Dec 24 page and I still have my Dec 25 page to go, which will be placed after this.
The last of our Christmas meals with family happens tonight at my mom's house. I am sure that will be the subject of my Dec 25 page... and I still have to create a cover and bind this journal.
I hope you are having a fantastic Christmas! And as we were reminded in mass yesterday, the Christmas season continues beyond the 25th, although my journal will be ending then out of necessity since it is so incredibly thick!
MERRY CHRISTMAS!!!